I got into cars before i could drive at around 14 years old i would say, no paticular influence or source other than i was getting close to driving age(16 in Texas at the time) and knew i didn't want just anything.
Initially i had come to terms that at first i would be driving a full size '88 Chevrolet van with a 4.xL v6, essentially a 5.7 minus two cylinders. I also KNEW this was going to be temporary. I worked full time during the summer for the city water department and the summer('01) before my senior year in high school i bought a '72 Chevrolet Malibu/Chevelle with a 5.7L v8, turbo 350 slushbox and 10 bolt rear end(for $1100), here it is:
Yes it was a four door but you wouldn't have known that if not for a side profile pic...
This is what really got my 'fire stoked' when it came to cars. I never did everything i wanted, which would have been a big block with a 144ci blower and manual transmission etc, but i did learn how to work on cars and had to replace the heads, added a full exhaust, swapped a 12 bolt rear end with a Detroit locker and various other items. In the approximate 1.5 years('01-02) of ownership gas prices went up a fair amount and it seem to break down a lot...mostly because it was a 30yr old car with a 16 yr old constantly flogging the mess out of it! I decided to get something more practical and eventually decided something newer, fwd and 4 cylinder was the way to go, so i bought a '94 Honda Accord Ex with a 2.2L inline 4 and slushbox, here it is stock:
After doing A LOT of 'ricer' mods and doing every bolt on possible for power, short of boost which for this motor was very limited, i realized it wasn't what i wanted, this after doing a full air ride suspension(LOVED IT) and having almost $8k in receipts.
Oh the humanity!!
I decided i wanted a better platform and it HAD to be a manual transmission because after less than 2 months of having the Accord the transmission went out and cost me $1600. I ended up getting a '02 Civic Si EP3 with the K20A3 and 5spd manual, which had one of the coolest shifter setups on the dash, like so:
I had originally went to the dealership to get a '00 Civic Si EM1 (electron blue) but it had sold just hours before i arrived and i was sort of 'talked into' the EP3, which is probably why i can't stand car salesman to date. Unfortunately my research was not thorough enough before buying the EP3 because as any Honda enthusiast knows, the K20A3(base model RSX had the same motor) that was in it was not a true i-vtec like the K20A2 that was in the RSX Type S because the variable valve timing only affected the intake side and not the exhaust side as well as a true vtec car would have. I really liked it but found a reason to move on.
This time was to a '01 Acura Integra GS-R DB8 (aka four door) with the ever loved B18C1 and 5 spd manual transmission. Sadly this was short lived due to a few second oil issue causing a bearing(s) to fail and 'death to come knocking'.
Next i came upon that Electron Blue EM1 Si ('99-'00 Civic Si) that i had wanted.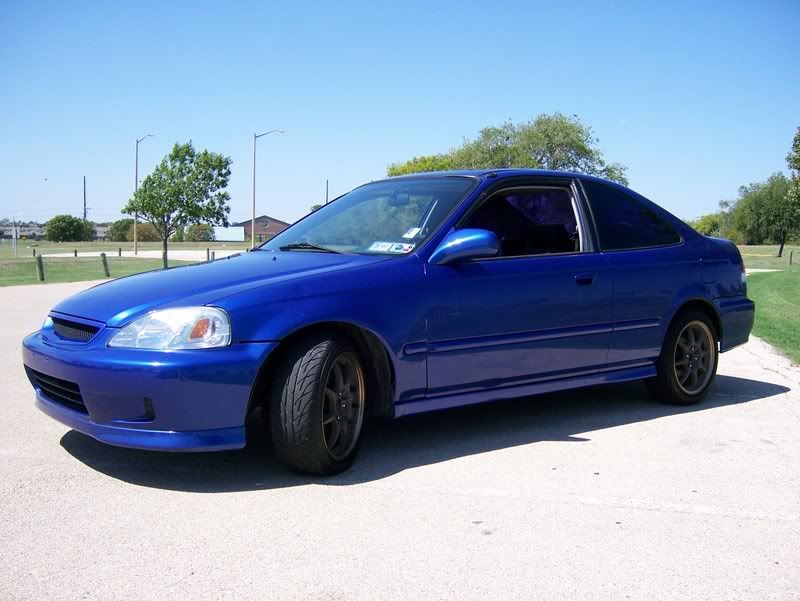 I bought it and did basic bolt ons and loved the mid to high 20mpgs i got in town and mid 30mpgs i got on the highway but upon considering marriage i decided i needed a four door, honestly just another excuse to try something else.
Next was a four door Integra and i won't continue to bore you so my automotive history went like this from there: '94 Integra GS(sedan), '93 Integra GS-R(hatch), '01 Jetta GLI(sedan), '99 Bmw 540i(4.4L v8 w/ 6spd manual..loved it!!!), '04 SRT-4 (best domestic fwd ever imo), '96 Integra RS hatch, '90 CRX w/B16a swap, '05 Acura TSX (wifes former daily), '92 Civic Si w/ B16a2 swap, '01 Mustang Bullitt with 4.6L v8 and 5spd manual in Highland Green, the only true Bullitt color.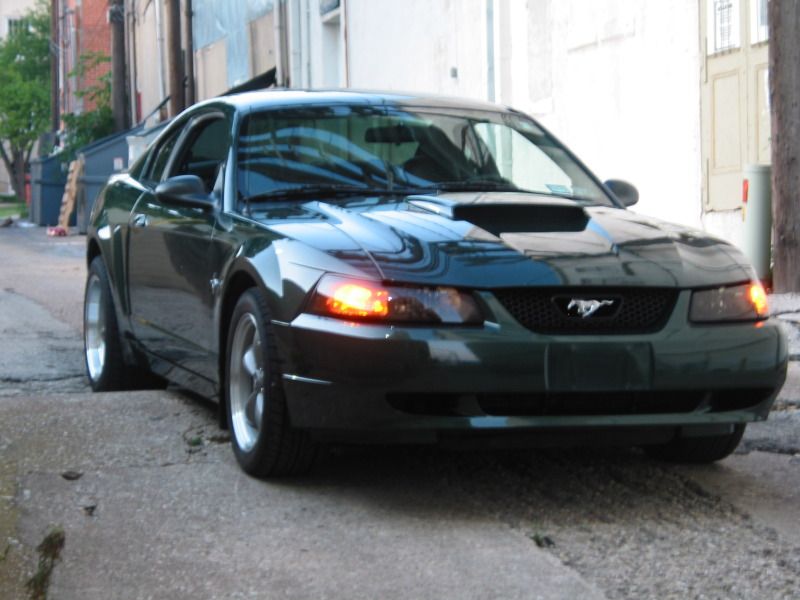 Oddly enough the last one i listed, '01 Bullitt, is what got my started on the path to Miata's, crazy you say...for sure. This was a very well built Mustang because the original owner, i was the third, had built/modified it with the hopes of autox it so it had a fair amount of parts to make it handle and a aftermarket clutch with lightweight flywheel, catback exhaust and a retune via a Diablo handheld tuner which suprisingly made a big difference in terms of torque which i found out by removing on accident. I only did wider rear wheels(9.5") and Nitto NT555 tires at all four corners and i was hooked on grip.
Well i was now looking at buying a house and needed to reduce my debt so i decided to sell the Bullitt. I knew it had to meet the following criteria: rwd, manual transmission, handle decent in oem form, get at least 20+ mpgs, relatively low maintenance and have good aftermarket support and be less than $6k. Well after looking around and seeing that their wasn't too many cars that met that criteria...i stumbled upon a Grassroots Motorsports magazine article about budget track cars and of course what else was praised as one of the cheapest and cost effective, dual purpose option..a Miata, the NA specifically.
So i started looking into all things Miata and quickly concluded this met every criteria perfectly!! After more research i decided that a NB1 was the best $ Miata being the lightest second gen and having the best power to weight ratio. I found a '00 classic red LS near Dallas and bought it but soon realized it was consuming a good amount of oil but not before already doing a full exhaust, DDM Works intake, wheels/tires, etc. Here is the short lived journey with it:
http://forum.miata.net/vb/showthread.php?t=500656
At the time i was in an apartment and i decided to sell it and get a lower mileage(nb1 had 152k miles) NA8 since that is what i originally wanted. So this is where the build thread begins....
09-20-13: Got home from picking up this '97 M Edition w/ 93,387(currently) and must say I really like it. Yes seems to have a LITTLE less get up and go then my NB1 but I still really like it. It has maintenance records and the timing belt was done at 71,620 miles. Will be putting the wheels/tires and Nardi steering wheel from the NB on this one and selling the NB. The only complaint I have right now is the driver side headlight housing shakes pretty good so have to figure out what that's all about.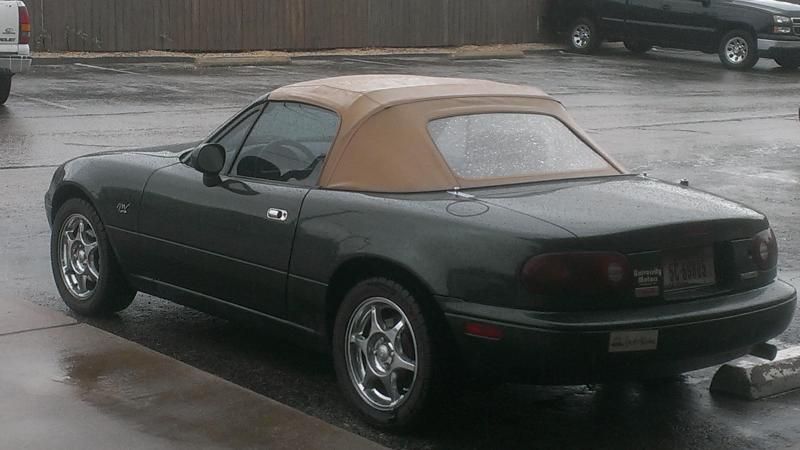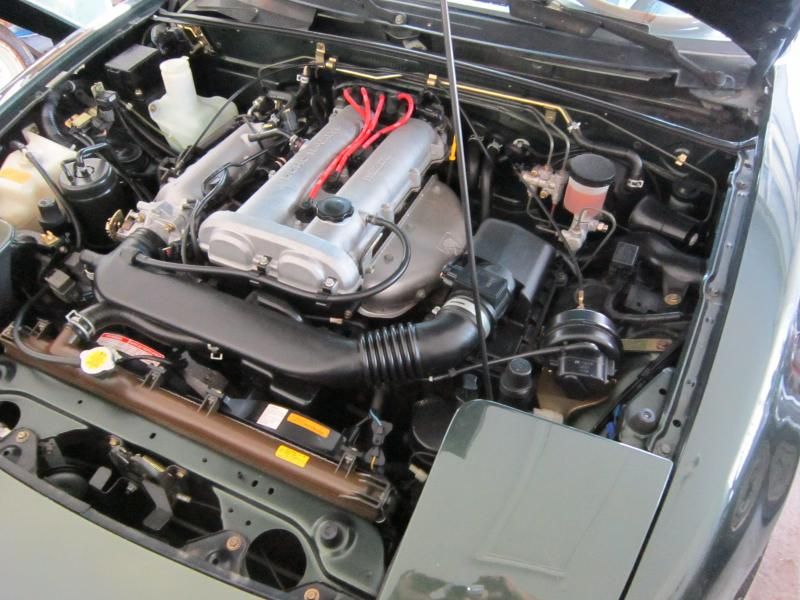 The whole Warbird theme(aviation) will be developed in time but the name and theme was pretty much chosen before i had a NA. Of course the name and theme are really thanks to Revlimiter's Warbird gauges, so big shout out and thanks to Revlimiter aka Adam and MC70 for other aviation inspired ideas!!!