Discussion Starter
·
#1
·
Greetings everyone!!!
UNclassified
and
Patriot Motorsports
invite you to come help us fight cancer. We are teaming up with a few local car clubs/organizations within the DMV area and some big names on the east coast. Funds collected will be split in two:
Half will go to the Children's Hospital in D.C.
Half will go to help a 4 year old girl name Isabel and her medical bills. She was recently diagnosed with non-Hodgkins lymphoma and is receiving treatment at the Children's National Medical Center in D.C.
VENDORS AND SUPPORTERS OF THE EVENT:
& MANY MORE...
***ENTRANCE FEES***
$5 PER CAR (driver will get a free raffle ticket at the door)
$1 PER Passenger/Walk-ins
RAFFLE TICKETS -$1.00 per extra raffle ticket OR $5.00 for 7 tickets
***RAFFLE PRIZES***
Merchandise from our vendors, free $250 coupon for detailing at D&V autobody, FREE 2 night stay at Clarion Hotel. I will add more as they come =)
GRAND RAFFLE PRIZE: A FREE SET OF D2 COILOVERS!!!
***ENTERTAINMENT***
Dyno On-the-Go will be setting up AWD dyno runs at the event. 1st come, 1st serve!!
dj viceversa and dj 2nice will be spinnin tracks to keep things interesting!!
A booth for children's activities will be set up, so bring the kids if you'd like!
We will have at least one food vendor on site, if not more.
Lil b-boy battle from our friends/supporters
Several local car models will be present as well!!
***CAR SHOW***
We will have 6 classes for this show. There will be a minimum of 10 entries per class for validation of class. Maximum is 20 cars per class, first come first serve. Due to limited space.
There will be best of:
Import
Euro
Domestic
Tuner
Stance
Truck
Judging will be made by ISO (Insane Stance and Offset), Canibeat, and Mischief.tv.
Trophies will be awarded.
Deadline to pre-register is March 24, 2012 @$15, day of show is $20.
Email us at:
[email protected]
Send Full name
Phone number
Picture of your ride
and we will give you a paypal address to make your payment. If there are not enough entries at day of show, you will be refunded.
We hope that you will come out and join us in the fight against cancer. Isabel and her family, along with numerous patients in the DMV will be thankful for sure!!!
Facebook Event Page!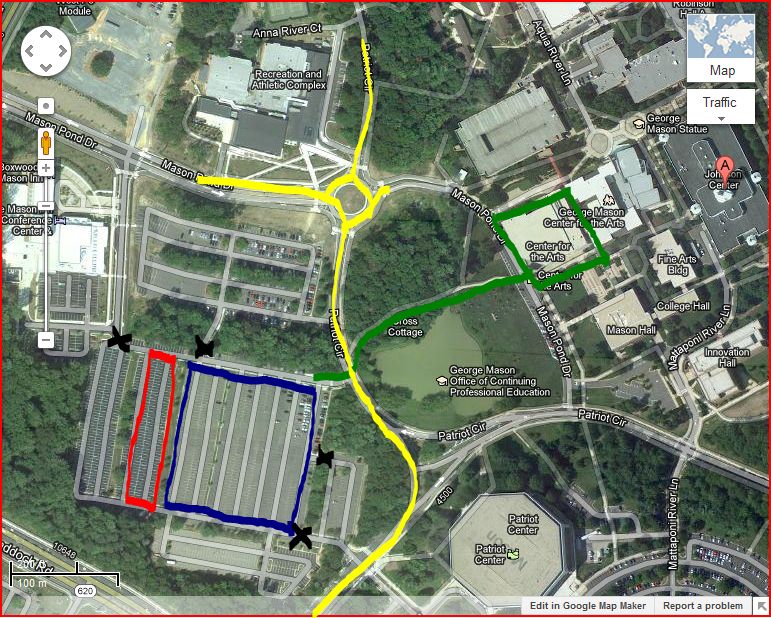 RED
- the car show lot
BLUE
- the main parking lot for everyone else
GREEN
- route to the restrooms
BLACK
- blocked
YELLOW
- entrance to get into the lot.
4400 University Drive **parking lot K** , Fairfax, VA[/CENTER]