90 Miata new robbins canvas no zip top
new paint less than 6months old (vette victory red)
NO RUST on this car what so ever
CF trunk (fitment is 6 of 10) has a few scratches on it
CF Finish panel
RacingBeat 2 front bumper w/ TDR splitter
sideshow sideskirts (
http://clubroadster.net/vb_forum/showthread.php?t=44654&highlight=side+skirt+group+buy
)
6UL v2 15x8 with 215/50/15 Nitto Neo Gen tread is 7 out of 10
Bride lowmaxx seat on stock sliders w/ custom mount driver only, stock passenger seat.
I have the matching bride lowmaxx for the passenger side but its not mounted.
1.8 swap w/ flying miata kit.
1.8 brake upgrade
stoptech slotted rotors
LSD rear diff, I have no idea which one or what I just know on the track its posi, and if you jack it up and turn one forward the other goes the same direction not opposite.
2.5in exhaust from header w/ magnaflow tip
raceland header
prothane bushing kit
ebay coilovers (unknown spring rate they were on the car when i bought it)
koni yellow shocks
harddog roll bar
harddog harness bar
and probably some more stuff not listed.
Now the bad. It has a small oil leak a drop or 2 over a week, i think its the crank seal.
and the valve seals are going. It burns a qt of oil about ever 2000 miles.
I don't have to sell it, but I want to buy a cobra or GT mustang..so I need the money.
Its a great car, inside and out. I just need to move on.
I'm asking $6000 but any reasonable offer will be considered.
some more pics. Sorry the car is dirty...got some snow...and couldn't wash it.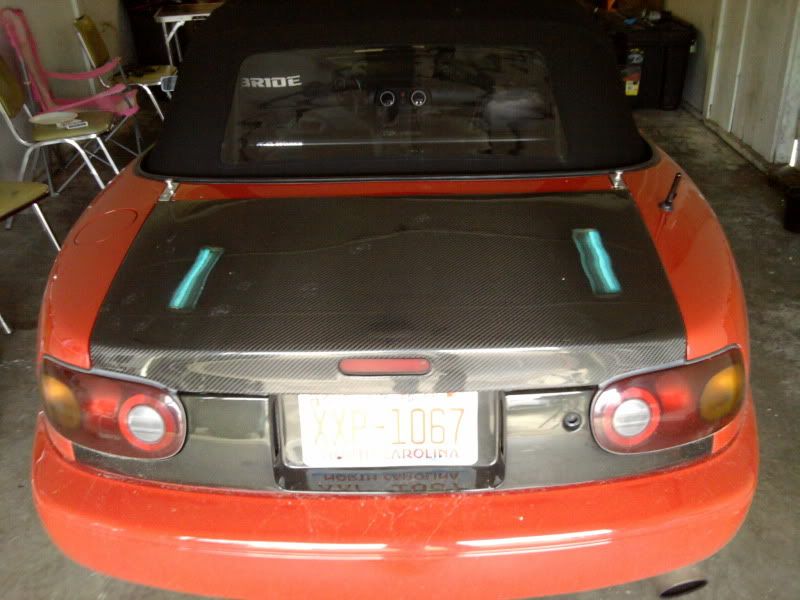 new top