After being in the Miata community for about half a year now, I've met a lot of cool people, seen many great builds and have learned a lot. I now have a pretty good idea of what direction I want to take my new project car. I have slowly been accumulating (aka hording) parts in anticipation for this build.
Meet Bulbasaur: I finally sourced a clean title straight frame shell and picked it up. It's a 91 BRG with tan interior (which is kind of growing on me but black interior swap may be in the works… We'll see). It's got a whopping 320k miles on it and it looks to be 100% original. It has also been sitting for over 6 years (last tags were in 06) so it will some cleaning of all spider webs and creatures that used to call it home.
The goal is a Weekend Canyon car with the occasional Autocross/ track day. Emphasis on function over form as looks are really on the bottom of my priority list. Paint may be on my list as the last thing I do depending on budget and how the build goes. I want the car to first be quick with good handling, then later fast with a turbo or supercharger.
Budget for this build is cheap yet reliable. Almost every part I bought used except for important items such as clutch, suspension, etc. I'm looking to save every penny possible without cutting any corners.
hillyb: The build Plan:
hillyb:
Stage 1: Get the Car running (COMPLETE!)
Remove seized engine and clean out engine bay. Install ACT clutch and drop in lower mileage healthy engine. Get the car smoged and registered. Drive the car a lot to break in clutch and make sure everything is functioning fine on the vehicle
Stage 2: safety + chassis stiffening (DONE)
Install Roll bar, harnesses, spacro seats and frame rails.
Stage 3: Set up Suspension
Install all suspension components, control arms with bushing, 1.8 breaks, torsen, exhaust, etc. get an alignment and roll fenders to fit the 15x9 6ULs. Start auto crossing and hopefully some track days.
Stage 4: ECU and Tune
Install Megasquirt, wideband and tune. Add IAT sensor and tune. Add BMW TPS and tune. Add RC 550's and tune. Basically just get a lot of experience and become familiar with tunnerstudio so I can tune my forced induction set up down the road.
Stage 5: Power
Piece together a turbo or supercharger kit. Im leaning toward turbo at the moment because I always wanted to mess around with a turbo car. Planning on piecing together a kit from begi or flyin miata parts. I already have intercooler set up and piping in my garage. But this is a way in the future.
Stage 6: Paint?¿?
:bouncin: Parts List: (currently on the car) :bouncin:
Mazda Comp Motor Mounts
M-tunes coolant re-route
Oil filter relocation kit
Oil cooler
Magnecor wires
8 lb F1 racing flywheel
ACT 1.6 clutch
1.6 engine with about 50k miles
Going In Soon
15x9 6UL
Flyin Miata front sway (stock or disconnected rear)
Flyin Miata Frame Rails
Poly Differential Bushings
Megan EZ streets
1.8 Brakes
Poly Bushings in all control arms
Hard Dog Double Diagonal
Sparco Sprint 5 seats (mount to floor)
G Force 5 point Harness
Nardi Steering Wheel
Nrg quick release
4.1 torsen swap
Racing Beat exhaust
Test Pipe
Gv lip
R replica Rear spoiler (maybe)
Mud Flaps
Going in later
Mishimoto Radiator
DiyPNP
Wideband 02
RC 550 injectors
Walbro 255
IAT sensor
Variable TPS
Still need to buy
1.8 Hawk Brake Pads
Door Bars (Hard dog, blackfab or DIY?)
Turbo kit or supercharger kit
:bouncin: Picture Whore Time:
:bouncin:
(Most of you probably skipped all of the above and went staight to this.)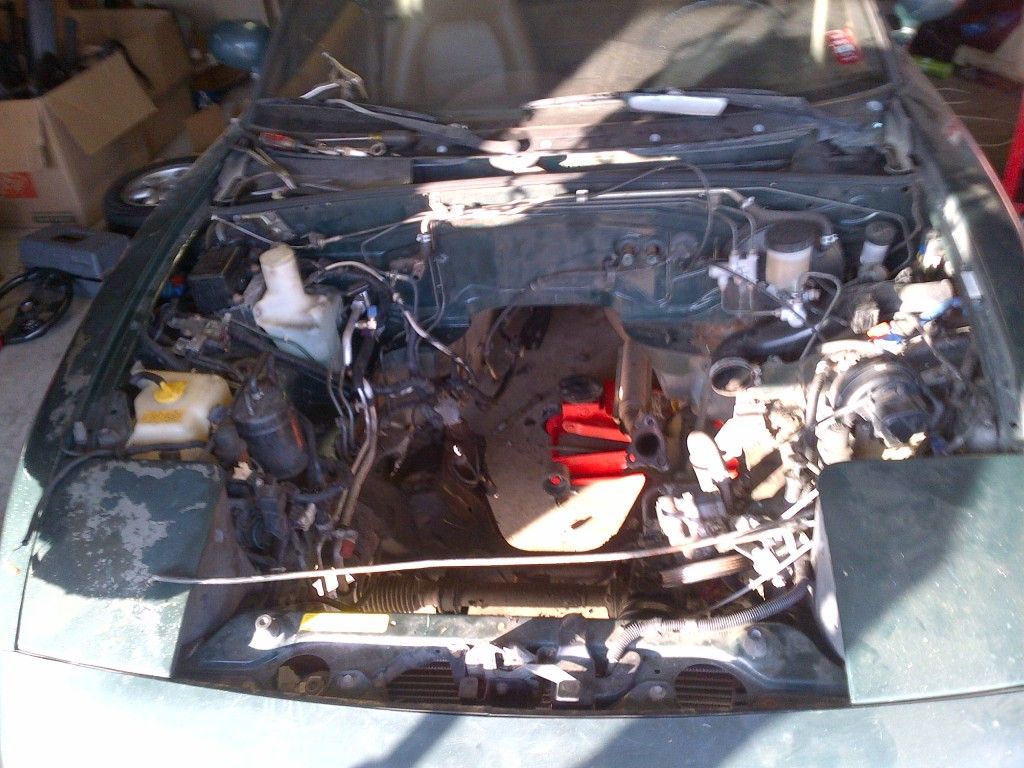 (off with the F1 stage 3 clutch)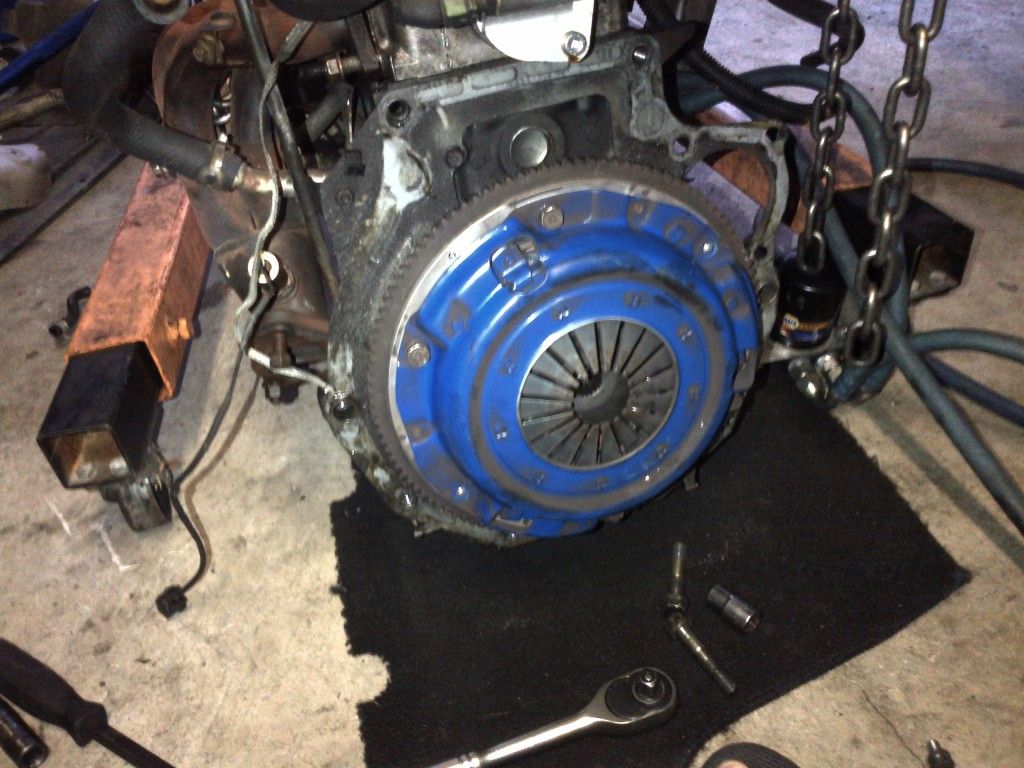 f1 8 or 9 lb flywheel (i heard they hold up okay so im using it)
Thats all for now. Engine is going in tonight so stay tuned for updates :bouncin:
PS: This is very long and very detailed because I am bored at work. :suicide: