Aloha from Honolulu, Hawaii.
Purpose for build? Weekend warrior, spirited driving, the enjoyment of building a car, and the curiosity for knowledge.
AdoboMiata V.2.0
Engine:
+99' Engine 1.87
+ARP Head studs
+ARP Main Studs
+2001+ oiling system
+ACL Race bearing set (Main, Rod, Thrust)
+Fel-Pro Headgasket set
+M-Tuned H-Beamed Connecting Rods
+84mm 9:0.1 Wiseco Pistons
+New 2000 NB crank
+1mm Oversize Valves (Supertech) Exhaust and Intake
+Supertech Springs, Retainers, etc
+Garage Star Water Pump Pulley (1.8)
+Fidanza Adjustable Cam Gears - Silver
+Fab9 Solid Motor Mounts 88D
+NGK Nickle 1-Step colder plugs Gapped at .030 (BKR7E - O'rileys part ref: 4644)
+ FD3S (93 rx7) Alternator
+GarageStar Alternator Pulley
+ 2000 NB Starter
+323 GTX Turbo PCV
+Rotella T6

Intake:
+HellaFababrications Custom "Race" Aluminum Intake Manifold
+Skunk 2 Throttle Body
+2.5" Intercooler piping
+HKS Mushroom/Superflow Air filter

Exhaust
+Custom Equal Length Bottom Mount turbo manifold- Fabricated by HellaFab
+3" Stainless Steel exhaust (V-Banded)- Fabricated by HellaFab
+3" Stainless Steel piping (Cat delete- V-Banded)- Fabricated by HellaFab
+3" Stainless Steel Vibrant Muffler (V-Banded)- Fabricated by HellaFab

Cooling
+Begi Spacer w/ fittings
+Water Neck Delete - Freeze plug + Custom Block-off plate
+Coolant re-route (Followed RevLimiter's +Write-up) w/ Escalade hoses
+Ebay hose Splicer
+Flipped lower water pump housing
+DEI Gold Tape (bling bling bruh!)
+Fab9 Stage 2 Intercooler

Turbo
+IWG = Internal Wastegate
+BorgWarner EFR 6758 (3" exit)
+Turbosmart BOV Fixed 50/50

Fueling:
+Deatschewerks (sp?)200 fuel pump
+1000cc Injector Dynamics
+FM Dual Fuel rail

Electronics:
+Megasquirt PnP v2 engine standalone
+Turbosmart Manual Boost Controller
+Innovate MTX-L Wideband
+IAT sensor/Speed Density Sensor
+Custom Toyota Coil-on-plugs
+Autometer Boost Gauge

Drivetrain
-Resurfaced 1.8 Flywheel
-1.8 ACT Clutch kit (ZM2-HDSS)
-94 1.8 Differential (open 4:1?)
-94 1.8 Subframe
-94 1.8 Driveshaft
-94 1.8 Axles
-96 1.8 Transmission

Suspension/Stiffening
+ Stance GR+ Coilovers (8k front 6k rear) w/ 15 way dampening levels
+ Custom Extended Rear Top Hats
+ Racing Beat Front Sway Bar 1.125" - soon
+ Custom sway bar mounts - soon
+ Custom adjustable End Links - Soon
+ Rear Torsion Brace
+ Carbing 3pt strut brace - soon
+ Carbing rear strut brace - soon
+ OEM hardtop w/ top and side latches
+ Cusco 7pt Roll Cage

Brakes
+early 1.8 Front and Rear brackets w/ Calipers.
+Generic Drilled & Slotted Rotors
+Ceramic C-Tek Brake pads
+Braided Brake Lines (Front)

MISC:
+Prosport Sandwich Plate
+Mishimoto Baffle Can (Fab9)
+Golden Eagle vacuum block

Hey Guys, I'm re-posting my build thread but will shorten it bit. Apologize Admins and Moderators for the "spam-posting."
[Specs]
1992
Mazda
Miata
1.9T
[Short Story]
Back in High School I always wanted a Miata. I seen a few interesting ones a few car shows. I finally found one I really wanted, which looked horrendous. While others thought it was a piece of "s***", I seen potential.
[Jan. 27. 2012]
1.6, XXR 002, 205/50/15, degassed Koni Yellow w/ rear FM top hats, Mazdaspeed Exhaust with 2.25 Cat-back, 7pt cusco roll cage, Godspeed Radiator, and Custom Intake.
(credit for photo: Michael) "Flat Black Mess"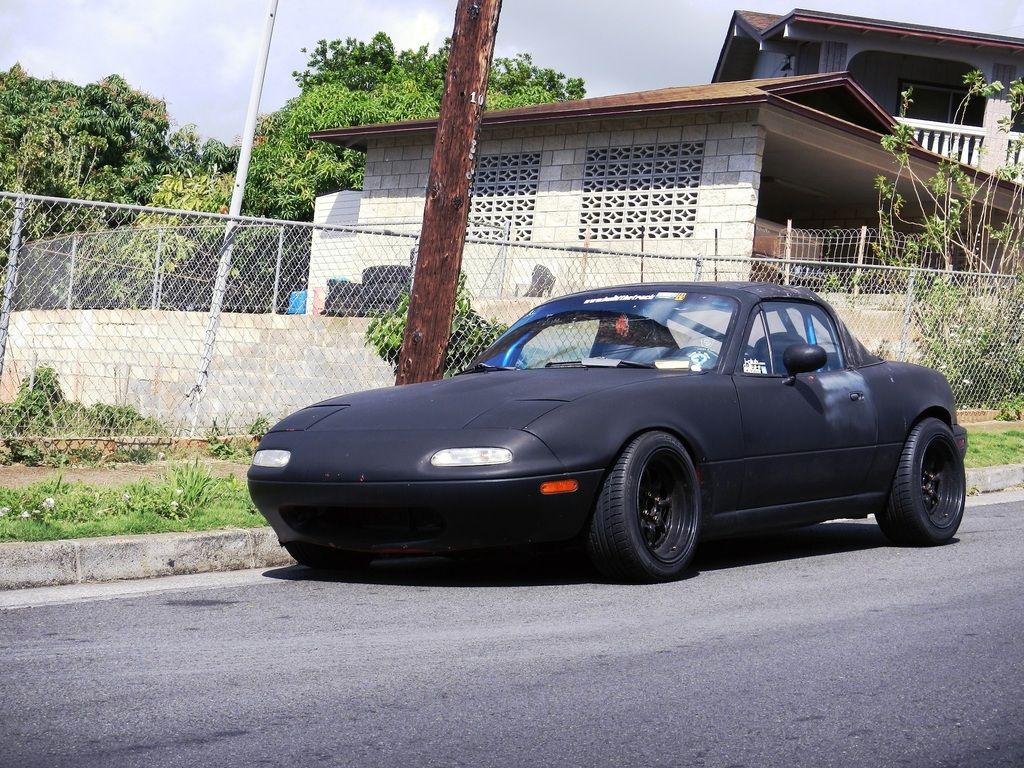 [April 26. 2012]
https://vimeo.com/42519372
Lexus Pearl White, Custom Purple Hardtop, XXR 527, 195/45/15, Bubble Shift knob, kenwood radio, etc...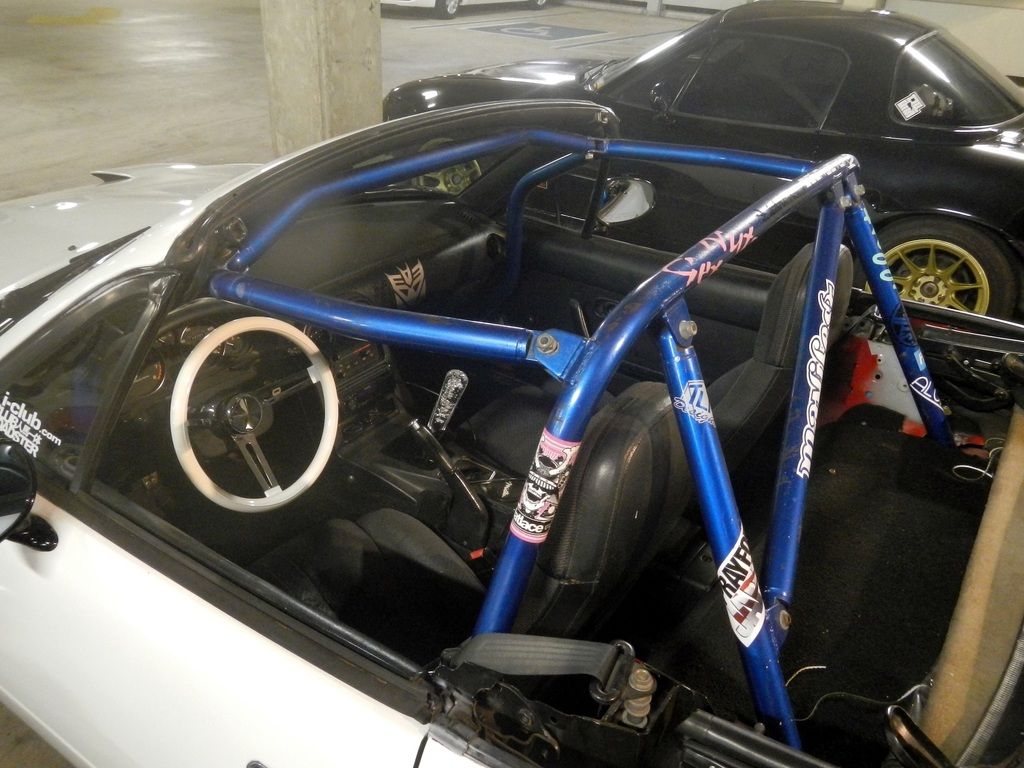 [Septermber, 2012] - Photo Credit: Michael
Begi Shanghai-S turbo kit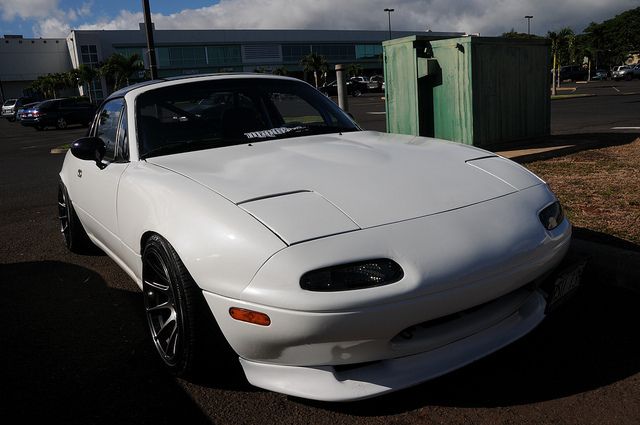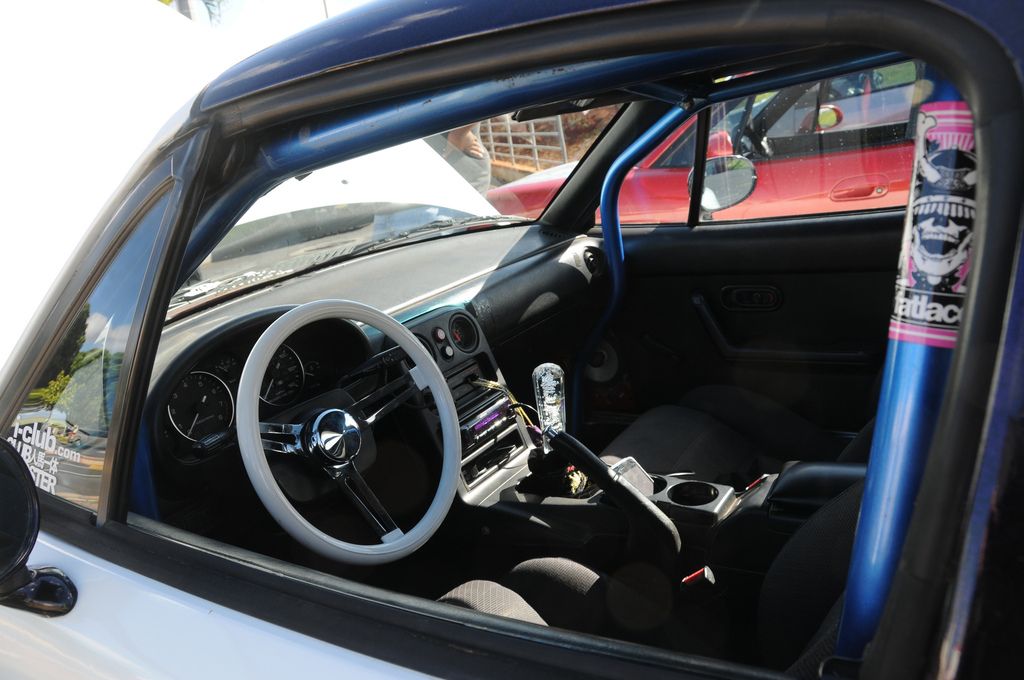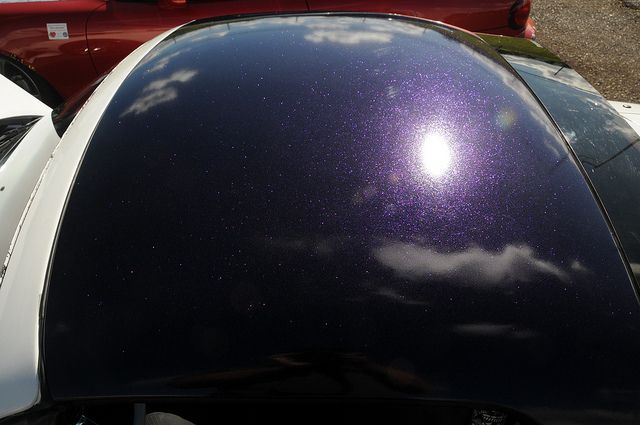 [August 2013 Spocom Hawaii]
First Car Show - Lots of exterior goodies & won 2nd place Best Mazda.
(Photo Credit: Dayuum.com)
(Photo Cred: Jznsn2u)
(Photo Credit: Super Street)
9/30/2015