Discussion Starter
·
#1
·
Look at that stockitude. Stockness. Stockitocity.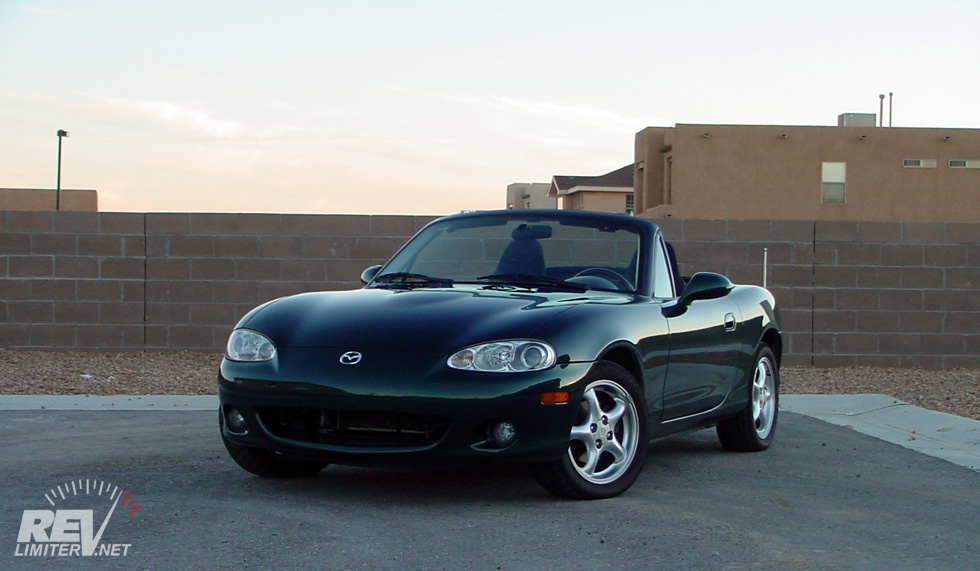 Most folks know about Bucky, my daily driver. I still get the random "you have an NB?!?!" or "did you put an NB nose on Sharka" reply when Bucky creeps into a Sharka photo, but it doesn't happen too often anymore. Still, Bucky needed a build thread. I've been spending more time driving the little guy and more weekends tweaking things.
So. Here's Bucky, the 2001 NB2 that's been parked next to Sharka since 2003.
Such stock. Much OEM. wow.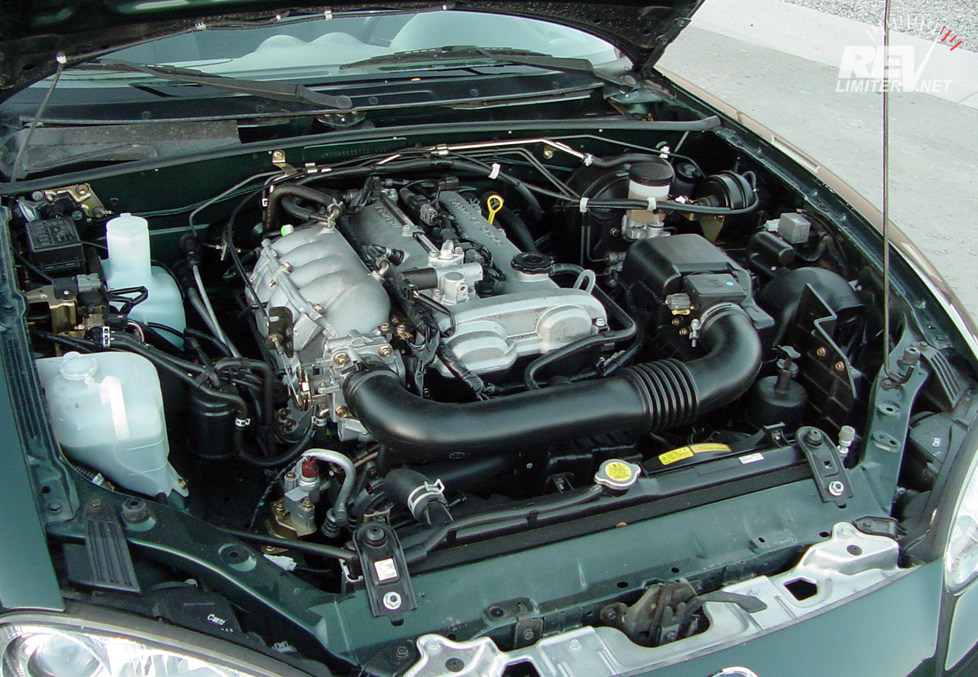 Many unfinished garage. Much ride height. Wow.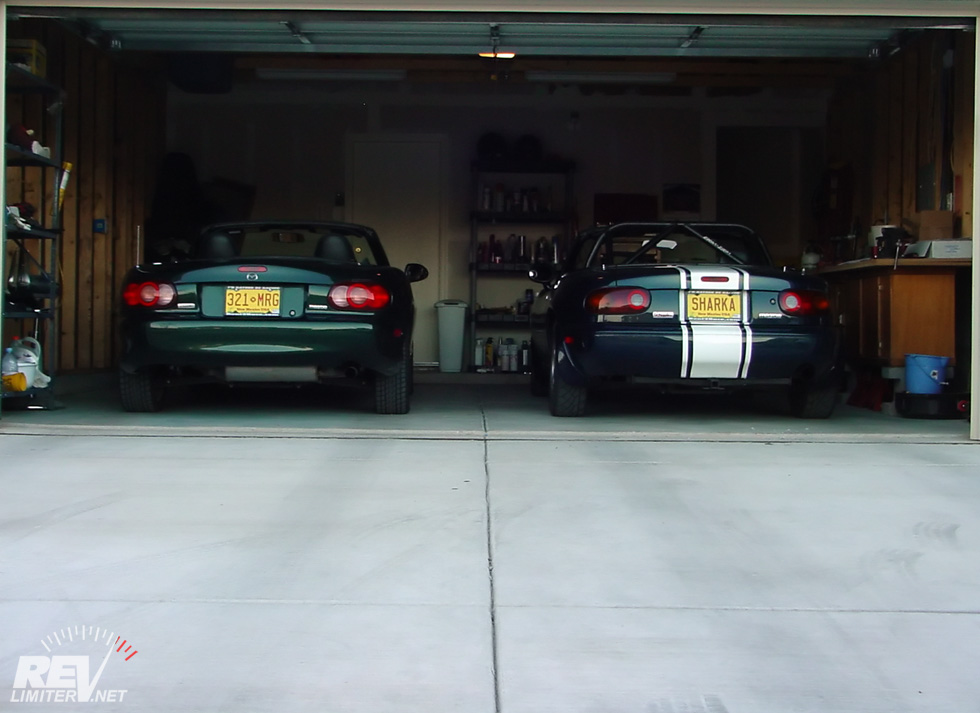 Bucky was my wife's car for eight years. I bought Sharka in the summer of 2000 and Sarah bought (leased) an MK4 Jetta about the same time. That Jetta got tired and awful after less than three years and we were shopping for something new and thankful that the lease was about to run out. I loved my Sharka, but I didn't try to nudge Sarah toward a Miata. I wanted her to have any sort of car she wanted. Anything we could afford. We looked at WRXs, Lancer Evolutions, S2000s, Civics, even Mustangs. I didn't care. I wanted her to have a car she'd enjoy.
To cut a long story short, we spotted a sad little green NB at one of those inventory clearance parking lot sales. Sarah drove it and was smitten. The car was ours that following weekend and we became a two-Miata family.
Much stripes. So matchy.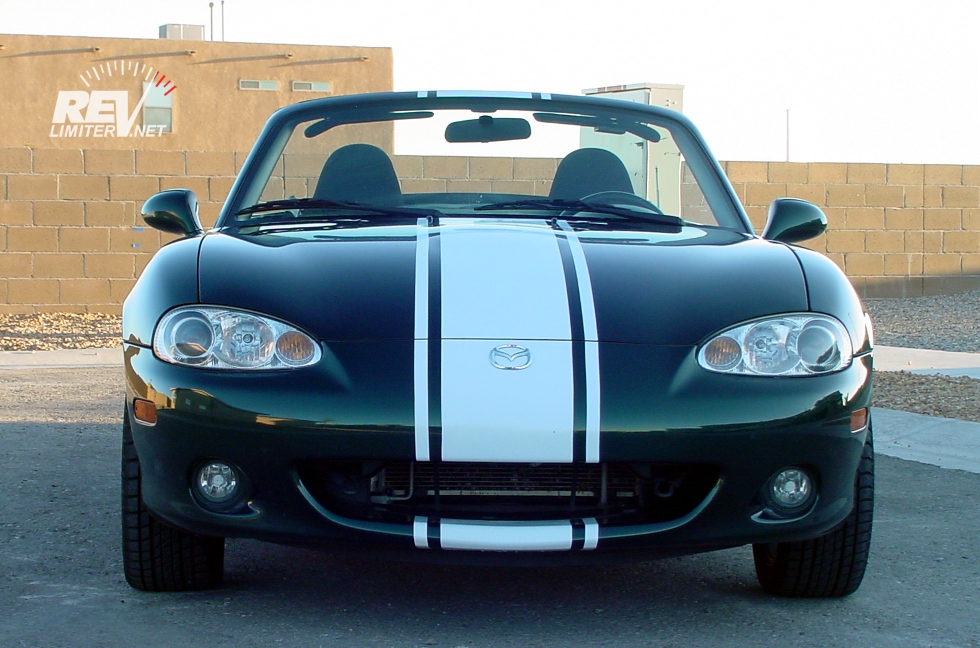 For the following eight years, I tried to keep my hands off Bucky. He was Sarah's car and I wanted things to be that way. I didn't wanna take over and force her to buy mods she didn't really want or wouldn't really like. I wanted her to choose everything and only lend assistance when requested.
It was really damn hard. I LOVE cars. I love modifying them. But this was my wife's car. I kept my distance.
Why the matching stripes? These cars are INVISIBLE. Emerald Green Mica is slightly more invisible than Montego Blue Mica. I originally striped Sharka to cover up some paint damage on his nose (true story). Bucky got stripes to aid in visibility.
Wow.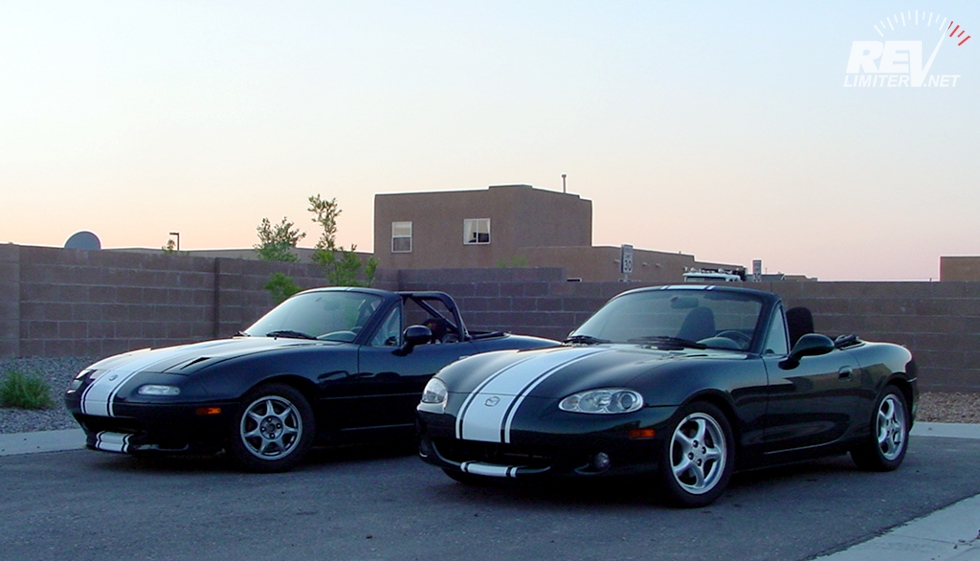 A note about "he." Bucky, like Sharka, is a boy car. Why? Why must a gender be assigned to an object? Because the car does not at all feel feminine. I've had girl cars. Bucky does not feel like a girl. Bucky likes to get yucky and play in the mud. Bucky rolls day in and day out. Bucky is not a drama queen. Bucky is my buddy, always ready for action.
So, I call Bucky a he. I realize I probably have psychological problems.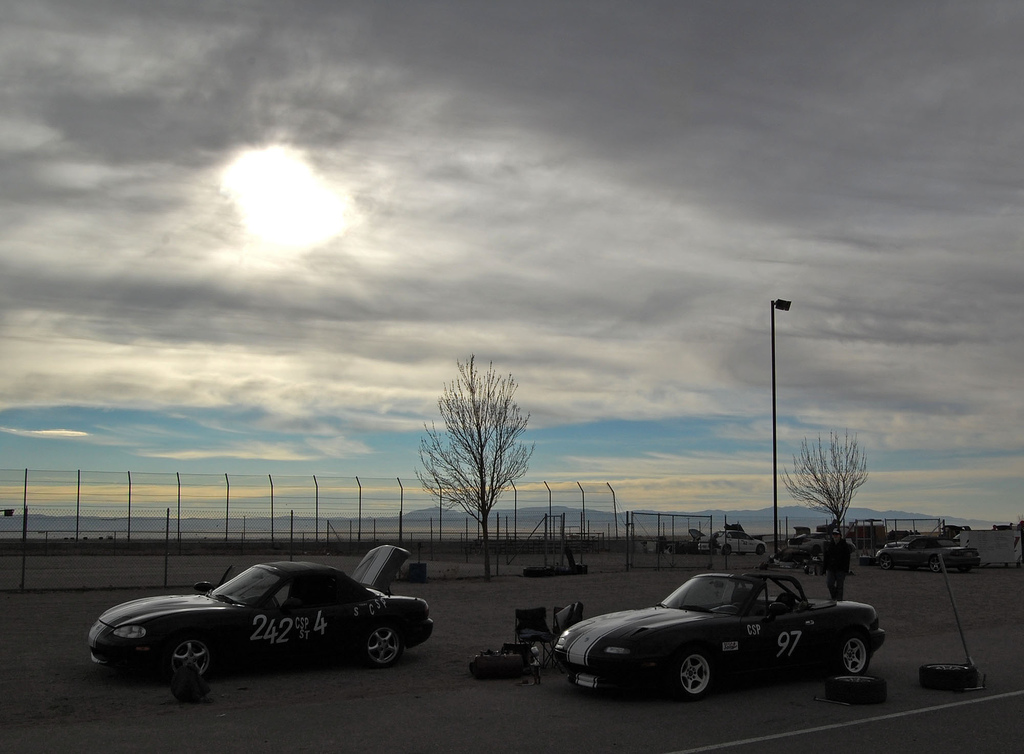 I bet you're asking "Why Bucky?!" Well… it was a name that the car claimed during the first month of ownership. In 2001, Mazda was having a hard time with their clutches and flywheels. It was called the "Bucky / bucking clutch problem" by Miata.net. There was something like FOUR recalls for it. If I remember right, the first was for a clutch bearing, the 2nd was for the disc, the 3rd was for the disc and pressure plate, and the 4th replaced the whole clutch/flywheel assembly.
Anyways, Bucky had the bucky clutch problem. And it really wasn't that bad at first. It seemed worse in humid weather, but that's not often here in New Mexico. But it slowly got worse and worse. Sarah couldn't take off from a stop without looking like a student driver, so we broke open the transmission to see what was going on.
I'll never forget figuring out what was wrong. We got the case cracked (car on jack stands) and something fell out and onto my chest. It was the pilot bearing. The bearing that's normally pressed into the flywheel? It wasn't. It was very very loose. The hole in the center of the flywheel was WAY too big for it. That was the whole problem.
Sharka's factory flywheel was the solution. He had a superlight Fidanza at that point and the stock flywheel was sitting on a shelf. A quick refinishing and a Mazda Value Clutch Kit were all that was needed. Bucky didn't buck anymore.
After I started driving Bucky.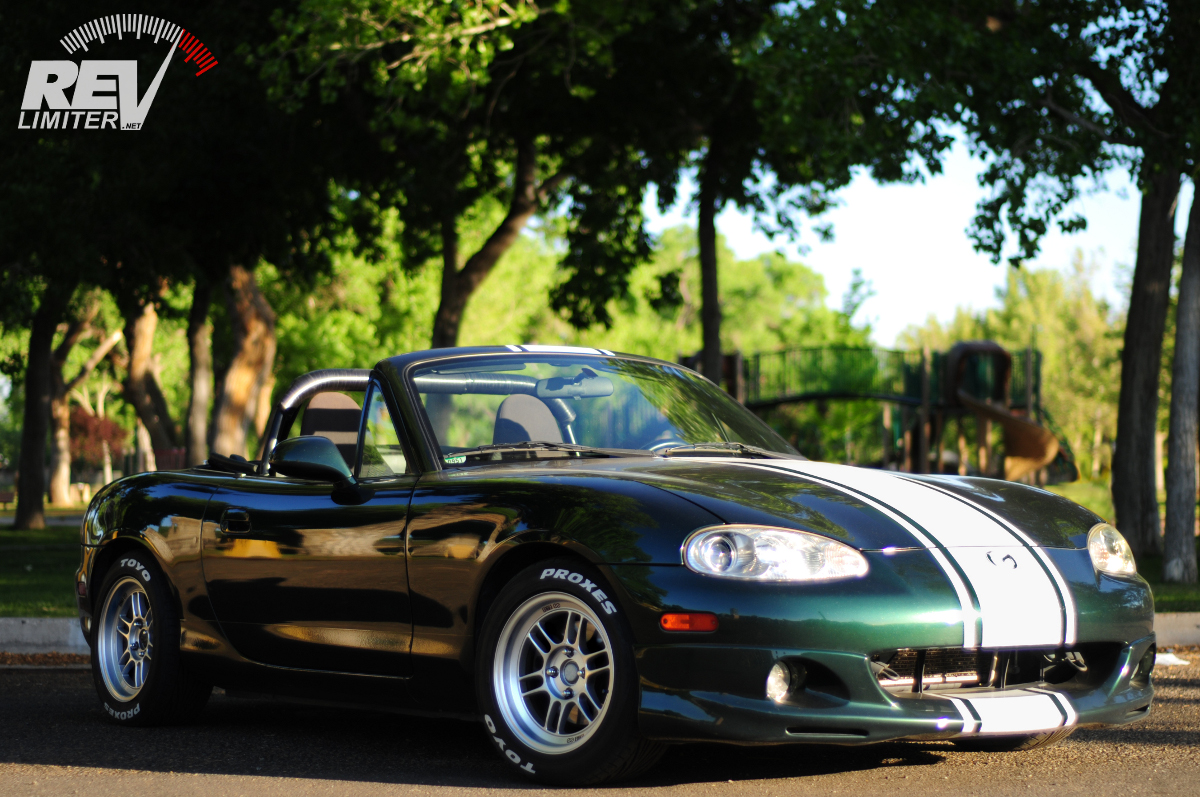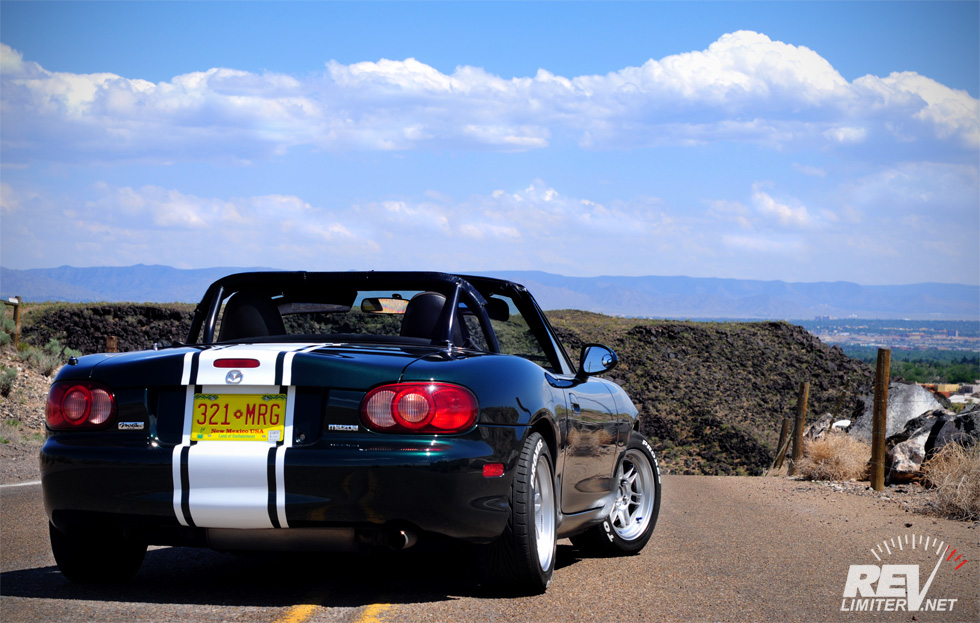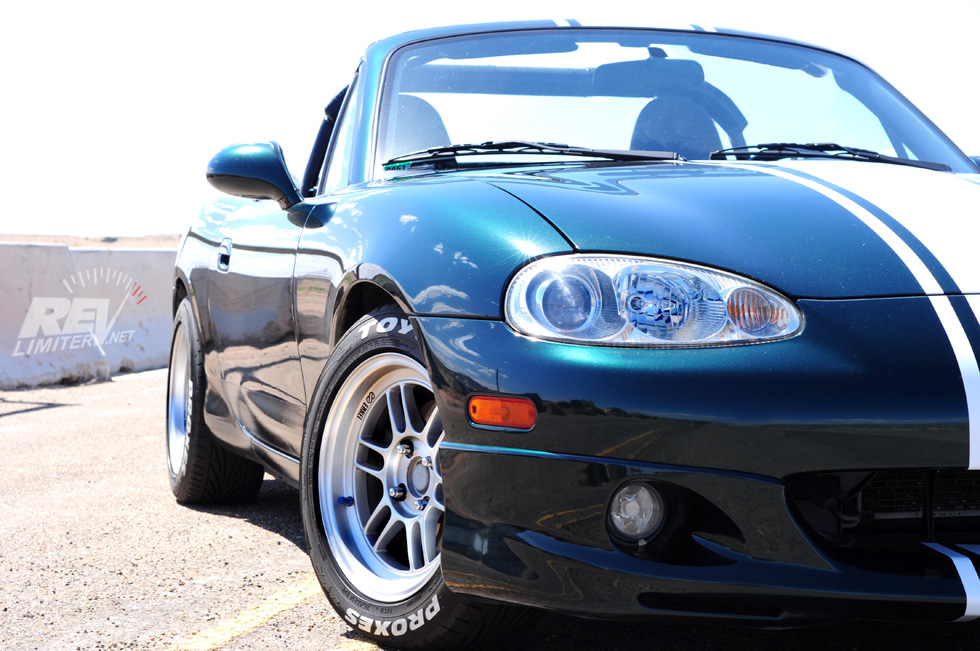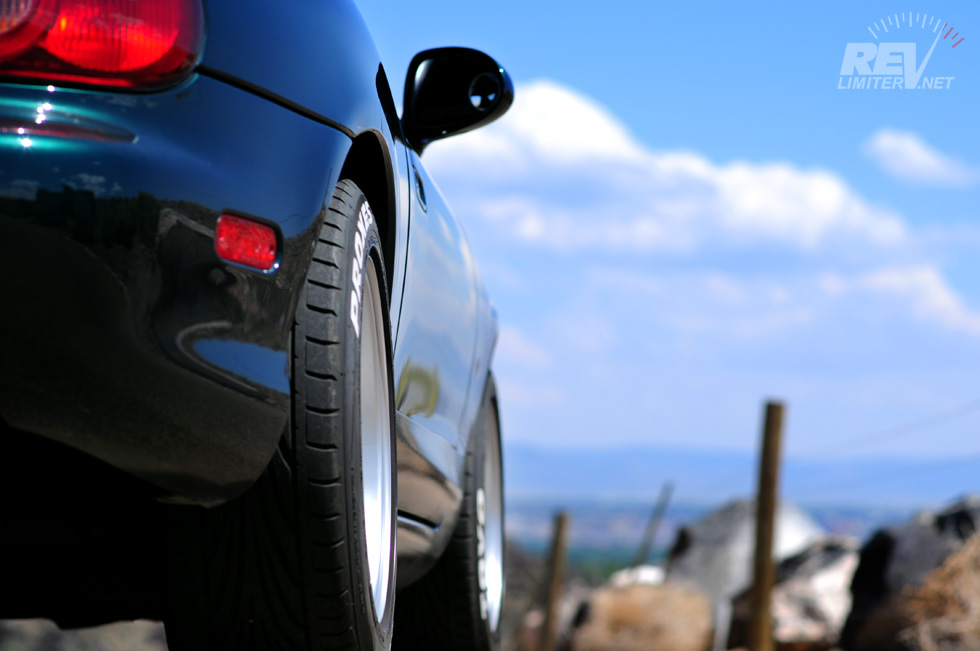 We had a kid and Bucky didn't work as a daily for my wife anymore, so I took over driving. Sarah got my 2008 Mazda 3 for a daily.
I didn't immediately go crazy with mods. I'm rather proud of my restraint. The truth is, Bucky is pretty awesome in his current form. The suspension is very comfortable. The seats are supportive, yet soft. The engine makes fun vrooming noises. And the car looks fantastic! Bucky is a wonderful daily driver.
After Sharka got the Star Sharks, I put the 14" RPF1s on the tire rack. I love the wheels and didn't want to get rid of them. I intended to swap them back onto Sharka once in a while.
I found myself looking for wheels. I thought of some SSR meshies. I considered some Volks. I came up with all kinds of ideas. Then I thought about those 14" lightweights on my rack. I mounted them and they were perfect. They are now Bucky's 3 season wheels.
The interior.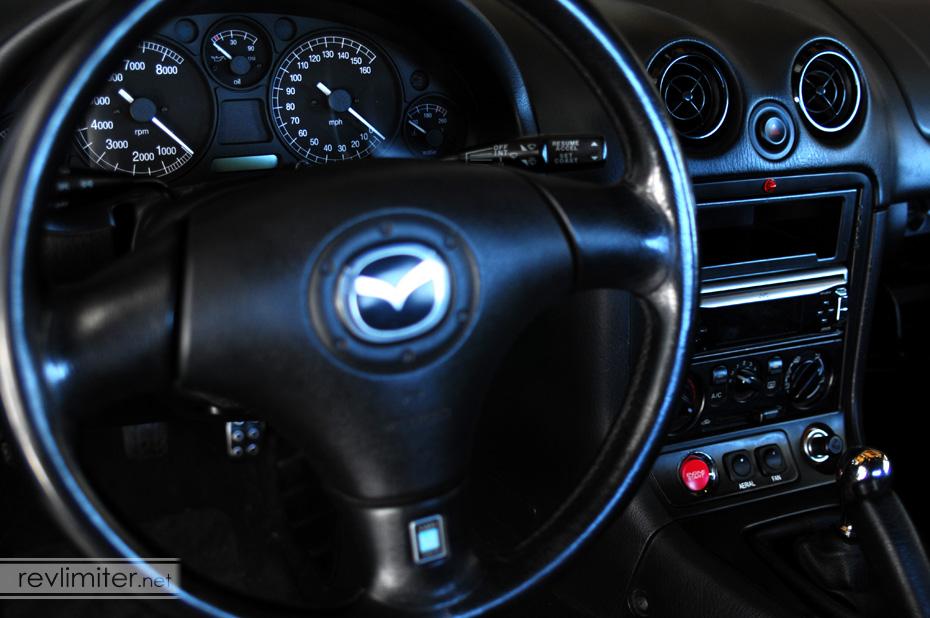 It's pretty stock in there. A Joyfast shift knob, some of Sharka's vent rings, and various gauges. I'll update this thread with more stuff in a moment...