Discussion Starter
·
#1
·
Ive got this up on Miataturbo.net but i figured you guys might want to check it out as well. Ive been collecting parts over the last year and I picked up an '86 BMW E30 last week to drive around while i'm doing my swap so i'm ready to get started.
A huge thanks goes out to m2cupcar for all the advice and direction he's given me so far. I'm going to need some help from you guys on this build as i'm new to turbo builds, megasquirt, and tuning.
As of right now I plan on doing all of the fabrication and install myself then get the car tuned by someone that knows what their doing naturally aspirated till its broken in. At that time ill slap on the Borg Warner and from what I've read it should be somewhat easy to adjust the tune myself.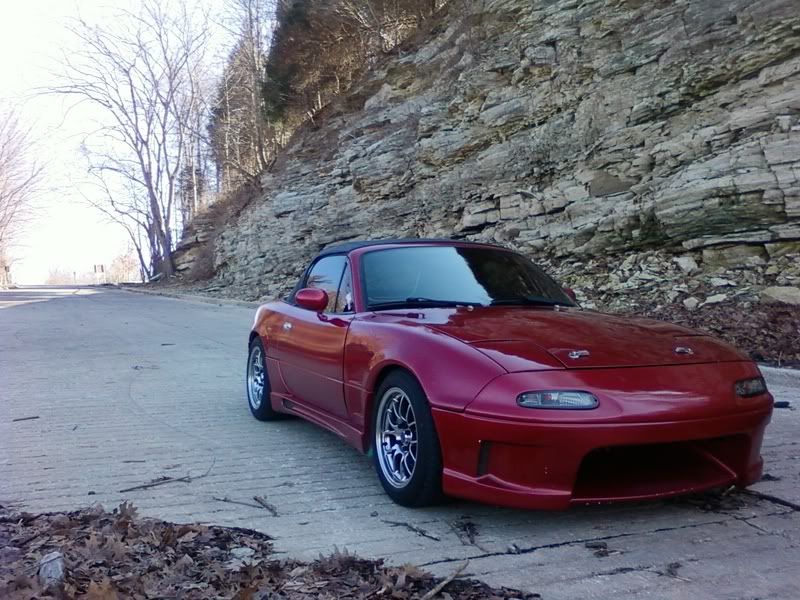 Here is the car im starting from.
The assembled short block and a few other components i had them take care of took about 6 months to get back from the machine shop.

Calico Coatings coated pistons. Ceramic tops and Mahle skirts.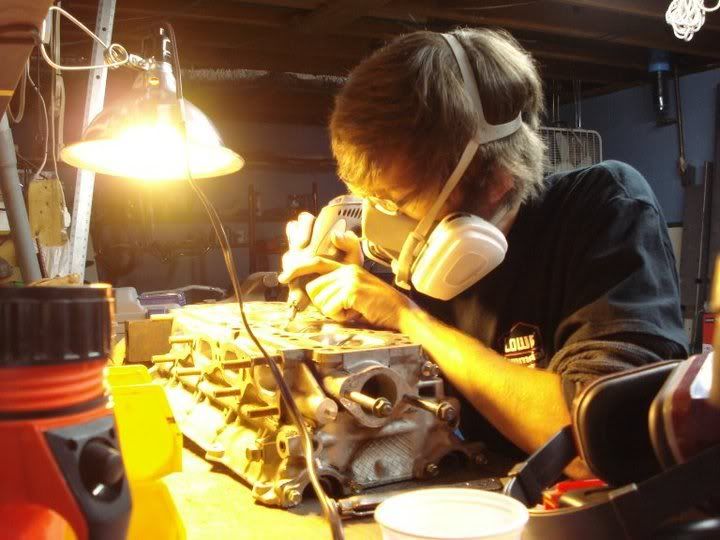 I brought the head to the machine shop after i ported and polished the intake and exhaust ports. I when ahead and smoothed out the combustion chamber while i was at it.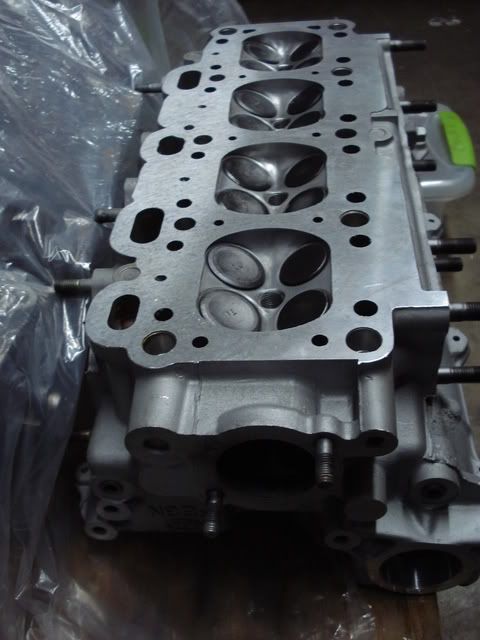 And heres the finished product.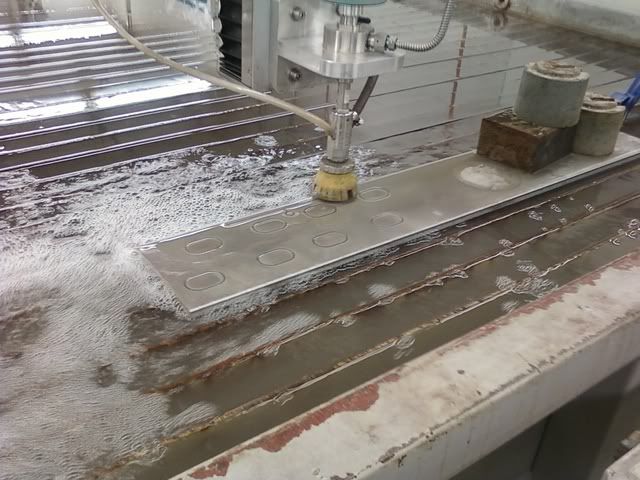 Im a Mechanical engineering student at Western Kentucky University so i had access to some nice tools. I water jet cut some exhaust manifold flanges and other t3 and waste gate flanges that im not going to end up using because i ended up going with the EFR turbo which uses a T25 flange. If anyone needs some T3 flanges hit me up and ill sell them for cheap! .5" 304 stainless. the second exhaust flange was traded to m2cupcar for his ebay intercooler which can be seen toward the beginning of his thread. I also bought the PRC dual pass radiator and the bracket he made for the radiator as well.
Collecting parts. I picked up a bunch of 304 stainless butt weld fittings and schedule 10 pipe for the collector from mcmaster. MLS head gasket from gaskets to go. (currently working with them to send another 1mm to add to the gasket for additional piston to head clearance. ARP head studs, ID1000 injectors, Oil cooler, Tial bov and waste gate (prob wont use), Misc flanges.
List of current parts purchased. ill try to keep this up to date.
Engine FE3
RX-7 Rear differential
RX-7 rear axles
RX-7 Transmission and Trans seals/gaskets
Megasquirt 3
Turbo Borg Warner EFR 6258
Turbo exhaust manifold materials
Intake manifold Materials
External Wastegate Tial V44
Blowoff Valve Tial Q
Intercooler
Oil Cooler
Injectors Injector Dynamics 1000cc
T25 Flange
PRC dual pass radiator
Fan Spal 16"
MLS Head Gasket
Throttle body 60mm Jeep Grand Cherokee
Boost Celenoid
LC1 Wideband with analog gauge
fuel pump Highflow Performance
Clutch disk Dual friction disk from Ford Ranger
Pressure Plate ACT HD from Kia Sportage
flywheel Stock Kia Sportage lightened 3lbs
throw out bearing RX-7 TII
Pilot bearing Kia Sportage
fuel rail Stock Kia Sportage
Fuel pressure regulator Fuel Lab 525
Aluminum Adapter Plate for transmission to engine
ARP Headstuds, Nuts, and washers
**Update 5/31/11 Fidanza adjustable cam gears
**Update 7/5/11 Mocal sandwich plate W/Tsat. (M20x1.5)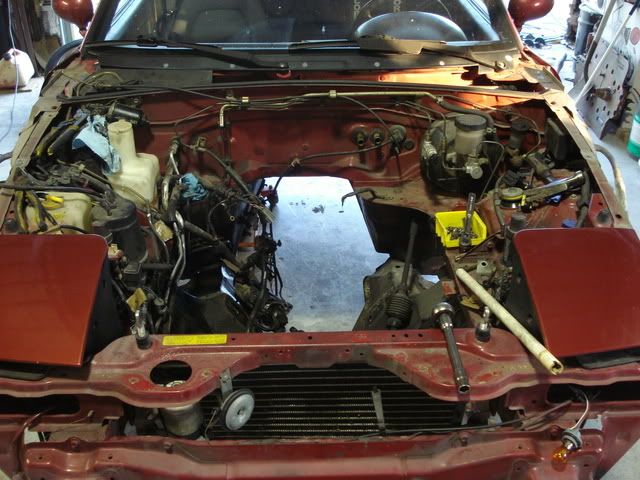 Tadaa! Pulling the motor was easier than i thought. I achieved my goals for the day with no major issues.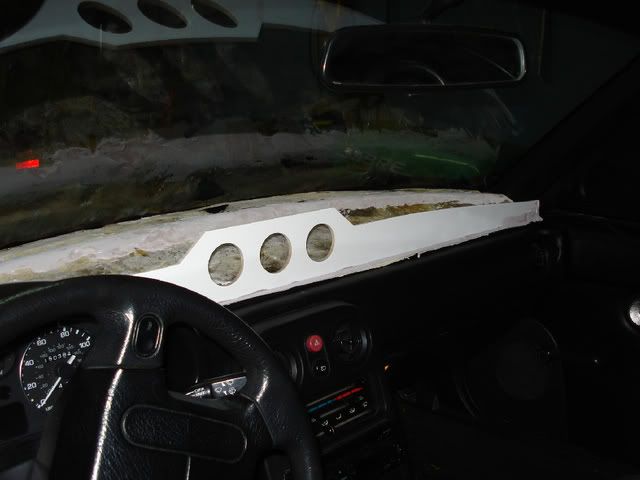 Heres another project im going to try to incorporate. Im going to try to get it covered by some black vinyl that matches the interior. The design is inspired by the Mustang Super Snakes cluster.
Thanks for the support guys!
Ive been making some progress in the last few days. the new fuel pump has been installed after a trip to autozone for a fresh fuel pump o-ring.
Yesterday and today my focus was on the transmission adapter plate. Ive decided to go a different route than some of the other guys that have done the TII swap by welding the plate to the bell housing and essentially making a new flange for the trans. Its been a pain but so far pretty straight forward. lots of checking and double checking to make sure the input shaft is going far enough into the clutch disk/pilot bearing. i used alot of modeling clay to let me know where i was and how deep the shaft was going into the clutch disk. I ended up taking off 3/8" off the face of the bell housing to make up for the thickness of the adapter plate. I could have gotten by with taking another 1/16" but what i got gets me close enough.