Discussion Starter
•
#1
•
i've seen a lot of speculation on the forums with lots of misinformation. so i decided to make this thread dedicated to YOUR experiences and opinions with what YOU have made and how it has worked out.
please only leave constructive feedback to posters offered as an opinion, not fact.
here's my current setup:
Apex'i dual funnel filter
custom made aluminum short 90 bend
black silicone couplers
i also tried this setup out, but found it to heat soak easily, despite being on the "cold side" of the engine bay. had a noticeable drop in power across the whole powerband as well as losing throttle response.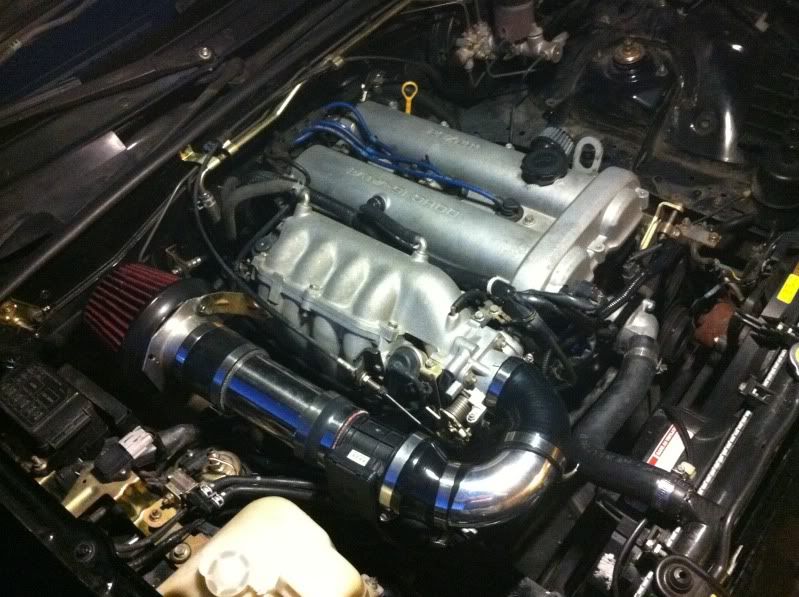 so, back to my current setup... i see people posting about how you will lose torque all over the place with this short setup. from my experience, this has not been the case at all. in the case of a 1.6L, yes, you will lose a fair amount of low to midrange torque. however, the 1.8L has a variable intake manifold which is designed to maintain air velocity equally across the powerband. you won't see dips anywhere regardless of the length of the intake tubing on a 1.8L. this short setup offers a night and day difference in throttle response with a obvious power gain from 4k rpm to redline. in order to see these benefits, you need to disconnect your battery for appx. 30 seconds and touch the cables together while disconnected. this will reset your ECU allowing it to learn the new setup to account for changes in the AFR and the shorter distance of the MAF to the throttle.
again, I DO NOT recommend it for a 1.6L
as far as actually performing this mod, it is very simple. with a razorblade, cut back the conduit and wire loom housing the MAF connector. the connector and AIT sensor will reach the passenger side without cutting any wires whatsoever. i would also recommend buying a new length of hose (twice as long) for your coolant reservoir to mount it back near the firewall to give yourself plenty of room for your new filter.
feel free to post pics of your setup and experiences!