I'm a 240 guy mainly, but I've always had a love for miatas, and finally had the ability to get one myself
I'll use this thread to show the progress on the build, and info on the massive headache I'm having on getting the title for the car.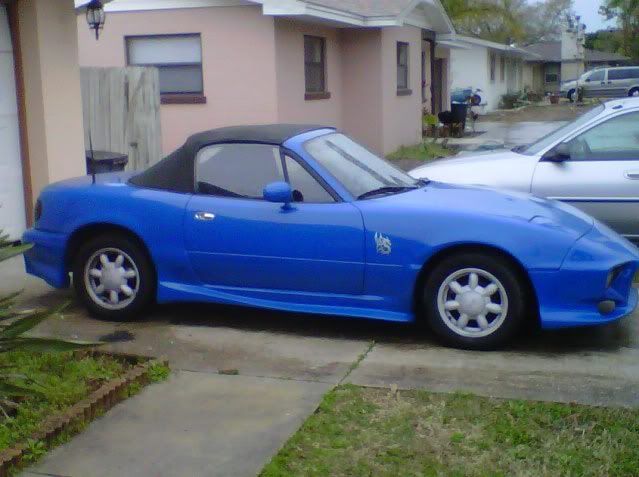 Looking to turn it into a fun, clean daily driver.
Story: So I bought the car for $400, as it's sat for a while. So far it seems all it needs to run is a fuel pump. Hooked to a good battery, it turns strong but no fuel is coming. Replacing that this weekend, along with a radiator.
I bought the car from a co-workers mom, whose husband was the owner of the car.
The fun starts where the husband passed away 2 weeks after he bought the car in South Carolina. The family brought it down to Florida, and let it sit, which is where I came along. I sent a form for lost title to South Carolina, and after 4 weeks, I called them today, and ended up finding out that there will be no duplicate title for them because in the two weeks after buying it, he never titled it.
So I then called Florida DMV who told me I had to have the SC title signed to me, in order to register it. So I called the dealer who sold the car, as I have the original bill of sale. He was no help and said to get my money back.
I then called the SC dmv again, who informed me that they still showed the miata titled in SC, as dealers are not required to title in their names at purchase.
The next step, is to send in a Vehicle Information Report, for the info of the "Current Owner". If I can get this back and get ahold of said "owner", and they are willing, all they would have to do is get the duplicate title, sign it, and mail it. After that, I can skip the list of 3 sellers I have the bills of sale for, and transfer it directly to me.
I will keep everything updated.
As far as plans, my steering wheel setup and wheels are on the way, soon followed by roll bar and coils.
Also doing an Ipod to Amp setup.
And yes, front bumper is going to be burned in the near future.