So I picked this car up back in April. Engine has bad rings but came with Fat Cat coilovers, 949 endlinks, 6uls and a front RB sway.
Since then I've added:
Hardtop (Soft Top Delete)
Molded KG Works Spoiler
TDR Splitter
Garage Star Plate Holder
Garage Star Rad/Wiper Cowl Covers
Tribute Wiper Nozzles
Cibie Headlights
DDM Works Radio Panel
Redline Leather Shift Boot/Ebrake cover
Rebuilt Shifter
Shark II Antenna
inJoy Visor Delete
Voodoo Ebrake/Shifter
Rennenmetal Tow hooks
Rennenmetal Hardtop Brackets
Delrin Shifter Bushing
RevLimiter Eyball Vent Rings (Wrinkle Black)
To Install:
Engine
RB Intake
JR Header
RB Exhaust
Magnaflow Cat
HDHC DD Rollbar
Stainless Brake Lines
Stainless Clutch Line
Door Speakers
Injoy Door Panels
Injoy Door Pulls
Garage Star Carbon Plug Cover
etc...
As it sits the car looks like this: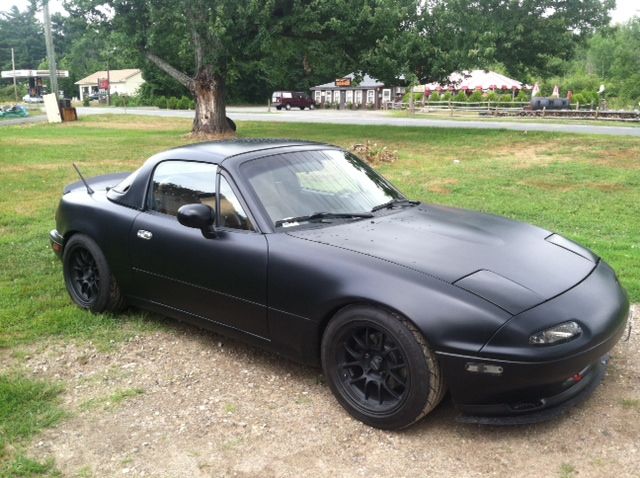 Since I have no garage or any of the tools to do the work (and all that handy dandy miata knowledge) MightyMouse is going to be doing the engine swap (including TB/WP/general service), Rollbar install and intake/exhaust install. He has been patiently waiting for me to get my crap together and bring the car up to him....which will finally be happening this weekend. I am super pumped to get the new engine in and glad to have someone who knows what they are doing take care of it (unlike the person who painted my car...sigh....thats a whole long story there).