Well let me introduce myself, I'm Freddy. I've owned a 1991 240sx and it was a bunch of fun but the maintenance was getting a bit tired some. So I got rid of it. It was a sad day because she was a beauty.
On February 2013, 95 NA Montego Blue miata (hence my username). I loved the Miata platform so much and she was a bunch of fun. I bought her 15x8 Enkei 92 wheels and upgraded the suspension to some used Apexi N1 Coilovers which worked fine. I did a full tune up on her like every car I get. The previous owner did replace the water pump and timing belt with a bunch of other maintenance. It was rock solid car.
I've kept it like that for a while or say 6 months, but I kept eyeing the NB Miata so much more and I felt that although I loved the platform I wasn't indulged and in loving the NA miata. So I've got the chance to sale the NA Miata for a really good price, I was still going back and fourth if I should have sold it or not, I still loved the car for how reliable and fun she was.
I bit the bullet when I saw a completely Stock Emerald Green Mica NB Miata. I fell in love with just the posting. The guy had it in mint condition and it came with a oem black hardtop. I was just a little skeptical with the 170k mileage but I just kept loving the car. So I sold my NA miata scrapped up some extra cash to get this 2000 NB LS Miata. When I went to go pick up the car, the Miata looked 20920390324 times better in person. It had the lip, sides skirts, hard top spolier, and duck tail. All in amazing condition. She started right up and the interior was a major upgrade to the NA. The car pulled beautifully and shifted amazing. The guy was pretty cool. He was a graduate Nurse from Cal Poly and he was selling the car because he just bought himself a 2012 toyota tacoma trd edition, plus he has had the car since 2008. The guy and his fianace seemed like a good set of educated individuals. We signed the paperwork, he gave me a beer. We talked about Breaking Bad and Game Of Thrones. And rode on my new NB Emerald Mica Miata. I was so happy with it and still am.
On August 2013 I picked it up, I showed it to my girlfriend and she loved it. I felt the NB miata needed a name and we settled on Emma. It fits her perfectly.
Being a Full time college student and a part-time warehouse worker, was a bit difficult to source out parts for it but I already knew I wanted a simple but solid build for her, just so I won't be having to fix up or change up things just because I didn't spend those couple extra hundred dollars.
As I love being in mountain roads, going out to the track, and I would like to start doing some auto x. I felt I needed a good platform and tasteful mods. I want function and some form, I know its a bit pricey but i'm willing to be broke for me to achieve the certain platform I want Emma to be.
Emma's spec list how I bought her
2000 LS Miata
4.3 LSD
Oem Hardtop
New Belts
New Cat
Power Steering
Power Windows
Nardi Steering wheel
Brand new falkens 205/50/15's
Viper alarm system
Kick ass Sound system
and wait for it.....
ABS!!! ( Which I read around that it was an 800 dollar upgrade from the dealers)
This is Emma's First list when I started.
15x8 Konig Flatouts
Tein Flex Coilovers
RB or FM front sway bar
2.5 Inch Catback exhaust
K&N intake
Aftermarket bucket seats
Upgraded Rotors
Upgraded Brake Pads
Emma's First maintenance list
Mobil 1 Full Synthetic
Bosh oil filter
Ngk iridium spark plugs
Now for the pictures!
My 1991 240sx Aka Kendra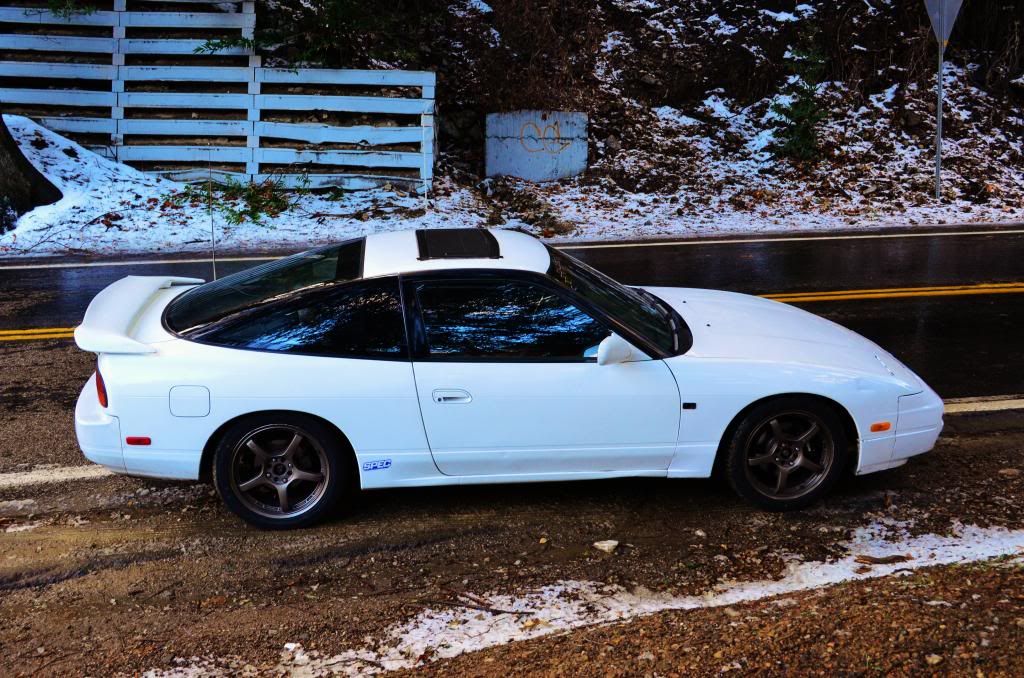 My 1995 NA Miata Aka Lindsey
079
by
f.munoz00
, on Flickr
This is Emma the Great
002.1
by
f.munoz00
, on Flickr
015_2
by
f.munoz00
, on Flickr