Discussion Starter
·
#1
·
I just swapped my blown engine with a used engine with 113k miles. previous owner claims there were no problems with it and that it was running strong. After installing it starts up and idles fine but when the RPM reaches around 3000 it makes a rattle noise. it sounds like its coming from the intake manifold area.
When researching this problem people have said the header heat shield sometimes vibrates so i removed it but the noise is still there.
Can anyone help with this issue?
Video: (click to view)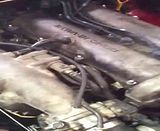 also when compression testing I realized the threaded insert was stuck to one of my spark plugs. has this happen to anyone? any suggestions to get it off. I dont want to crush the threads with vice grips
pic(right side spark plug where screw driver is pointing to)