Why does the world need another seat foam removal thread you ask? Because I haven't seen one yet that was for an NB that didn't completely suck platypus ass
hillyb:
This is for NB1 seats, might be different locations of stuff on NB2 and there are plenty of NA threads out there already, but the principles are the same.
Summary:
Remove seat
Remove rails
Remove seat covers
Bitch about hog rings
Remove foam
Install seat covers
Bitch about hog rings
Install rails
Install seat
Tools actually needed or suggested:
3/8 ratchet
3/8 longest extension you have - I used a 20" from HF
3/8 U joint -I used a HF impact swivel (which has been my favorite tool since last summer)
Sockets needed (Use 6 points so you don't round anything off) - 14mm, 12mm, 8mm
#2 Phillips screw driver
Flat head screw driver or a nylon trim removal tool ideally
Heavy duty wire cutters
stout needle nose pliers
GOOD
zipties
Sharpie
If adding bolster bracket:
Drill
1/8" drill bit
steel barstock
self taping sheet metal screws
Something to cut with:
Razor blade - like the kind that go in a glass scraper
Electric carving knife (Highly recommended by forumites)
Knife
So here's what I thought I'd need before starting: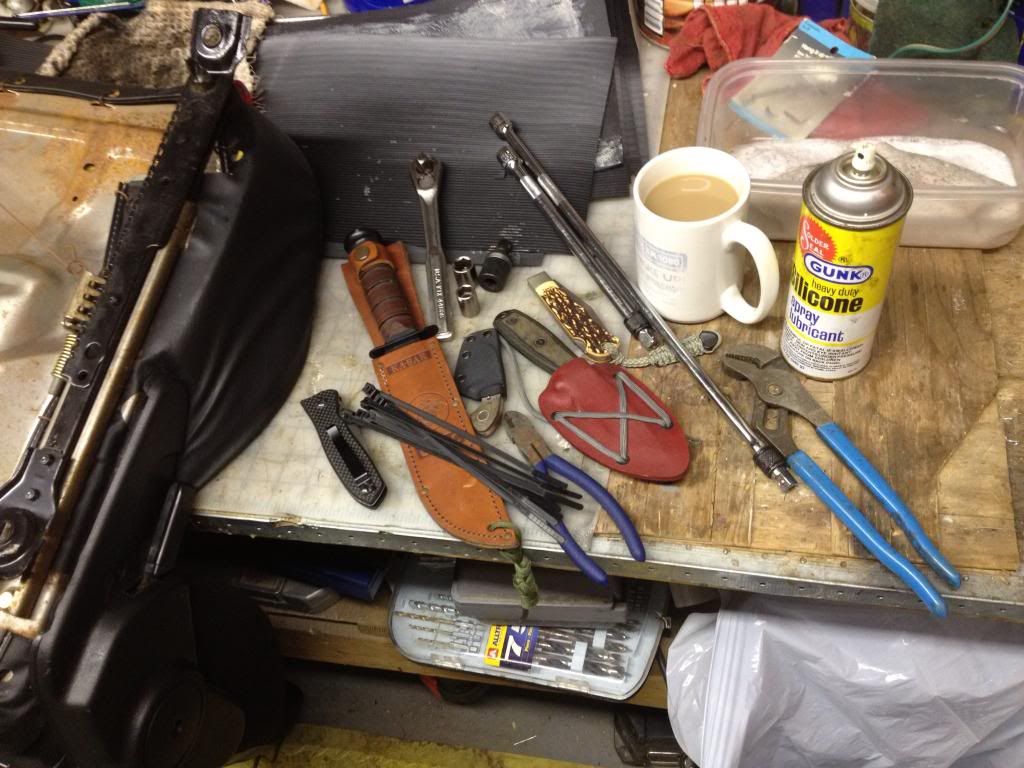 About now you should realize I fucking hated my seats, the headrest smacked me in the spine, my back always hurt after half an hour driving, my bolsters were wrecked by larger previous owners, and they spent a good time damp from my leaky old top. But KaBars make anything more interesting.
First up is removing the seats from the car. There are 4 bolts and no wires (NAs I think are different) These are 14mm bolts and if my car has taught me anything its that if Mazda used a 14mm bolt, no matter where it is its gonna be a harder than you'd think to get out. Be prepared, these are a bear, mine soaked with PB blaster for an hour and took a cheater bar to remove.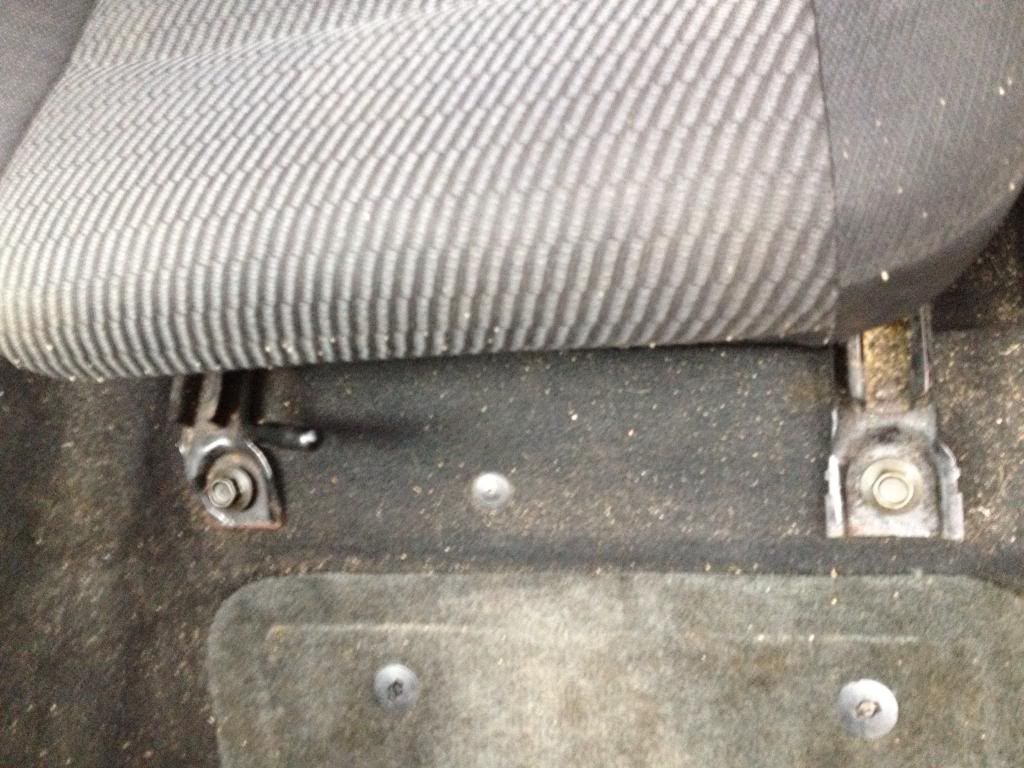 Big extension and a universal joint help a lot here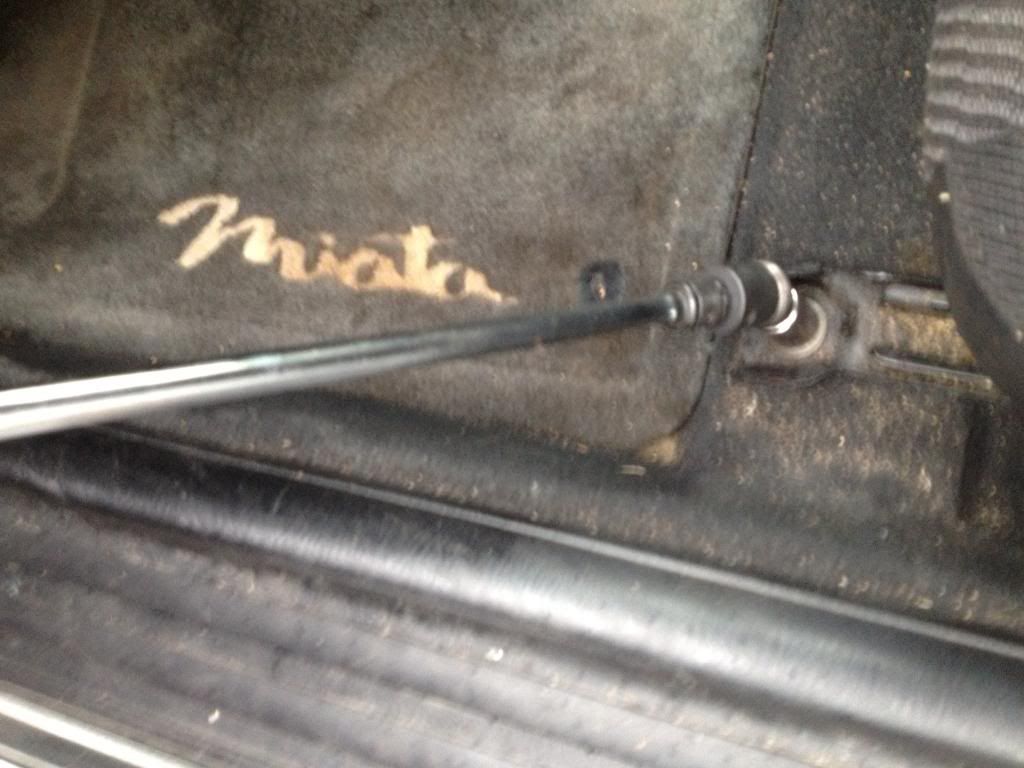 Now get it inside without putting the rails through your door panels.
Time to get those rails off. Four bolts on the bottom and two on the buckle side, these are all 12mm heads.
bottom bolts:
Slide the rails forwards for clearance on the back bolts and backwards for the rear bolts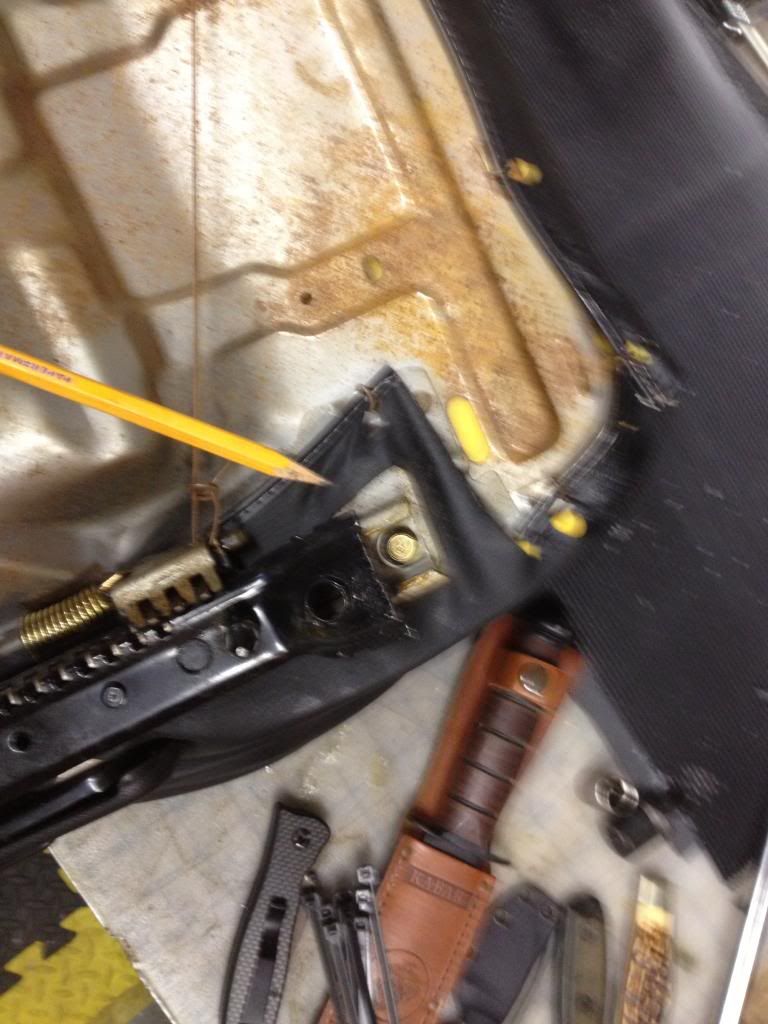 See this wire? Good, hook it back up the same way, or leave it on. But this is how it needs to look once you're done.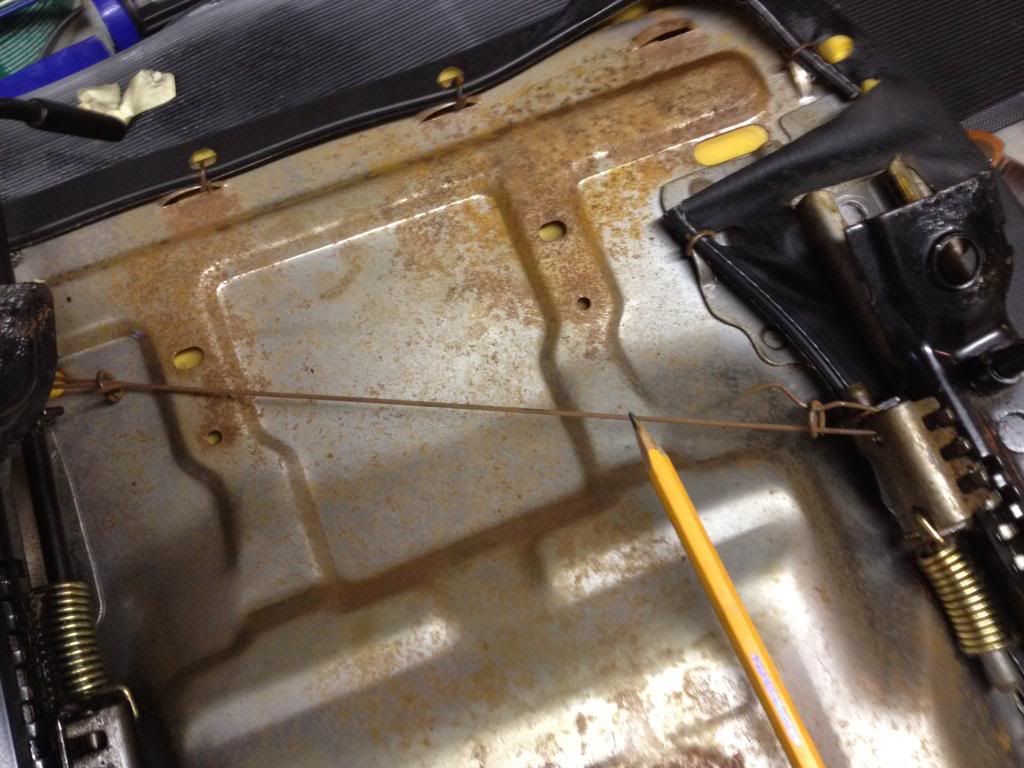 Ok now the side two
Now for breaking the seat into top and bottom sections.
Start on this side
Thats an 8mm bolt, now why bolts not screws like the other side? Because OEMs are assholes like that.
Now gently pop this cap off.
Mind the little felt washers that keep the rattles away. (My is dented a bit here, they are usually round)
Time for the spring side.
How she sits
Undo both screws order doesn't matter and they are identical.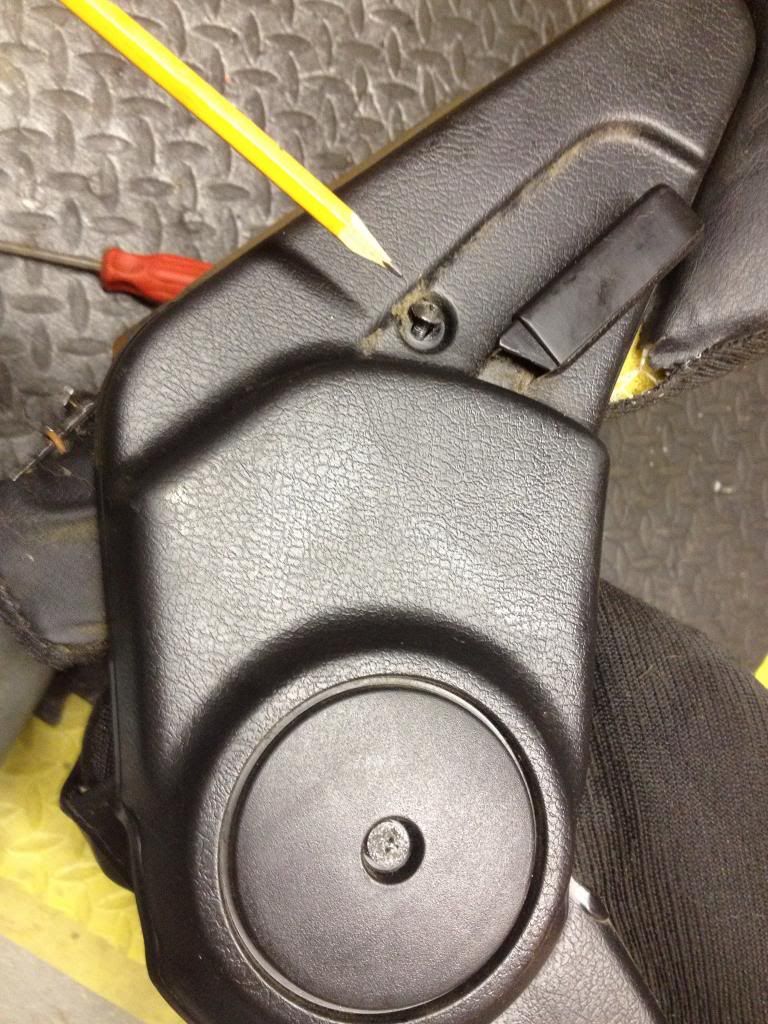 Now get the tilt handle cover off. It takes some prying, but just slides off. Use something wide so you don't rip it to pieces prying on it.
ta-da!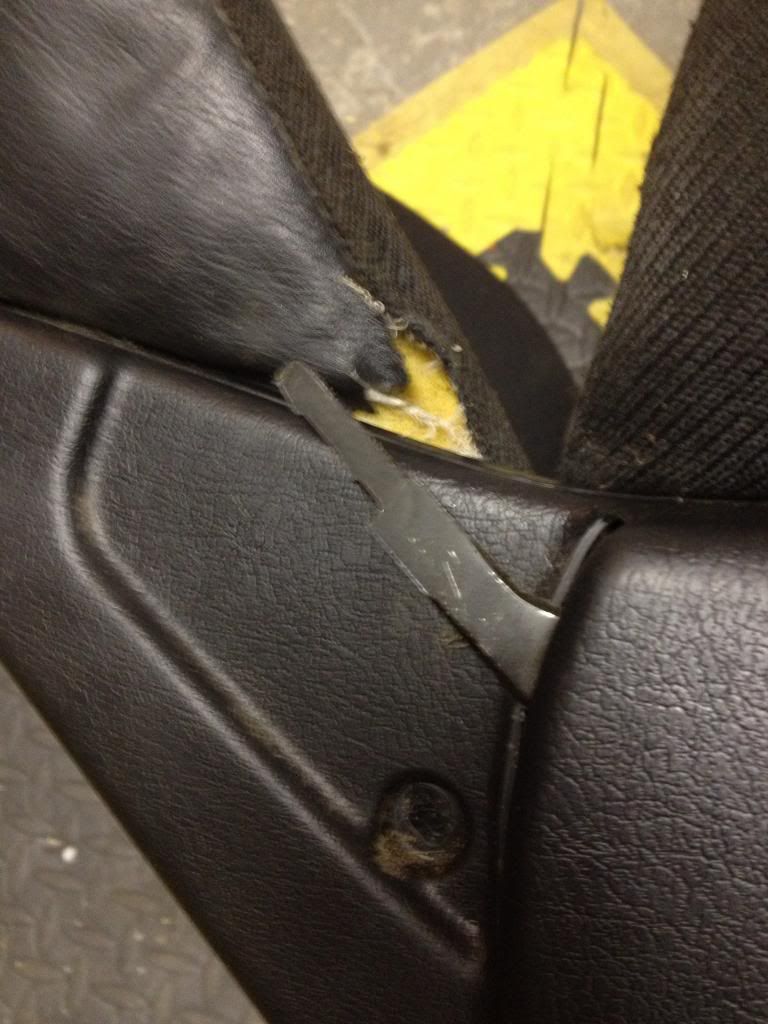 Now wiggle the cover off, pull towards where the steering wheel would be.
Now two more bolts. 14mm so they don't come right out, mine had that greenish loktite on them.
Now we're cooking!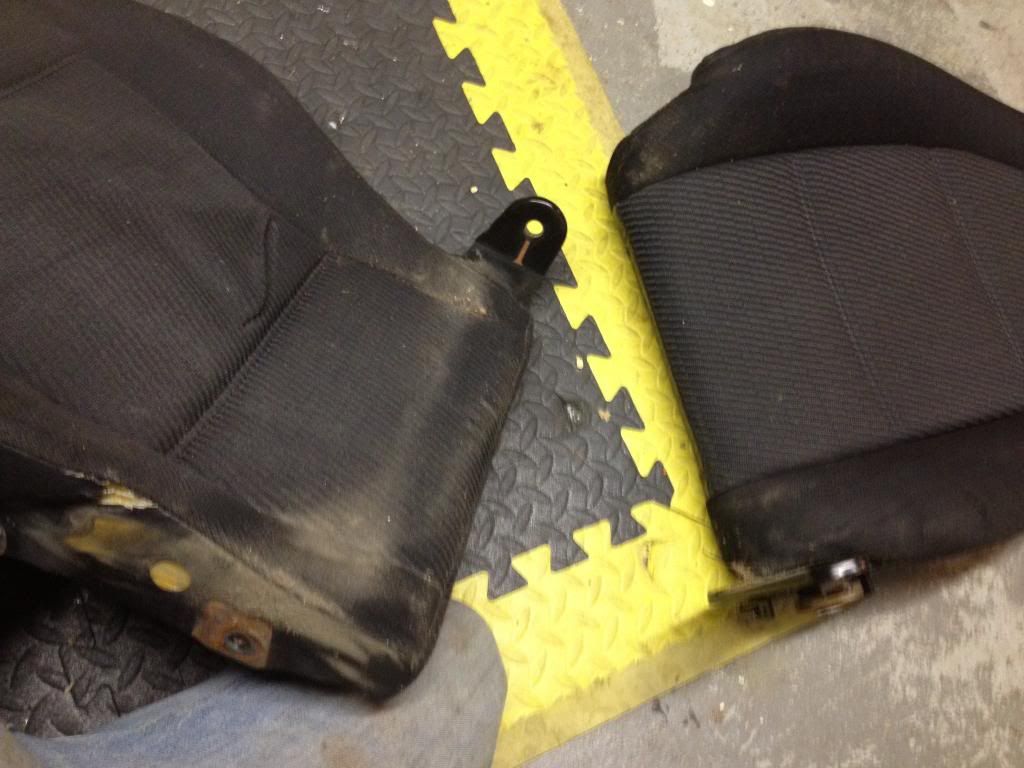 Damn my seats are nasty...:smile1: