Discussion Starter
•
#1
•
Well I searched and saw lots of vague answers to how to beat the airbag light..
You can buy the Garage Star piece for $12
Or.. you can do it yourself on the cheap.. Ghetto Star.
The car I'm doing it on is my 94 Miata.
Here's exactly (and all, that you need)
1x 3.3ohm resistor.. it has 2 orange and 2 gold stripes (that's how you tell that it's 3.3ohms, be careful not to mix up gold and yellow, won't be the right resistance).
2x female slide quick disconnectors.
Then what I did was slide each end of the resistor into the female and into one of the sides of the quick disconnectors.. then hammered it flat since the gauge of the resistor's wire is so small. Did it on both sides like so:
Then.. tape up each side and tape it all together like so...
Then locate the airbag pins on your blue clip.
and attach one of your clips to each..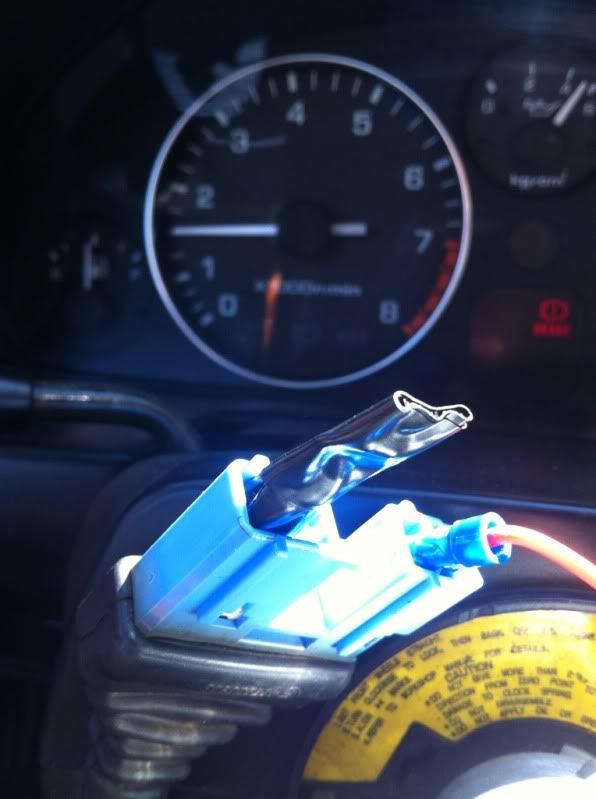 FIN.
eBay Boss hub and avacado
$15 (or $25 shipped if you live in Canada like I do).
+ whateveritcostsyoufortheresistorandclips... I had it already so it cost me nothing..
= a lot less than a "bolt on" hub! Horn works, airbag defeated, no cutting of anything to fit the hub.. all in all.. win win situation IMO.