History:
I am new to the miata community, but not new to cars. I had a couple cars, but the most notable was my previous fun car. A 2002 subaru WRX which I bought when I turned 18 and I sold it the beginning of my sophmore year of college for money reasons. It was pretty well built, stage 3 turbo setup with a bunch of goodies, built suspension/brakes and race rubber. This is the first car I have raced and definitely missed: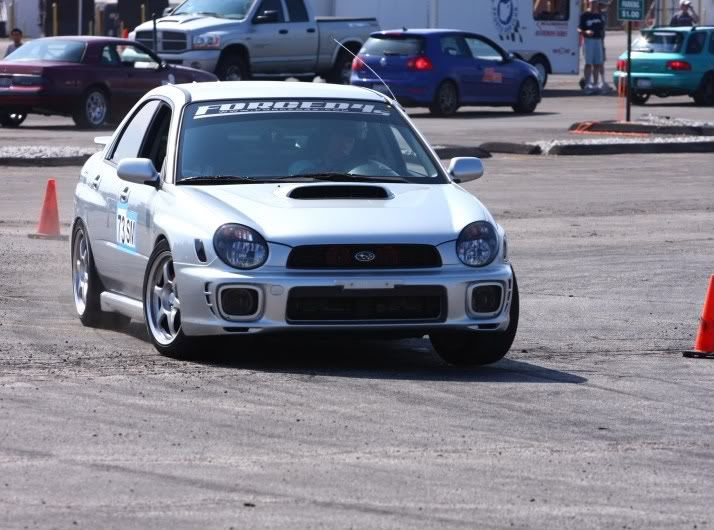 I then bought a protege5 from my uncle for a great price. I threw some springs on it, made it flush and drove it for two years as an "ultimate daily driver vehicle," which never became close to ultimate: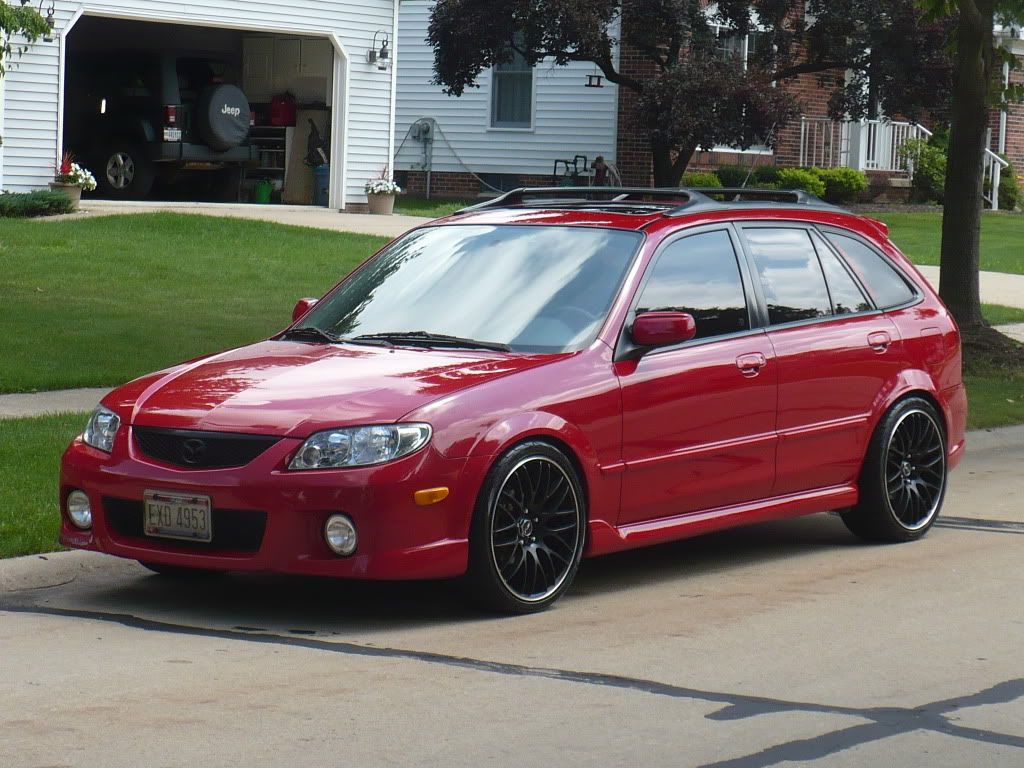 The Start:
Well, I missed racing way to much and gave the protege5 to my little sister for her to use in college. The miata, I bought the in real rough exterior shape with 180k miles but absolutely rust free. I actually took a suspension bolt off the chassis and it came off with metal flakes on it from the initial time it was put in! The paint was badly faded, softtop was torn, taillight busted, front bumper was improperly repainted with flaking clearcoat and the back bumper had a gouge in it. I didn`t even take a picture because of how crappy it looked but looking back, I should have.
Well I started off buffing the car and it came back pretty well. The single stage paint is fantastic although the original owner def. didn`t know how to buff because around the cracks, it was burned through before I started. I then shaved all the emblems, painted the mirrors, front bumper, back bumper and rear finish panel because of the horrible fading. Had to replace a bunch of misc. little stuff and maintenance. Here are some pictures after a couple initial mods and I could finally happily say this is my car: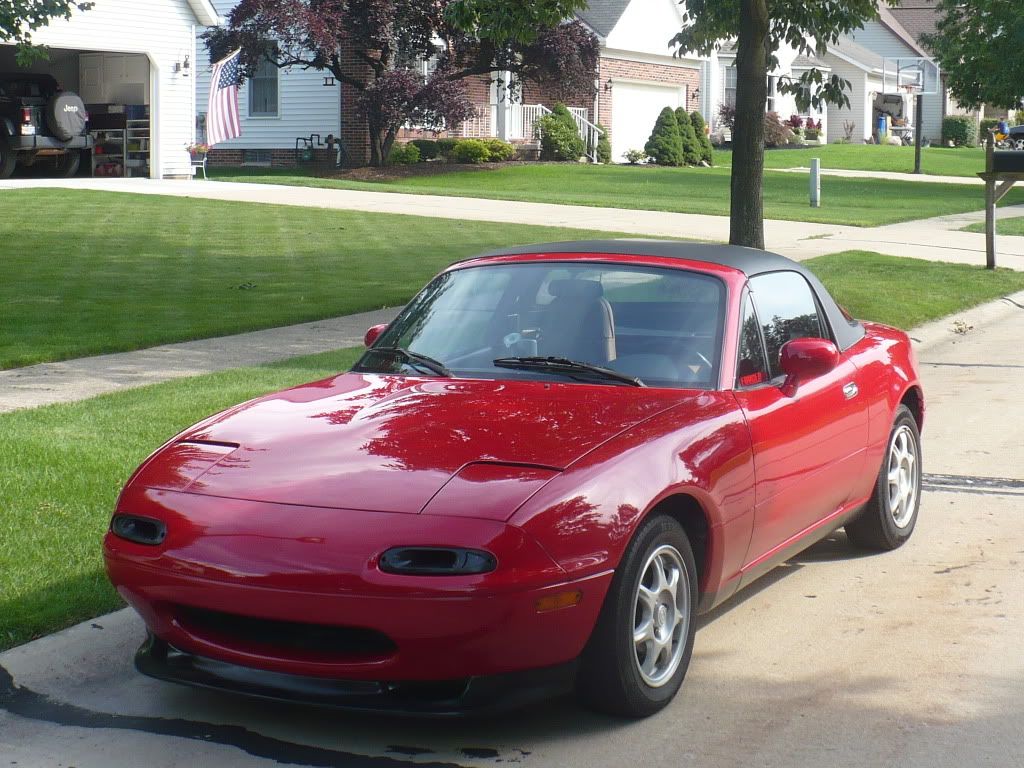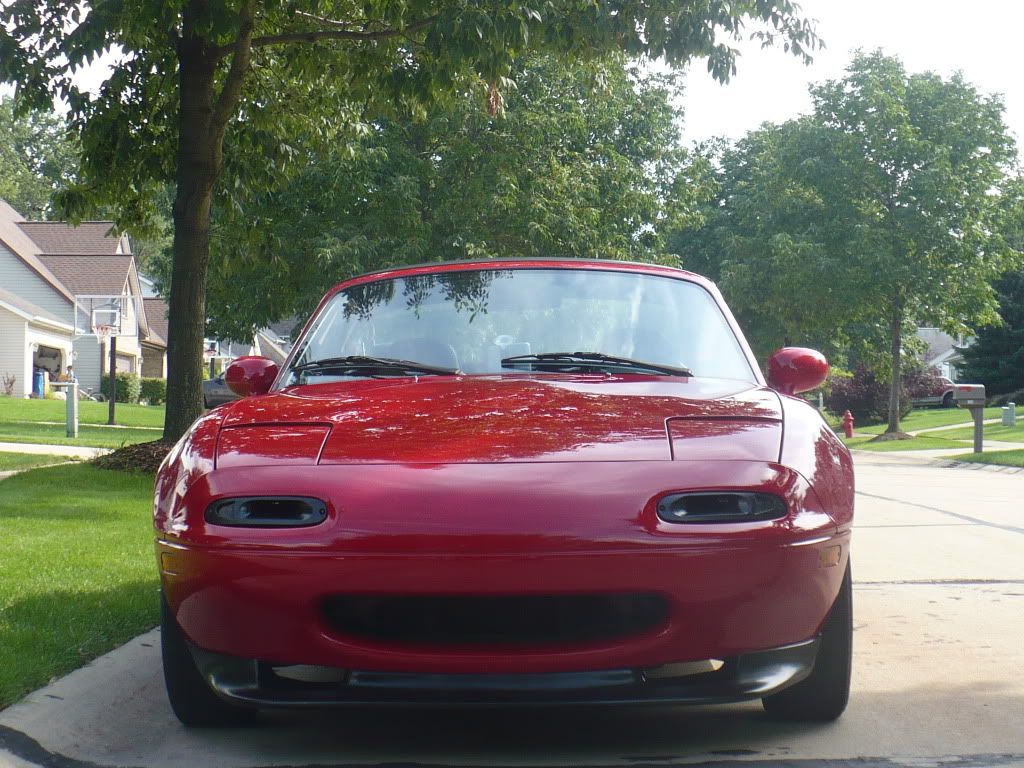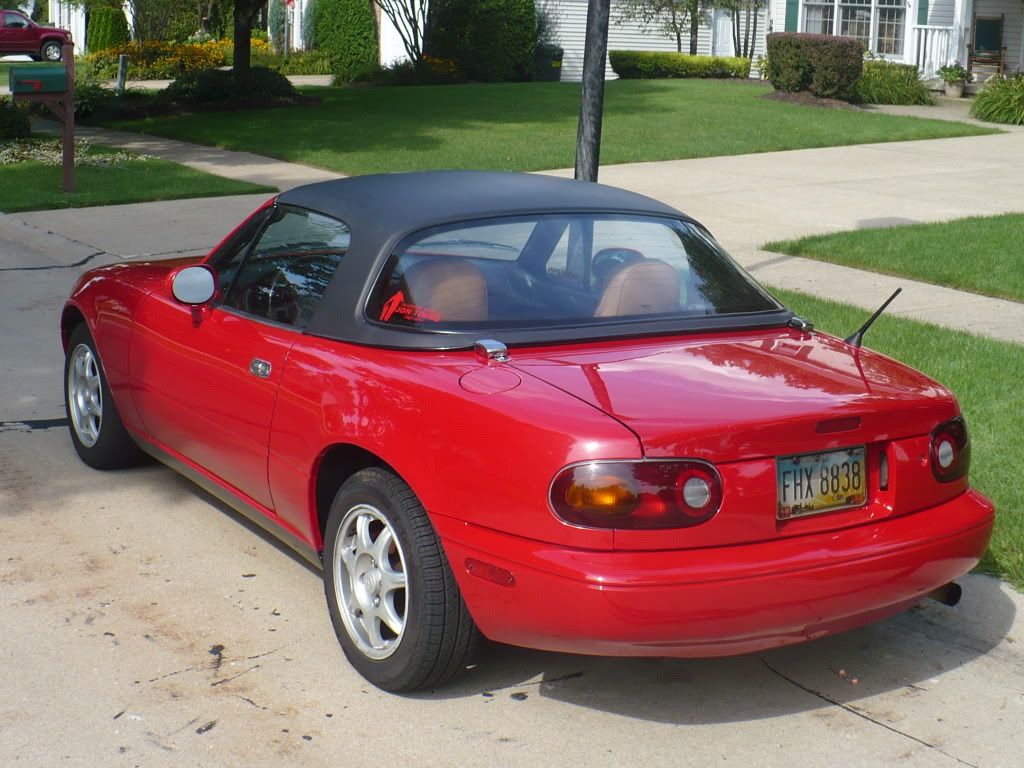 I thought it cleaned up pretty well. It is now definitely a great start for a track/autoX toy. It is not going to be built like a showcar, but it will still be somewhat clean.
Up to Date Stuff:
Modifications:
Exterior
- Flat black hardtop
- Touge Run front lip
- TSIs
- APR Mirrors
- Moss Motors Rear Antenna
- RyokuRob`s front tow hook in Red
Interior
- Voodoo Shift Knob
- Wiggy`s Shiftie
- Early NA Dash
- 320mm Steering Wheel
- DIY Shorty Center Console
- Ultrashield Rallysport 15 inch driver`s seat
- Ultrashield Rallysport 17 inch Passenger`s seat
- 5 point Simpson Camlock Harnesses
- ETX9 Battery
Suspension/Chassis
- XIDA Clubsports (700 lb fronts and 400 lb rear with dual springs all around)
- HDHCM2HDDD Rollbar with SFI padding
- 27mm adjustable front swaybar
- 19mm adjustable rear swaybar (No AutoX)
- Supermiata adjustable endlinks
- Energy Suspension Control Arm Bushings with ZERKs all around
- XP8s all around
- Brake Proportioning Valve
- Stainless Braided brake lines
Wheels/Tires:
- 15x9 6ULs in silver
- 225/45/15 Hankook RS3s
Engine:
(This list will stay small to save up for LS??? swap)
- Free intake I made from parts lying around
Current Projects
- ABS Doorcards
- Dash Cleanup
Near Future:
- Become a better driver / Trackdays / AutoXs
Distant Future: Full out track car
- Full LSX Swap (going to learn to be a muchhhh better driver first)
- Ridiculous list of things I want to do
Most up to date photo:
(minus hardtop)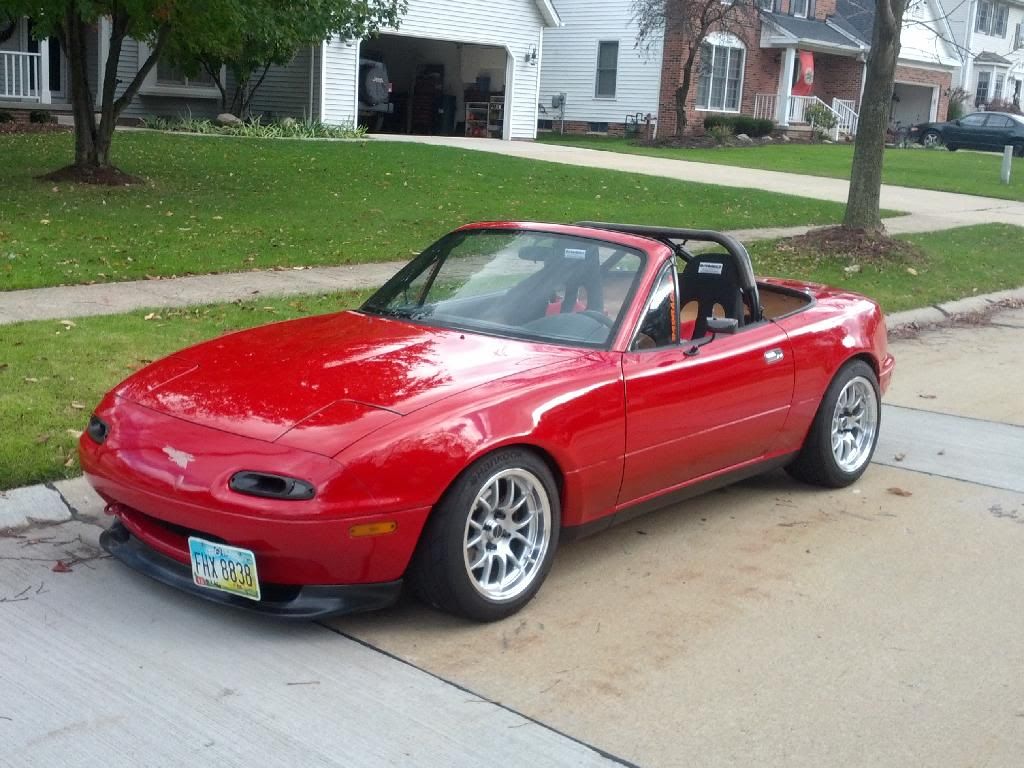 I`ll keep this updated, but mainly wanted to be able to keep track of it somewhere and like sharing things.