Discussion Starter
·
#1
·
how's it going everyone?
I'm Andrew found out about the forum today.. from Bill at the brs meet..
anyways thought i'd post some pics of my roadster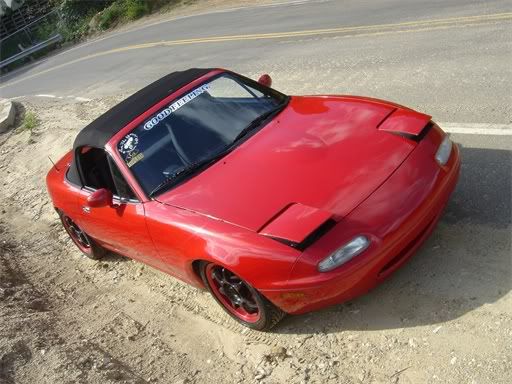 Paul (aka dj sqiigles) sitting in my roadster
Mods list.
Engine
-Stock
-Mazda OEM Oil Filter
-Mobil 1 10w-30 (Fully Synthetic)
-K & N drop in filter
Transmission
-Exedy Racing Clutch Stage 1
-Redline Synthetic 75w-90
Suspension
-Tein S.S. coilover (16 way damper adjustable & height adjustable)
-Racing Beat rear lower control arm brace
-Brain Storm front subframe brace
-Brain Storm cockpit brace
Wheels/Tires/Brakes
-Enkei Racing S 15x6.5'' +32
-Yokohama ES100 (195-50-15)
-5mm spacer in the rear
-OEM Mazda Wheels 14X5.5'' +45
-Falken Ziex 512 (195-60-14)
-Okuyama master cylinder brace
-Blank Rotors
-PBR Semi-Metallic brake pads
-Prestone DOT 3 brake fluid
-Kyokugen wheel lock / lug set (black) w/ key 12x1.5
Interior
-Sparco Lap 5 Steering wheel (350mm)
-NRG quick release (Anodized Red)
-Momo Hub Adapter
-MAZDASPEED Horn Button
-TC-Sportline spin turn knob
-Razo 400g Shift Knob
-Razo rear view mirror
-D.I.Y. "sleepy eye" thanks Paul, Kyle, and Jon.
Exterior
-New Paint by Jesse @ Fleet Color (all badges removed)
-Front fenders rolled by Vision Autosport
-Canvas Top with glass window replacement window
-6'' Antenna replacment
-Sylvania Silver Star headlights
-Sylvania Silver Star signals
[/b]