Discussion Starter
·
#1
·
ive been looking more and more around these forums and noticing im in love with the jdm miatas, and im getting alot of ideas
I have a 1990 classic red miata, i bought for 800 bucks, and put about twice that on restoring it, like stripping first layer of paint off and making it look red again, replaced the top with a cloth w/ glass rear window unit, full mechanical tuneup, good stereo, new parts of the dash, exhaust, and some nice suspension
before:
after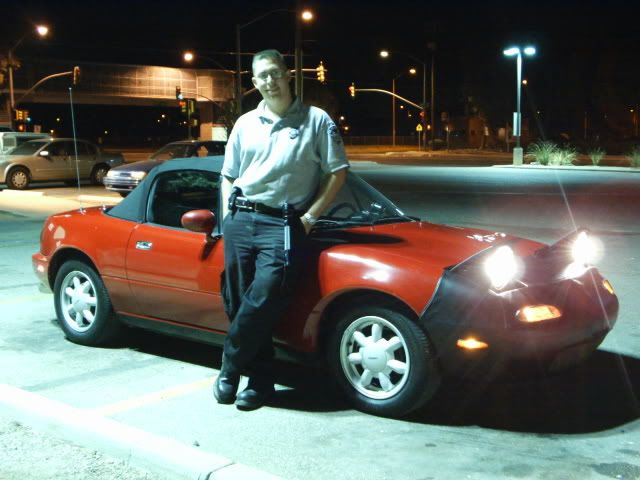 not this weekend but next its getting a fuji-racing flywheel and 1.8l clutch installed, and ill be ordering some street/track brakepads at the same time
im looking for a good exhaust something like the rsr or the one i posted im looking for in the exhaust sub-forum. I am debating ordering that now or ordering myself a set of new wheels, (i have a friend selling a set of GOLD 13x8 rota rbs) that and i dont know if im low enough to run them and look as good as say c28en
my biggest worry about the car right now is if i want a set of IRTB's or to just order the greddy turbo Localy there is one miata getting the fmII kit (and is kindof a ricer though) and a person who has a u3 ubercharger kit granted being im going with the jdm look ill be different, but thats why im leaning to ITB's ricer has the morepowerful turbo coupled to a 1.8 i dont honestly want to be the one that people say nice turbo but you should see this one guys turbo miata!
what can i say i like being unique, heck thats what modifying cars is about!
well im a pre-med student, and dont have much money because of it theres a few things i woud love like $800ea nakame seats, ill be willing to settle for something that looks the same if someone could point me in that direction
well thank you for hosting this forum it seems like you allare going an amazing cars, and its overloading my mind with all the time you have invested