·
Lit like a BranchDavidian
Yes, I know there is tons of information out on the internet if you search for it. However, sometimes people seem to be too lazy to do this, or even search for it on this very forum. So I have taken the time to compile this information for easy reference in the future and for people to discuss driveline options in one simple thread. I have compiled this to the best of my knowledge and if I am wrong anywhere with any of the information, please let me know so I can make corrections.
Thinking about swapping your 5-speed transmission for a 6-speed version? Want more speed in each gear? Thinking about changing out your final drive/rear-end?
Let's first look at the common OE parts Mazda used in the Miatas from 1990 to 2005:
5 speed transmission gear ratios-
1st 3.163
2nd 1.888
3rd 1.333
4th 1.000
5th .814
6 speed gear ratios:
1st 3.760
2nd 2.269
3rd 1.645
4th 1.257
5th 1.000
6th .843
Common final drive gears:
1990-93 5-speed 4.30
1994-97 5-speed 4.10
1999-03 5-speed 4.30
1999-03 6-speed 3.909
2004-05 5-speed 4.10
2004-05 6-speed 4.10
Or broken down to this-
The 4.30:1 came on:
-1999-2005 5-speed
-1999 auto
-1990-1993 but is a 6.5" ring gear
The 4.10:1 came on:
-1994-1997 5-speed
-1994-1997 auto
-2000-2005 auto
-2004-2005 6-speed (including MSM)
The 3.909 came on:
-1999-2003 6-speed
Limited-Slip Differentials were as follows-
1990-1993 had an optional VLSD (viscus limited slip)
1994-2005 had an optional 4.1 Torsen LSD (2004-5 6-spd included)
1999-2003* 6-spd had an 3.9 Torsen LSD (IIRC all 3.9 units are LSD, but please correct me if I am wrong)
*2003 6spd LSDs were the Tochigi-Fuji (T-F) LSD and Mazda switched back to Torsen in 2004 (Once again, correct me if I am wrong)
The 4.1 + 6spd is kinda of an odd combination, anyone with a Mazdaspeed MX-5 will attest to the nearly annoyingly short gearing. So if you have ever been curious about swapping a 6-spd into your car with a 4.1 final, ride in a MSM and feel how short the gears are. The biggest benefit of a 6spd is for those with increased power because they have a lower failure rate with turbo/supercharged cars whereas 5-spd transmissions can fail easier with increased power....been there myself. But don't worry, having more power and a 5spd transmission does not mean you're automatically going to blow it up, they can last if more care is taken in regards to shifting/launching and power delivery.
If you're thinking about swapping transmissions or final drive (rear-ends), consider the following charts/graphs. I made a quick graph to give an idea of the difference between the 5spd and 6spd with a 4.1 final gear...one of the most common in Miatas. This is compared to the 3.9 final drive in the 1999-2003 6pseed cars. Cars from 2004 and 2005 with a 6spd trans. have a 4.1 final drive (incl. MSM)....and this is how they compare.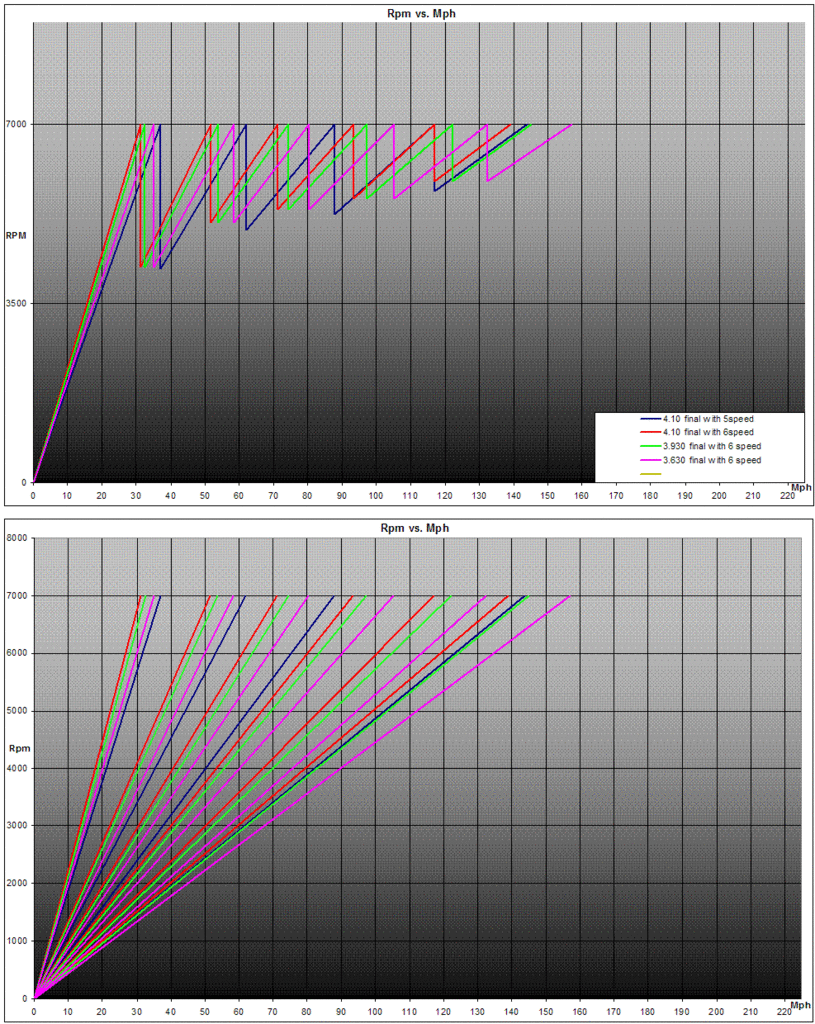 You can kinda get the idea what happens and how much more gear changing there will be with a 6spd mated to a 4.1 final. IMHO, for a average/street driven car, there is little benefit. The 6spd with a 4.1 or even a 4.3 final drive has more benefit to cars with built NA/ITB engines where the RPMs need to be kept higher at all times to stay on power. Cars with forced induction will be producing more torque and can use the 6spd with a lower final drive like the 3.9 or the optional 3.63. There are other final drive ratios that can be used, but if you are seeking those, then you've (likely) already done your homework and have a very specific goal and understand the use of such gears.
Or maybe you prefer you data in a spreadsheet...
Gear and speed graphs
6-speed transmission gearing comparison between 4.1 and 3.9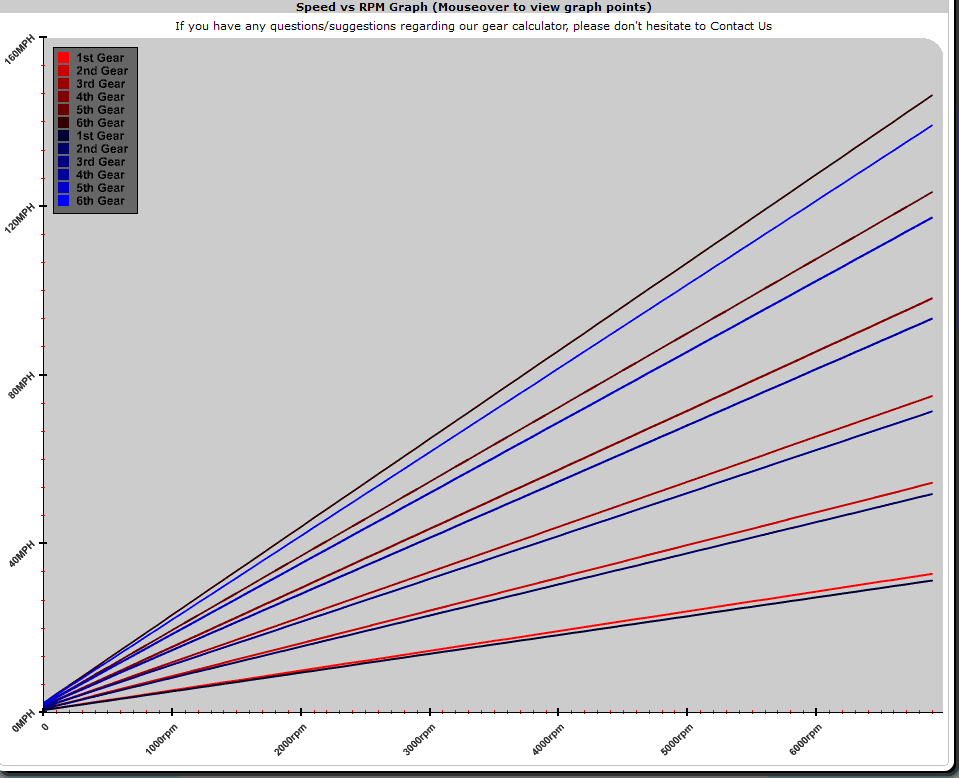 5-speed and 6-speed with a 4.1 final drive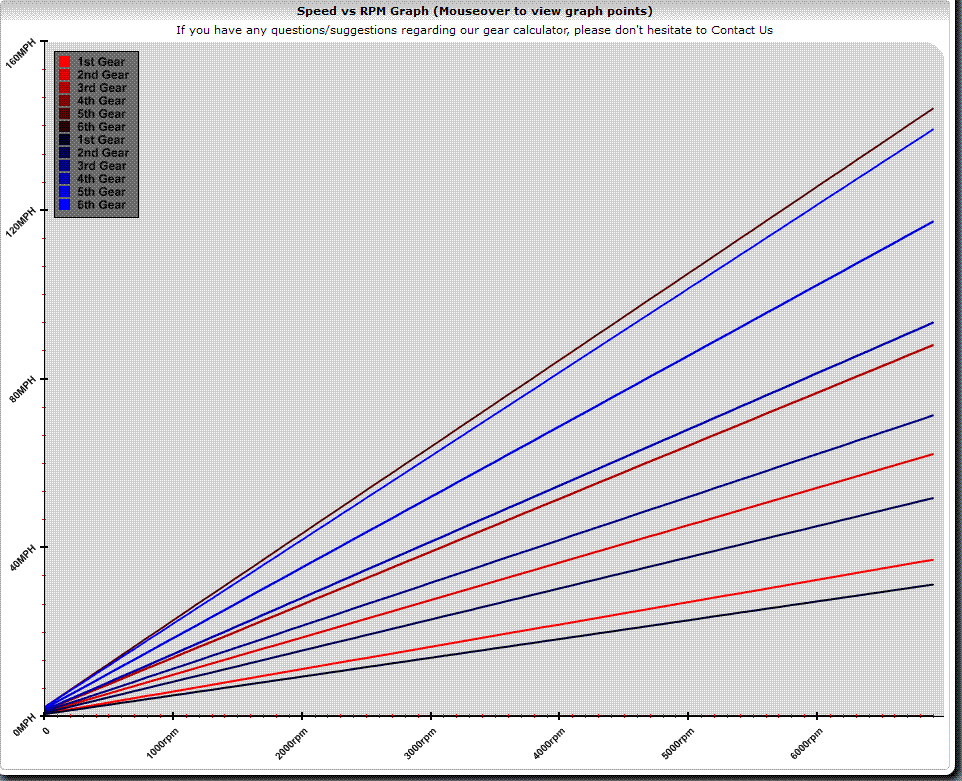 5-spd with 3.9 vs. 4.1 final gears
data sourced by
www.flyinmiata.com
http://miataturbo.wikidot.com/differential
www.miata.net
calculator provided by
http://www.teammfactory.com/gear-calculator
http://www.k20a.org/forum/showthread.php?t=39756