*click pics for videos*
so i got my exhaust all mated up and unfortunately it's too quiet..... it's barely a tad louder than what i had and i think was stock. here's a sound clip for anyone that can't find a clip already on youtube. 2000 rpm ->5200 ->2200. decided not to go any higher because my elderly neighbors were chilling on their patio and i didn't want to bother them with my boy racer car.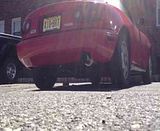 also, the tip somehow got hot enough on my drive to class this morning that it started melting the exhaust cutout. i knew the exhaust gets hout but not melting plastic with an inch of space hot. either way i need to figure something out.
lastly, the catback came with a few brackets that i assume is for the hanger closest to the tip since the hanger by the tip ends in a flat metal piece with a hole in it. only i have no idea what i'm supposed to bolt this to if anything at all. but it makes sense that i DO need to brace the end if the catback somehow because it moves quite a bit. here's a video.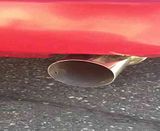 i think that the movement coupled with the hot exhaust are actually what melted the inner lip of the cutout. any ideas on getting rid of that jiggle jiggle?