KraftWerks Rotrex Supercharger Group Buy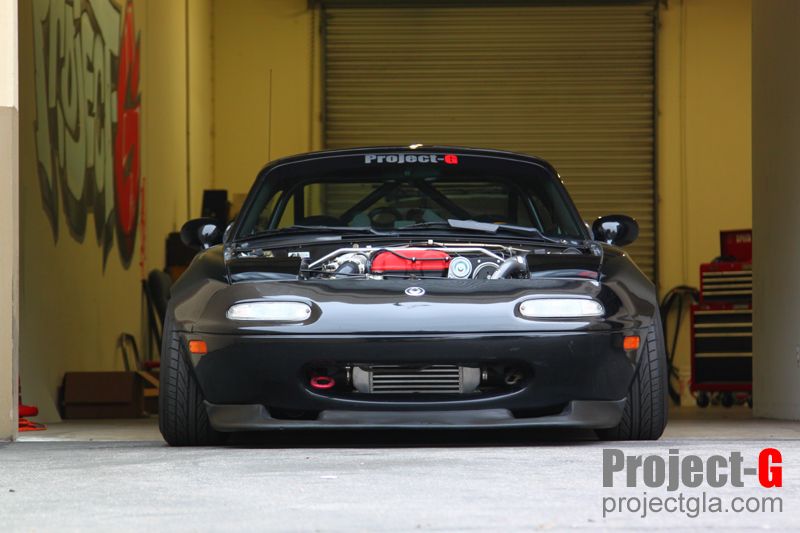 As many of you know, Project-G has been working with KraftWerks in finalizing their Rotrex Supercharger Kits for the Miata. There has been a lot of anticipation surrounding this kit, and KraftWerks feels it is finally ready for release!
Make no mistake, this is NOT the kit which was previously released. This is the new, redesigned, intercooled kit.
We here at Project-G have been putting the kit through its paces and have been very pleased with what this kit delivers right out of the box. All of our test vehicles are running the KraftWerks Rotrex Supercharger Kits just as they come out of the box.
They can been seen in person at our shop for those who are interested in seeing before buying.
Project-G
1370-i Maine Ave.
Baldwin Park, CA 91706
The KraftWerks Rotrex Supercharger Kit comes complete and ready to drop in and drive. No additional purchases are necessary to make this kit run correctly. This includes fuel management. The NA6 and NA8 come with a rising rate fuel pressure regulator (FMU) and the NB1 and NB2 come with a KraftWerks "Fuel Box" to manage the fuel, as well as an upgraded fuel pump and injectors.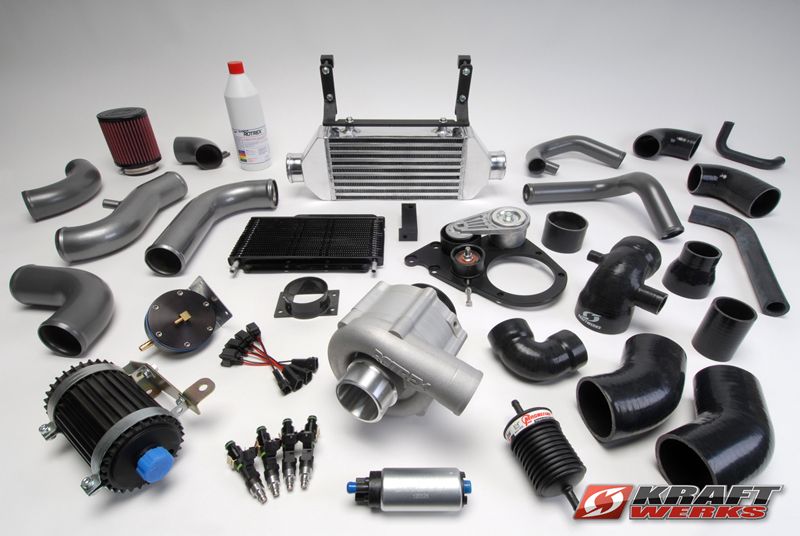 Each kit, NA6, NA8, NB1, and NB2 all come complete with everything shown above with the exception of FMU or "Fuel Box" and some of the model specific plumbing being different.
Unlike the previous version, these can all be run with or without power steering and air conditioning.
Tech support:
Provided by KraftWerks
Warranty:
Rotrex unit warranty is 2 years from date of purchase through KraftWerks
Additional information:
Project-G Review:
http://mazdaroadster.net/showthread.php?4710-Project-G-Goes-Forced-Induction-KraftWerks-Rotrex-Kit
KraftWerks Official Release:
http://kraftwerksusa.com/kraftwerks-90-93-and-94-97-mazda-miata-supercharger-kits/
Facebook:
http://www.facebook.com/kraftwerksusa?fref=ts
http://www.facebook.com/projectgla
Questions and Answers Provided by KraftWerks (Group-A Rob) starting at post #64:
http://forum.miata.net/vb/showthread.php?t=479510&page=3
Project-G has been working with KraftWerks on some special pricing, and has been given the opportunity to bring you a fantastic introductory price!!!
Group Buy Pricing will be good through Monday, January 20, 2013.
We plan to start shipping the following week.
Pricing - MSRP is $3995, BUT WE ARE OFFERING A SIGNIFICANT SAVINGS OVER THIS!!!
Due to the terms set by KraftWerks, we are not at liberty to advertise pricing at this level.
In addition, we have also worked out a few other incentives to add to this group buy. We would be very surprised if we ever see deals like this again.
Please contact me directly for pricing and additional information:


[email protected]
Edit:
First 10 spots secured by deposit or paid in full will receive a special KraftWerks / Project-G Super Care Pack!!!
KraftWerks Rotrex Supercharger Group Buy. Pricing good through Jan. 21, 2013.
Kits are starting to ship as of yesterday. If you are on the shipped list, you should have already received tracking info via email with the exception of the international shipment. There were different configurations ready to go, so depending on configuration needed and also the order full payment was received, those kits have gone out in this first batch. The remaining kits are expected to ship by the end of next week.
Super Care Packs will ship separately for the first batch.
1. K. Lee - SHIPPED
2. S. Abrams - SHIPPED
3. L. Wilbur - PAID
4. R. Marchesi - SHIPPED
5. J. Chan - PAID
6. J. Ho - PAID
7. A. Janeshek - SHIPPED
8. K. Powers - PAID
9. A. D Lm - SHIPPED
10. S. Jahan - SHIPPED
11. H. Ca - PAID
12. J.M. - PAID
13. J. Sommerville - Deposit
14. D. Ward - PAID
15. G. Luk - PAID
16. R. Acheson - PAID

Thanks,
Project-G