1997 Mazda Miata 1.8. Montego Blue over tan. Popular Equipment package with Leather.
Picked her up from a man down the street who didn't drive it often, and didn't want to pay for fixing the issues on the car. I purchased it with 185k miles for a whopping $1400. Had to put a starter in it to get it to move, but it has been my daily for a few months now.
Time for pics! Excuse my noobness, I'm not forum literate enough to figure out the image button apparently...:haiguyths: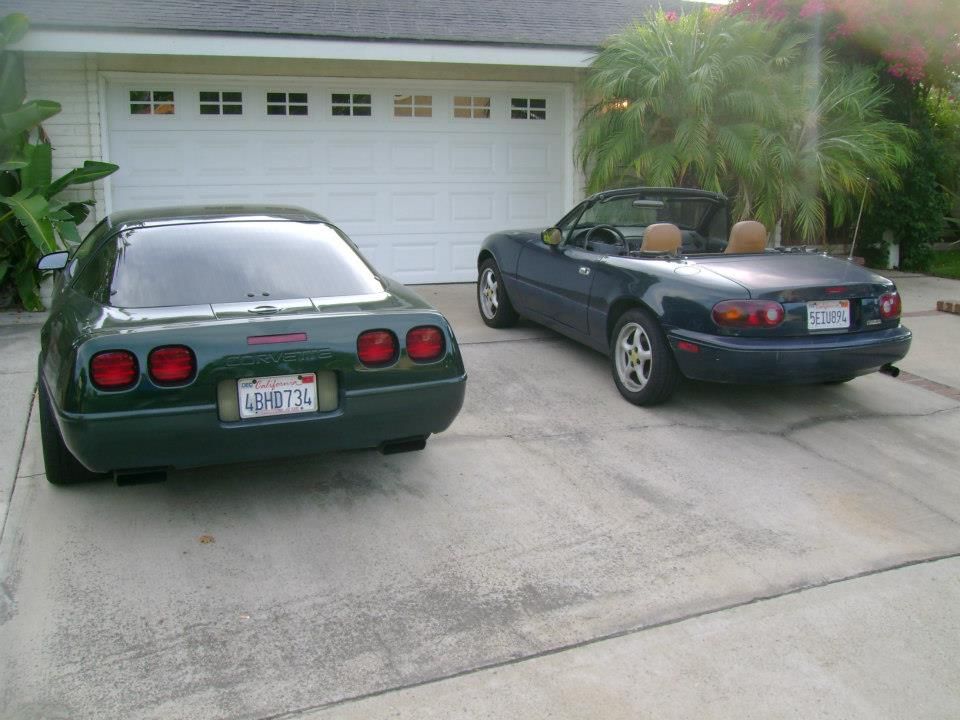 Currently looks like this:
Current modifications as of 4/4/16:
Exterior:
Autokonexion Fastback
Autokonexion V1 front flares
Autokonexion GT Widebody rear over fender
GV rep lip
Jetstream headlights
Garagestar licence plate bracket
Blackbird Fabworx front tow strap for EP bumper
Eunos badges
Lexan triangle windows, driver side includes NACA duct
Artcentermiata style bumper cut
Bomex side mirrors
Car Make Corn*s badge
Blackbird Fabworx CSP spoiler
Project G side skirts (NB)
Interior:
Blackbird Fabworx Single diagonal in High intensity gloss white
Beatrush hardtop side latches
Project G Shift boot
Project G E brake boot
Momo Monte Carlo 350mm, white leather
Club NA Swarovski horn button-white
NRG 2.5 Quick Release in black
Miata Roadster tall angled shift lever, crinkle black
Maruha shift knob
T3 delrin JGTC style shift knob- white
T3 75mm hub spacer
AWD "Japan-V" gauge faces.
AWD billet needle stoppers
Carbon gauge panel
Blue gauge lights
Pro-bolt USA titanium steering wheel bolts, anodized gold
Garagestar door bushings
Wheels/tires
Front: Racing Service Watanabe R-type 14x8 -6 on Toyo R888 205/55 14
Rear: Racing Service Watanabe R-type 14x8.5 -13 on Toyo R888 225/50 14
Suspension/chassis:
Ohlins PCV coilovers 8k front, 6k rear
Mazdaspeed Miata 23mm front sway bar with Energy Suspension Poly bushings
OE rear sway bar with Energy Suspension poly bushings
949 Racing endlinks front and rear
Energy Suspension rear control arm bushings
Energy suspension differential mount bushings
Beatrush PPF brace
Cusco carbon shock tower brace
949 Racing stainless braided brake lines front and rear
Boss Frog Frog Arms
Carbotech XP8 front pads
Carbotech XP8 rear pads
Wilwood brake bias adjuster
ATE Super Blue DOT4 brake fluid.
ARP wheel studs; front
949 Racing lug nuts
Manual steering rack
P/S delete pulley
Engine/Trans:
Sonic Motors Alloy radiator
Mishimoto NB radiator hoses
Beatrush shifter collar
Cobalt short shifter
Project G Precision Series 1.1 Oil Cap in Watanabe Gold
Car Make Corn's cat back 3-piece exhaust
Enthusa test pipe
Project G TSS (True Straight Shot) braided clutch line
Mazda Competition Engine mounts
S2000 size Wix oil filter. Added capacity and filtering.
Mazdaspeed A-spec airbox (gold finish)
Gates Racing Timing belt
Maruha Motors carbon timing cover
ARP valve cover bolts
949 Racing Super Miata damper.
Parts in the pipeline 6.1.15:
Omori oil temp gauge (purchased, not installed)
No name oil cooler (purchased, not installed)
1.6 oil pressure sender (purchased, not installed)
Engine overhaul (new block purchased)
No name JDM engine torque damper (seriously, it came from Japan. purchased, not installed)
Install Cobra Evolution S seat
94 Miata. Laguna Blue. SOLD