Hello everyone
I finally got my own MX5!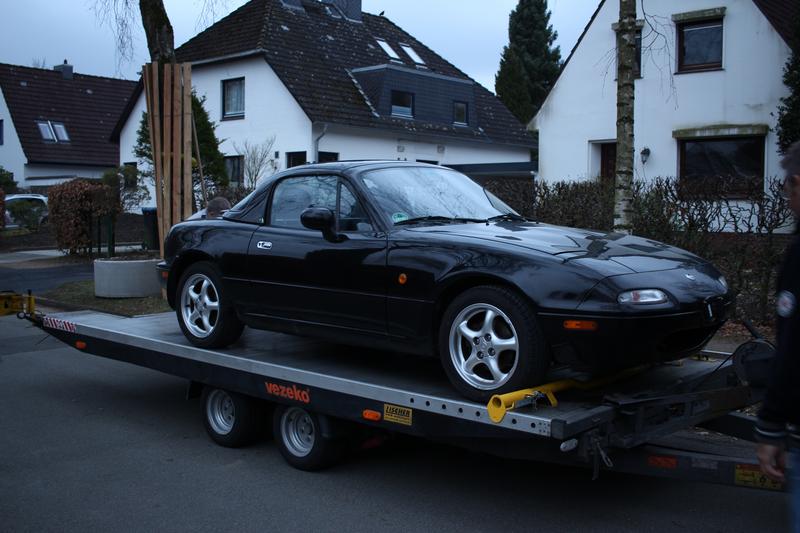 Sorry for the bad photos, I'll take some better ones once the weather improves.
"Maria" is a 1994' MX5 with the 1.8l engine and a pre-facelift dashboard.
The speedometer is in kph (of course), water-temperature only shows "C" and "H" and oil-temperature is measured in kg per cubic centimeter with three numbers on the scale.
The car is black/black with fabric seats, and is equipped with a (faux?) leather steering wheel with an airbag, ABS, power steering, electric windows and mirrors.
She also got an immobiliser installed at some point in time.
I bought her (that sounds kinda wrong) with two previous owners and just over 84.000 kilometers on the clock (about 52.200 miles).
The first owner was a woman somewhere in Bavaria from 1994 to 2013
After that the car went to a guy in Munich who drove it for two years before storing it when he and his wife had a child.
He never got to drive it again since recently, after two years of the car being stored, they had two more kids at once.
Because of that the car had to go.
The good thing is that he ran it on "seasonal plates", meaning it wasn't driven in winter and thus saw little to no salt (which is poured on German roads to melt snow).
I didn't want to drive a car that had been parked for two years and that didn't have "TÜV" (mandatory inspection every two years) up the Autobahn for about 800km (about 500 miles), so a colleague of a friend of mine put it on a trailer and brought it along when he made the trip anyway.
The car got some rust at the very rear end of both rocker panels as well as some other minor flaws, but then again, I didn't pay all that much for it.
And by the way, I chose not to write about money/list prices here.
The car does drive/brake/steer/shift perfectly fine, no warning lights stay on after starting the car, and I did test the most important function:
As soon as the weather improves Maria will get a proper wash and interior-cleaning, then I'll take care of some minor issues, and somewhen in early-to-mid April she'll be off to an expert to do the rust repair.
After that I scheduled a (probably complete) respray, after that I hope to pass the TÜV-inspection, and at last she'll get a roll bar.
I know I could've tried the repair and respray myself, but I chose to invest some money to have it done properly.
This will probably be the slowest build thread in internet-history, since I don't exactly have a fortune to spend at once.
Also, everything I do has to be TÜV-compliant, and that DRASTICALLY narrows down my options.
If you want, just check random aftermarket parts' websites if they have "ABE" or if they're "TÜV/TUV-compliant".
Right now I'm sitting here, with the car outside my window, and smile from ear to ear like a little child on christmas :claugh:
Until soon,
Max