EDIT 5.17.19
-
So i apologize if there are missing pics or the pics are jacked up. I have been using Photobucket to host images and I'm going to be migrating to some other image hosting service that doesn't suck. It's going to take a while, cause I have a billion other things going on, so please be patient... If there's an image that you would like to see and it's not loading up or whatever, let me know via DM/PM...
BTW -
my instagram is mx52nr
, and it's obviously where you'll see the latest ****.. it's worth checking out since the car is getting painted as I type and all the items to finish up the interior (for good) are currently en route to the garage....
(back to the original build thread...)
So here is the story of my Miata project. A 'lil background is in order… After a few years of not having a "fun car", I grew a bit annoyed. I had sold my NB 2 or 3 years prior due to financial issues. Originally I was looking at a few various project cars I've kinda always wanted – Conquest/Starion, E30, '80's Mini-Truck, FB (1st gen RX7), C3 Corvette, an old Datsun 240Z, or a Miata. The Miata bug had already infected me & I felt a relapse brewing…
Eventually (Feb 2k11) I came across this Miata in a Houston Craiglist that was square in my price range ($2k) & had a good friend who is also one of my old Miata buddies check it out for me on a Friday. He called me that night after looking at it & mentioned that it was really "ricey". It had the full Fast & Furious treatment aside from Altezza tails & Troy-Lee graphics. It had an awful aluminum wing bolted into the trunk, black painted style bars, & the plastic window was held on with zip-ties. It smelled like ass, looked like ass, but it drove really really good. Overall he said that the drive train was good, & if I can get a few dollars knocked off it'd be a good deal. I talked to the owner over the phone & agreed on a $1800 price. The next day I grabbed my girlfriend (edit: now fiance; edit: now wife) & was on my way to Houston to pick up my new toy.
--Pic from the Craiglist Ad
So after I picked up the car I decided that there'd be no way I'd make the trek back to San Antonio with that gawd-awful wing on, so I whipped out my tools & removed it – the first step to saving this car from the clutches of ricedom. One of the things that I had noticed & that my friend had pointed out was that somewhere in the life of this poor car the paint had been changed to some sort of grey'ish color. Kinda a bummer since it's an original 1990 Silvertone, of which there was only like 3000 made (don't quote me, IIRC I read it on M.net). One of the things that will need to be addressed in the future will definitely the paint – that's later…
First thing's first , I got it back to my garage in San Antonio to assess what I had bought. Aside from the horrible smell, it actually drove pretty good. The shifter had a little grind, but really, other than that it wasn't bad. I went ahead and changed all the fluids – oil, tranny, turret, diff, etc.. and the spark plugs. It felt much much better.
Next after a few weeks I went ahead and deleted my top & attempted to find the culprit of the stank that had started to permeate my garage.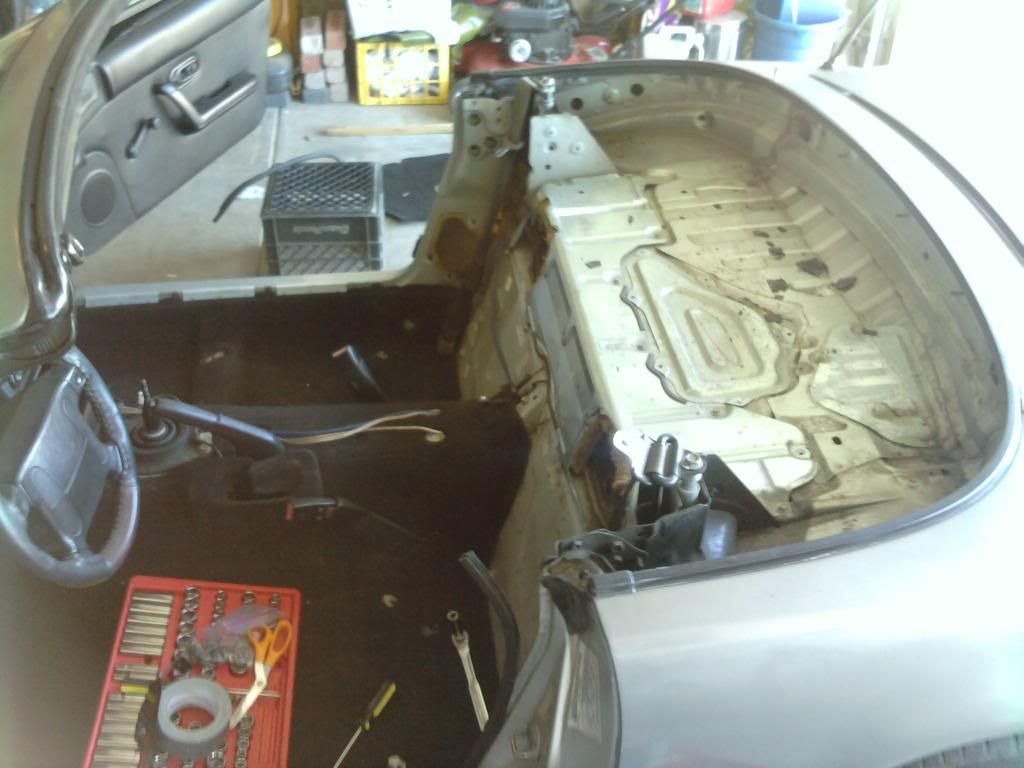 --interior ripped apart
In the process of deleting the top and ripping out the interior, I got inspired & decided to do a headunit-less stereo since the stereo that was in it was some horrible "Pyle" stereo that had a Scarface dvd stuck inside.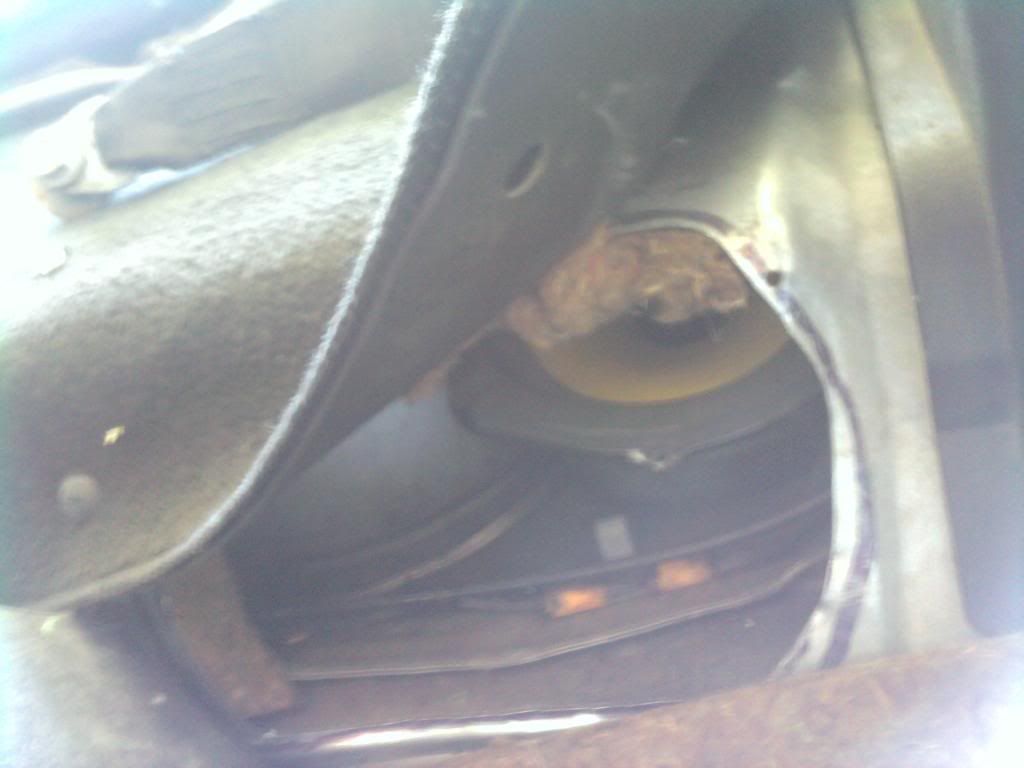 --Yes that's a 6x9 speaker sitting in the tunnel behind the driver's seat.
I went ahead and installed a JL Audio e2150 amp & Polk db65 6.5" 2-way coax door speakers. I hooked it up direct to my old Ipod. It sounds good & recommend doing it if you're looking to do a stereo without showing it off to potential thieves.
So I found the culprit of the horrid stench – the top had been rained on with it's disastrous rear window repair, leaking water into the interior. The water had dried into the foam sound-deadening/heat foam stuff, turning it moldy. I ripped all of it out & steam cleaned every piece of carpet 3 times. I went ahead and steam cleaned the seats a few times to make sure the stench was gone for good. I cleaned every panel by hand before I reassembled them.
A month or two passed & I decided to go ahead and detail the engine since it had like 21 years of crap on it & looked atrocious. After a few passes of Simple Green it really didn't change much, but it was noticibly cleaner, pictures don't do it justice…
I went to the local Pick N' Pull and found a few interior bits that were damaged in my car, a spiffy (ha!) mesh grille & a valve cover that I would later repaint when I change valve cover gaskets. I also went to town with engine paint, toothbrush and Simple Green.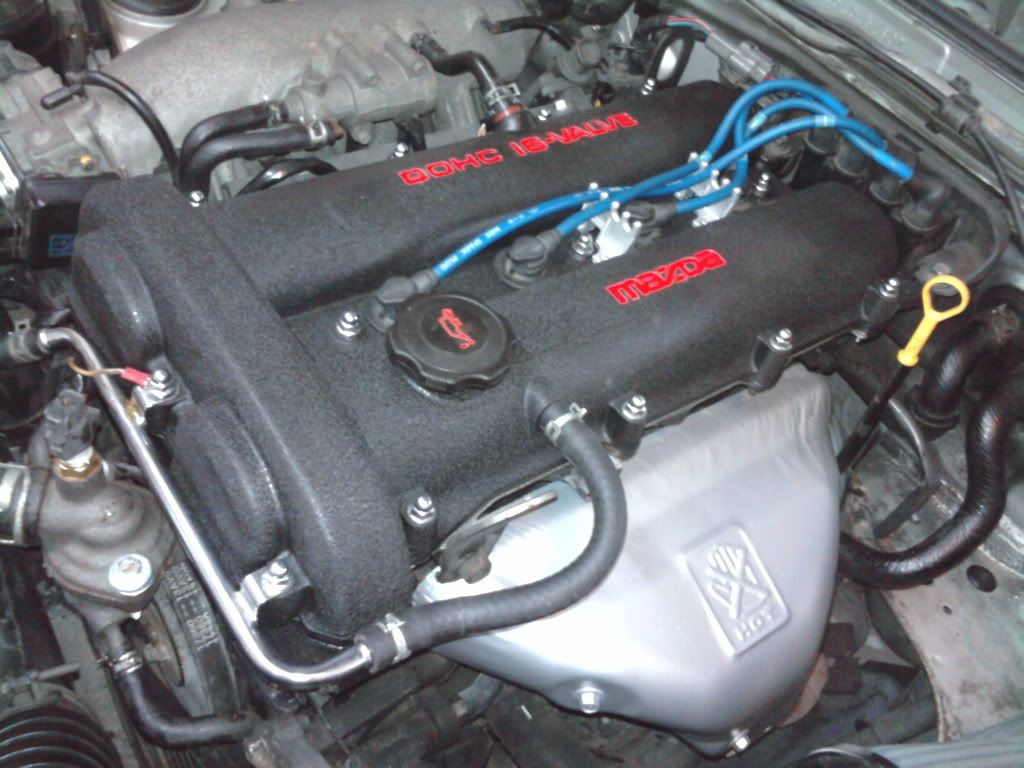 I wanted to redo my interior panels 'cause I always dug the plaid look on older VW's, & I never got to redo panels on my old GTI in plaid so I found some fabric at a local Hancock & recovered them…
<pic of door panels>
It was really easy (the panels), and makes a difference in the look of the cabin. I made my own door pulls based on some of the DIY's on the forum. I used the leather handles off a purse I found at a thrift store. All in all I think I spent like $10 and an hour doing the panels.
So a few months passed and I had been saving pennies for coil overs & wheels, I went ahead and ordered them, but as I was online ordering them, I got a little click happy & decided that I needed to replace the bug-eyes with something updated... So I did the sensible thing & decided that modifying a 240 exposed headlight to fit a Miata would make sense. Yeah. So being that my logic was flawless I went ahead and picked some up off ebay & with some metal flashing, a dremel, some bondo, some primer, a lot of sandpaper, and a drill I came up with this:
It started life as this:
*** Props go out to SPRSTA & 97_M-edition for helping me out & replying back to my pestering private messages on their 240 headlight conversions. ***
I'm going to go ahead & post this up for now. More to come soon - consider this part 1. As of typing this I've already installed coil overs, fitted the wheels, and am finishing up the stereo. And at the time of typing this, I've already ordered my "Canadian" Bride seats, & am on the hunt for a hardtop....