Discussion Starter
·
#1
·
Its not the miata unfortunately, so I wasn't going to post it but Bryan encouraged me to anyway. He thought you guys might appreciate this story. About 2 weeks ago I got a call from a Yokohama sponsored car owner. They wanted his car to compete in the Euro Tuner / Super Street's time attack. They asked me to sort the chassis and drive it in the event. Below is a recap I wrote for sponsors and people who were following our progress.
My Recap
The key to our success was preparation. There were lots of cars that should have been faster than us, but they were doing during the competition what we did on our test day on Sunday. Lots of cars (including widebody supras) made bigger power with stickier rubber couldn?t get their set ups together, or their teams didn?t really know what they were doing.
Sunday:
The car owner, crew, and I went to a SVT club track day running the same track we were going to be on for the Time Attack (Buttonwillow CW#13). After 1.5 hr on track with multiple pit stops to adjust tire pressure, alignment, damper rates, and rear wing rake, we got the car to turn a 2:02.8. Pretty decent for a street tire, but no matter what we did, I couldn?t get the car to turn. The front was low and soft, the rear was high and stiff and we took all the rake out of the wing ? but I couldn?t be in the throttle as much as I wanted because the car wouldn?t stop understeering. The only way to fix this was to break the back end loose and slide it through some of the corners. So we decided to break the #1 rule when you have a test day before a competition. We changed something afterwards. The car just needed more front tire. So we got a new set of Advans in 285f/295r. I desperately wanted to have them shaved, but it didn?t work out. Many thanks to Ryan Hawkins who lent us his NEW in the box front work wheels. Ryan called me and said, ?Don?t scratch my new wheels?. My reply was that if I did something to them, it definitely wouldn?t be a scratch. I was pretty sure that the dirt rut that was created by me on Sunday in a certain apex which I found to be faster by just putting the driver?s side front tire in the dirt would be filled. I wasn?t planning on Taco-ing the shiny new wheels for the car that never leaves the shop. The wider wheel matched the tire better than what we had to use. So I went back to work on Monday and Tuesday while Curtis and the team busted ass to get the car together. Thanks guys.
Tuesday night, Curtis picked me up and we picked the car up from DynoXtreme. The car was ready to go, but the brakes were mushy. Not sure what the problem was, so we bled them again before we left. I tried to doze off in the support vehicle on the drive, and when we got to the motel near the track at 11:30, Curtis broke the news that the brakes felt like crap again. Not good. As the rest of the crew had not arrived, we started to rebleed the system without them. Thanks to the Opak racing crew for coming to say hi to me, then being sucked into lending us another pair of jack stands to do this job. When we finished bleeding them at 1:30, they still didn?t feel great, but Curtis and the crew sent me to bed. I appreciate them looking out for me as we needed to be up during the 6 o?clock hour and I had a long day of driving ahead of me. During the night, they made some additional tweaks. The breaks didn?t get better, but at least they stopped getting worse. I suspect the Master Cylinder is on its way out.
Wednesday Morning:
I woke up to the sound of uncorked rotary engines firing up in the parking lot. I called Curtis to make sure they had gotten up for the meeting. He was already on the way to the track. Awesome. It was cool to see this group of guys starting to gel as a team and working towards a goal. We got through registration and tech with no problems. We were sent out in the first practice / qualifying session the new tires definitely turned in better. Fast lap for that session was .02 seconds slower than Sundays time. Nothing like consistency, I guess?
It still pushed some, but the bigger issue was that the tread blocks were squirming around a LOT. This created a lot of heat in the tires. We used spray bottles in the pits and tried to let the car sit to cool them down, but they would never come back. For the whole day, we would have 2 hot laps per session to lay down a fast time before the tires went away. That meant I would get 6 laps to let it all hang out. Great. No pressure.
With Drew?s help and with the GPS navigation, we fine tuned the suspension and alignment. I tried a couple different lines through a couple corners and he was able to tell me what was faster from the data logs. (much better than the butt dyno) As the day went on, the attrition set in. Tons of cars off track, and lots of cars puking their guts. As we came through a huge sweeper (riverside turn for those that know the track) I started to come up really fast on the Falken RX7 which somehow was in the same class as us. (no windows in a gutted drift car) This wasn?t too unusual because the high speed cornering G?s of our setup made it so no matter what tire they were on, very few cars pulled away from us here. And then it happened. (I haven?t told Curtis this part because he would have freaked and we didn?t need that in the middle of the day) The engine let go in the RX7 and it created a smoke screen out its exhaust pipe. The only way I knew where in the smoke the RX7 was located was from the fire that was ignited on the back bumper of the car. In this turn, the car is pulling over 1.3G at about 120mi/hr. I was too committed to just slow down because the car was already sliding dangerously close to the dirt and I was driving by reference points out the side windows as I pretty much couldn?t see anything out the front. I went by with 2 wheels in the dirt. This ruined what was shaping up to be a pretty hot lap, but it knocked out a car that was within .1sec of us at the beginning of the day. Reliability and testing rearing its nasty head in our competitor?s camp. I?d prefer to beat them without them blowing up, but I?ll take it?
In our second timed session with a couple few tweaks, we did what I honestly didn?t think the car was capable of. We broke into the 2:01s. 2:01.5X to be exact. Holy crap. Those last couple tweaks were magic. We were finally getting the push to go away and the car was turning in nicely. As the day progressed, the car got faster, but the track and tires got slower. For the most part, all the consistent team?s times were going down. Our last run out we were within our fastest time by a couple tenths. To mean this means there is more there in optimal conditions.
One of the things that I really appreciated was that everyone on the team was willing to do what was needed to do to make the car faster, and everyone was learning. It really was a highlight of my day when I went to ask one of the crew to retighten the lug nuts right before the 2nd session. His reply was, ?it?s already done?. This group of guys were really starting to look and act like a pit crew. Very confidence inspiring for a driver. (but Curtis (car?s owner), if that dead pedal comes loose under my feet again while I?m on track I?m going to feed it to you. )
Looking forward, I suspect the car has another second or so in it with the final set up, more confidence inspiring brakes, and shaved fresh street tires on a clean track. I won?t even hazard a guess what will happen on R compounds with a boost controller. We were running mid 400s on hp on the wastegate spring, and I think the car could use a little more power for the ultimate time there. (I?m not ready to concede to a bigger turbo just yet  ) It really needs more safety equipment. I have a bruise on my left knee from holding myself up against the door as we went through the big turns.
All in all, it was a success. We won our class. And I think our time put us as the 4th fastest Limited rwd car there. All 3 cars ahead of us were purpose built time attack or race cars with license plates on shaved r compounds. We were the fastest street tired car by over a second. Not bad for a 13 yr old show car, that has only 1 other track day under its belt, eh?
Next stop - get the miata out there. It will be a much quicker car. curious to see how it compares.
here are a couple shots of the car: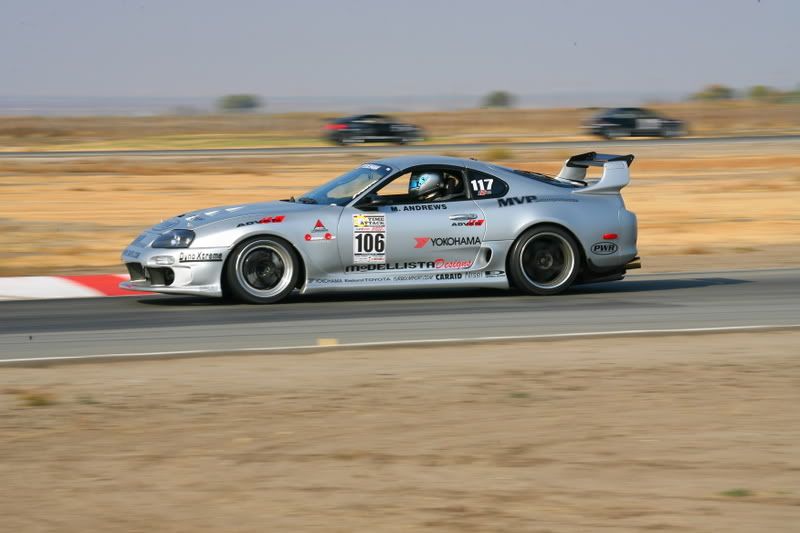 If you care or want to read more, here is the thread on Supraforums:
http://supraforums.com/forum/showthread.php?t=399498&page=1&pp=25
hope you enjoyed,
Matt