my mx5 project
thought it was about time i put up a project thread.
the car is coming along nicely now slowly but surely.
picked it up last october, few weeks later it started spitting up coolant out the overflow tank and there was bubble,s from the rad.
ended up changing the head gasket only to find out that the fan wasnt cutting in and was just maing the coolant boil and the head gasket wasnt gone at all. learned from my mistakes there anyway haha.
hoping to have it low as i can keep it and maybe raise it up for the odd drift or track day.
anyway time for pics.
this is how i got the car.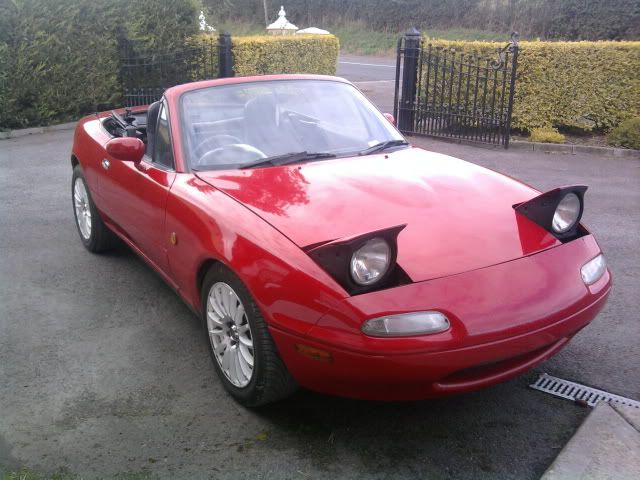 after a few months having trouble with the head and electrical problems whih turned out to be my afm i got myself a set of refurbished cusco coilovers for cheap.
they are height and 4 way damper adjustable.
removed the helper springs and spun them all the way down.
had some trouble fitting them but got some help from someone on here.
cant remember who but thanks for that.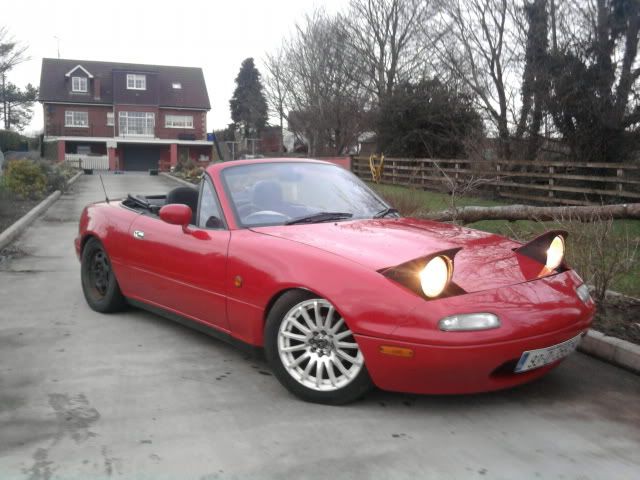 was delighted with how low it sat haha
then i was bored one day and decided to make a number plate bracket.
had a california plate and a canibeat surround so just had to put them on haha.
also put on the kosei wheels i refurbished last year.
terrible picture but its all i had. the illest sticker is covering chipped paint lol
last thing ive bought for it so far are these bad boys.
there ae86 fitment so im waiting to get adapters.
also looking into reversing the faces or getting 2 spare barrels to bolt onto the front and polish up.
14x7 work equip 01,s
they need a refurb but there ok.
thats all ive done so far next up is an lsd or welded diff ,front lip.
hope you liked it il leave with this pic.
(car is raised slightly for its nct [national car test])