Discussion Starter
•
#1
•
To all enthusiasts,
I would like to share my thoughts and findings about setting up my Jenvey ITB kit.
First my car facts:
European MX-5 1992 1.6
4-2-1 header, catless, IL motorsport exhaust.
Schrink cams
MSPNP2
Innovate MTX-L wideband
Jenvey ITB kit with turbo plenum
First couple of months I was driving in ITB mode. Never was 100% satisfied about the drive, even after many hours of logging and using MegaLogViewer / VEanalyzer. Did log for a 85kPa vs. TPS% line, used that for the ITB mode but still without success. The AFR targets where never spot on and the driveablity wasn't perfect. Yes the car did drive and for 100% TPS the AFR were good but everything beneath 100% TPS wasn't good.
Did search on many different forums and made my own conclusion.
Logging kPa
First I logged my Idle (65-68kPa) and cruising kPa.
Also I did rescale the RPM and kPa columns to suite my car. Everything below 60kPa isn't interesting in my case. I did give my table (both kPa and RPM) more resolution around my cruising kPa values I found during my logging. Then I filled the AFR table with targets for eco (cruising) and speeding in TunerStudio.
Setting Alpha-N mode + Ve1 and Ve2
No words needed for the Alpha-N mode, see picture below.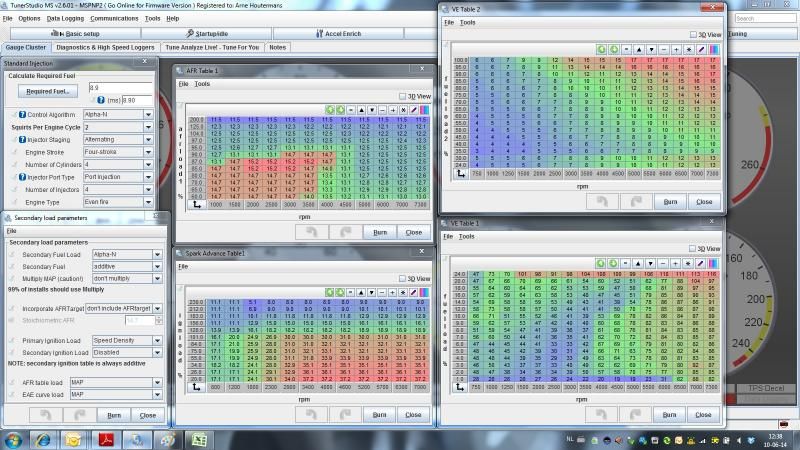 Wasn't happy with the resolution of 1 Ve map, so I used Ve2 the give me a better resolution. Did set it to Alpha-N as well. Used Ve1 for 1-24% TPS and Ve2 for the rest. Do notice the small steps I made at the lowest TPS%. This is chosen due the butterfly valves inside the throttle bodies. Did set them up as additive. So when I'm hitting Ve2, when I'm driving, it's using the last value from Ve1 (24% TPS row) and add that value to the Ve2 value. For example: When I'm doing 80% TPS / 5000 RPM Ve = Ve1 + Ve2. Ve1 = 99 and Ve2 = 12, so Ve = 99 + 12 = 111.
Tuning Ve1 and Ve2
To tune Ve1 in MegaLogViewer:
1.

Open the current file you did the log with.
2.

VE analyzer
3.

Run Analysis
4.

Accept New Table
5.

Save Tune As.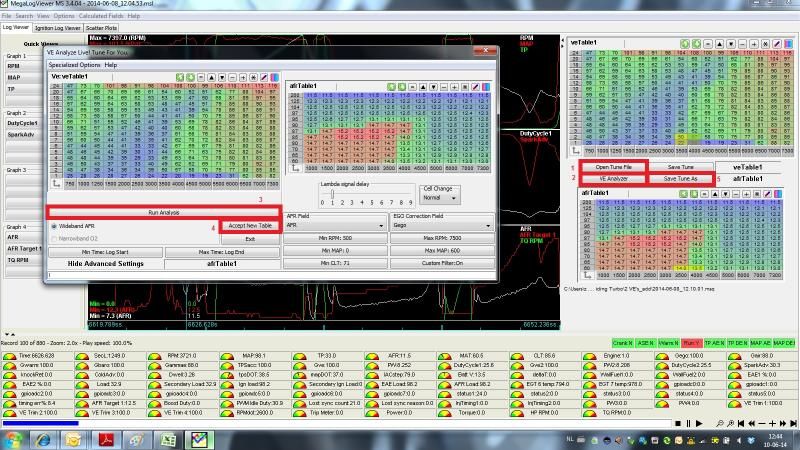 To tune Ve2 in MegaLogViewer:
1.

Change VeTable1 to VeTable2
2.

VE Analyzer
3.

Chose afrTable1, (afrTable2 is default selected)
4.

Run Analysis
5.

Accept New Table
6.

Save Tune As.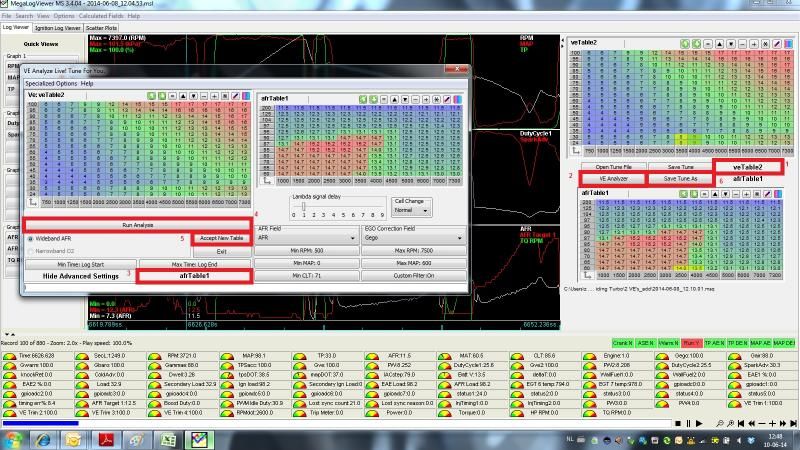 After that my car ran very good. AFR is spot on. Cruising around 15, then when gently pressing the accelerator the AFR changes to 13-12.5. When flooring the pedal it's only of target in a eyeblink. It's responding very smooth!
Air Horns
Did run with 60mm / 70mm / 90mm and 125mm air horns. The 125mm air horns did give me the more power at lower RPM then the other while not losing power at high RPM (7300 rev limiter). For now I'm using Jenvey turbo plenum for the ordered turbo system. Jenvey recommend using either 18mm or 40mm air horns for the turbo plenum. I've chosen the 40mm ones. Did compare them:

Got some pictures, 90mm vs 125mm: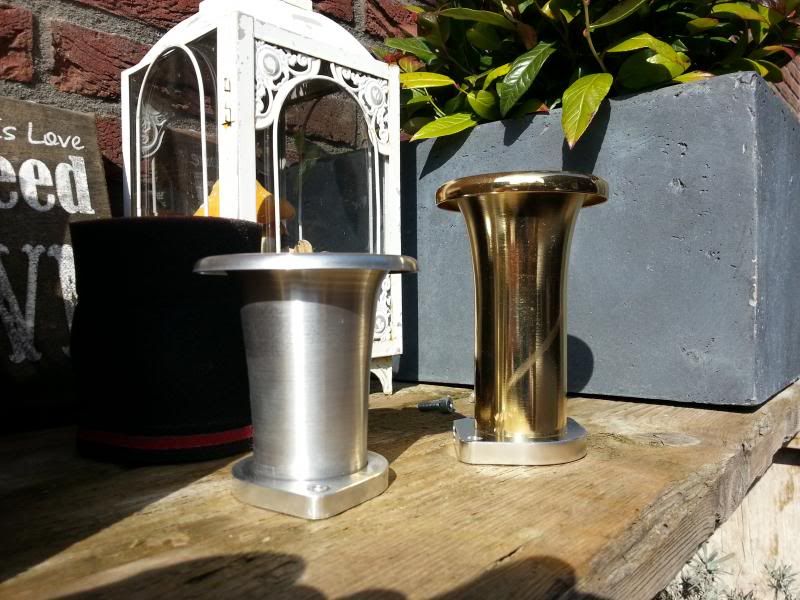 Jenvey turbo plenum with 40mm air horns: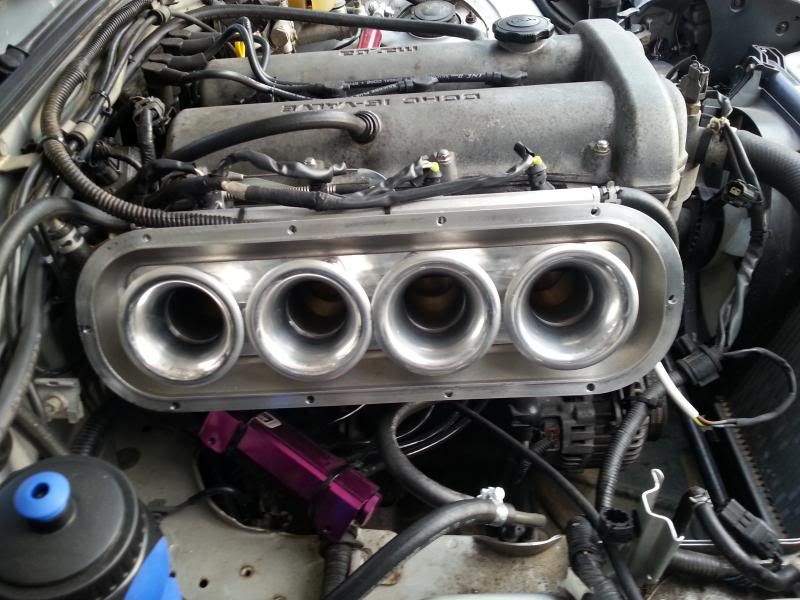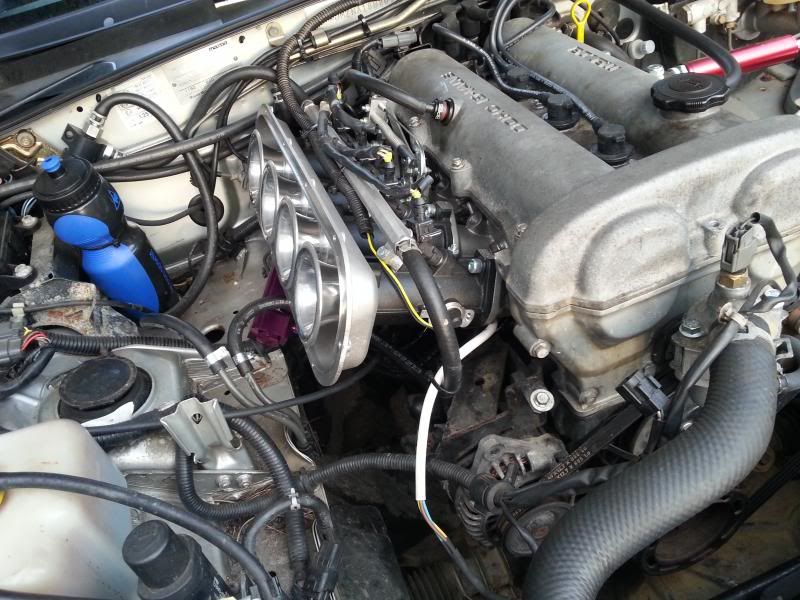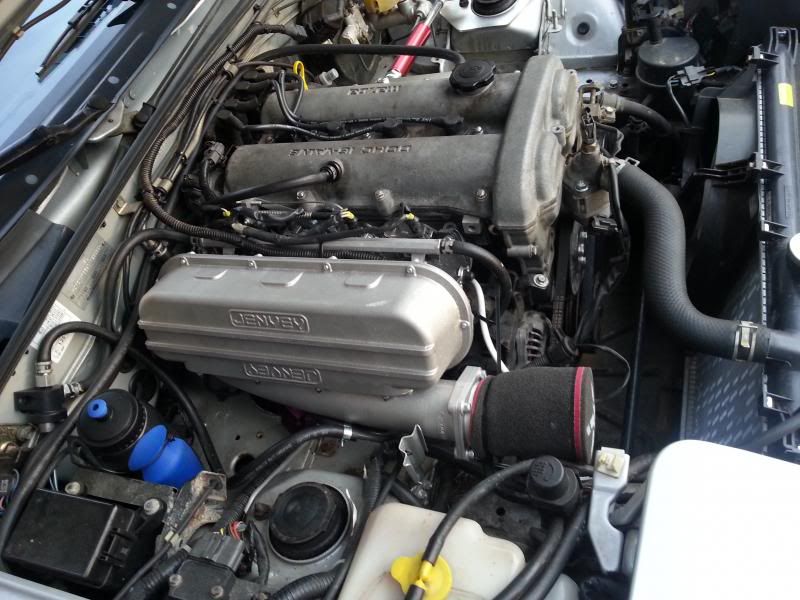 ITB + Turbo
Ordered the new Begi Alpha Omega turbo kit (Isn't official released yet). As you can notice above I did used MAP/speed density for primary Ignition Load, AFR table load and EAE curve load for my future turbo. Also the AFR map is suited for running in boost. Still have to wait about 8 weeks for the kit.
Think I only need to use table switch (100kPa) + Ve3 map in TunerStudio to make it work.
As for the turbo kit, it's an upgraded version of the Begi S4 turbo kit. Should be 10% more efficiency with the same boost. In other words: 10% more powerfull. Received a mail from Stephanie (Begi):
"I should have more dyno sheets next week, but the one dyno run we have done has been impressive. The 2002 (1.8) ran 196 whp at 6.4 psi. Most of the time that power level requires 8-9 psi. Hers is a photo of the system, but we are not releasing it to the general public though, so please don't share it. The cost should be the same as the current systems. Hope that helps!".
Try to update this post about the Turbo install as well.
Feel free to give commence on my tune (please keep it friendly, I'm still a noob and learning).