Discussion Starter
·
#1
·
Hi, I'm Nathan and have been meaning to join for quite a while, but never had gotten around to it. Figured I would make a build thread although I don't know how often I will update it, but will try when I can.
My car is a 1990 that I picked up about 10 months ago.
The car had 98k on it when I picked it up and for most of it's life was in California so it is pretty much rust free.
It looked like this from the dealer when I bought it: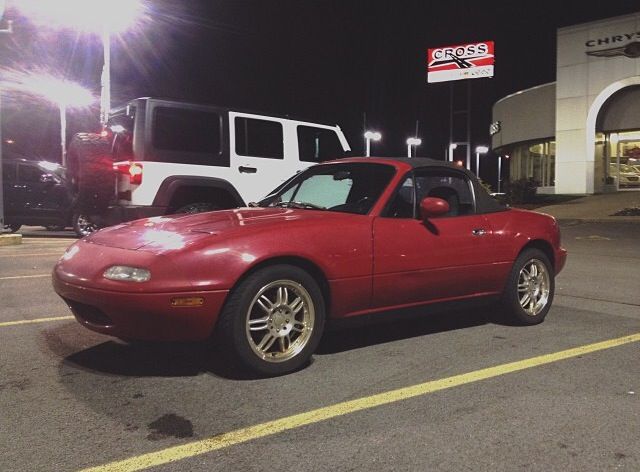 Needless to say it needed some work. About a month later I found some stock daisy's for it so I could get the car off of the awful wheels that it came with. I also ended up polishing it up to get rid of the dullness of the single stage red.
After a couple of months it was looking pretty much stock: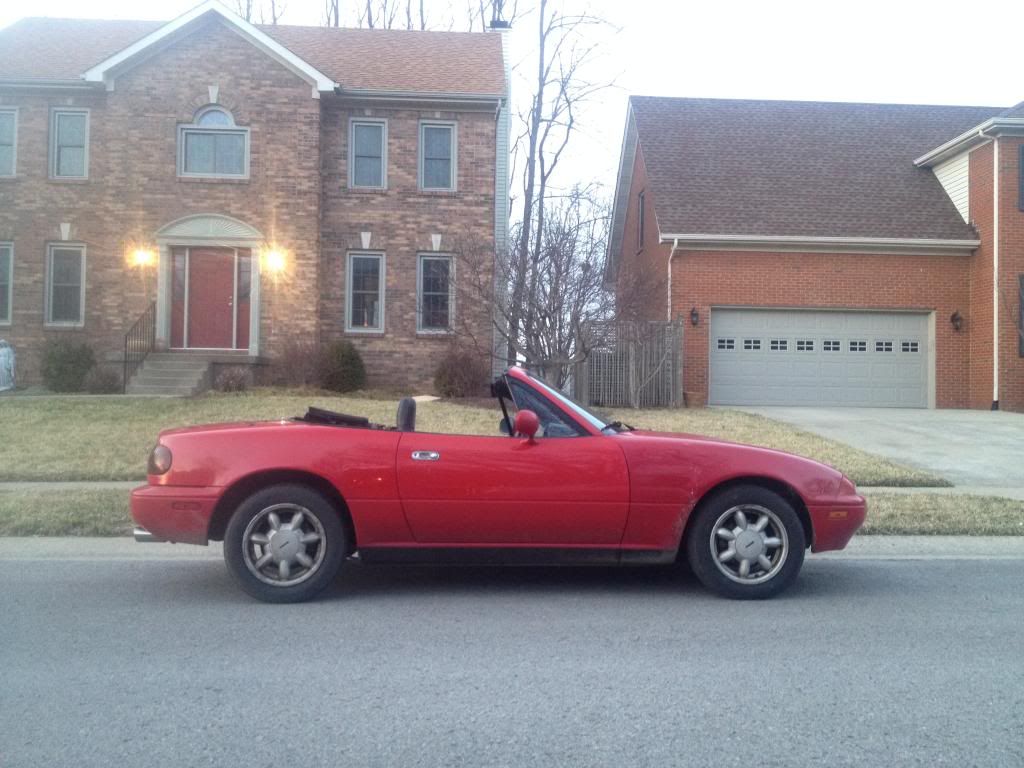 Picked up a couple of parts in the first few months of owning the car namely some wheels that would eventually be put on the car. A pair of Enkei Rpf1 14x7 +19 in gold and a pair of TE37v's in 14x8 +0.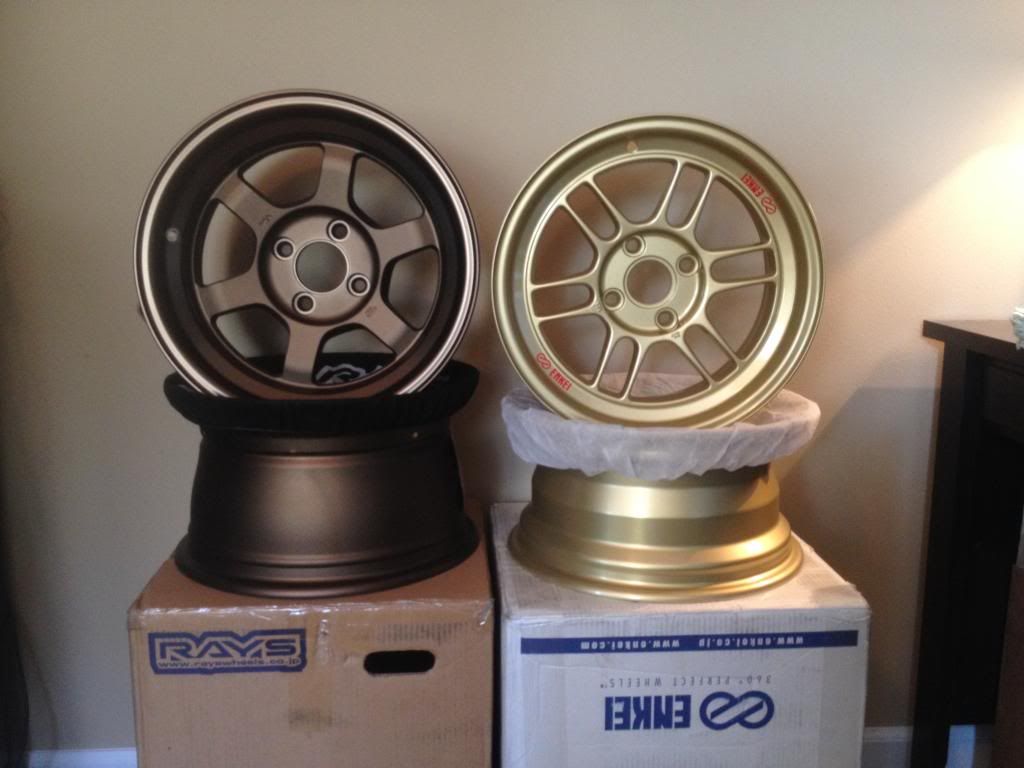 The plan at the time was to hold on to the wheels and in the summer buy Jubiride overfenders, Maruha coilovers, some r888's for the wheels, a hardtop, etc.. But then I found myself jobless for the summer because my current employer had ran out of work (I am mechanical engineering intern) and so after the semester was over I didn't have a source of income that could afford the parts I wanted to purchase. That was alright though because I just wanted to enjoy the car and was in no rush to modify anything.
Fast forward a few weeks into summer and I hop to facebook to see a deal on some wheels that I just couldn't pass up for the life of me for some reason, a set of Advan a3a's in 14x6 +6. I know what you are probably thinking now, "why would you get more wheels when you already have some just lying around?". Well the idea was to just run adapters for these wheels and do a couple of simple things because I would have the money for that route and I figured why not because I would already have tires for them.
A few weeks went by and I secured a part time job and was able to save some money and purchase a few other things. I bought an R-package lip, Dunlop Direzza Zii's, H&R Race springs, and some AGX shocks to use for the time being until I buy coilovers.
Along with the few things I picked up my dad for some reason really wanted to get the car painted and looking "better" (I guess because he has to look at every day when he leaves and comes home from work and was getting tired of seeing it with the old paint). So he helped me out and I dropped off the car for paint and body work a couple of months ago and am about to pick it up in the next week or so. Also right before I dropped it off for paint I managed to find a hardtop for only 850 in really good condition minus paint, but that didn't matter because the car was going off to paint only a week later.
Hardtop: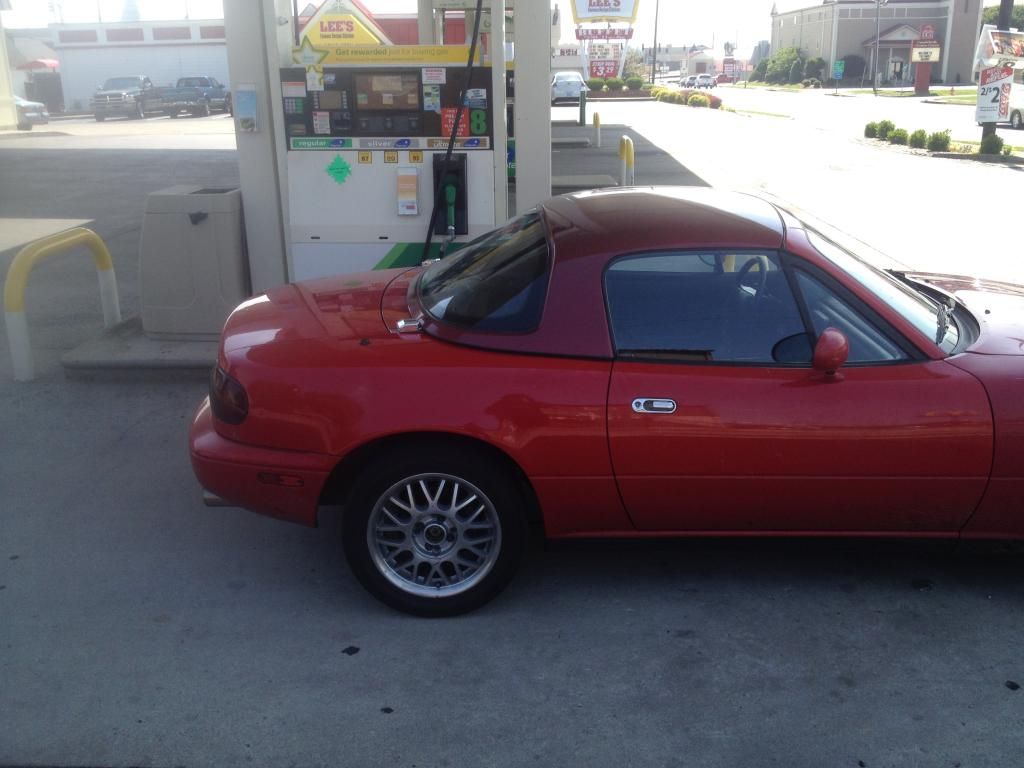 The car will be black and I couldn't be more excited to get it back as the painter has done a really good job! Will post more pics of it when I get it back here soon.
Preview: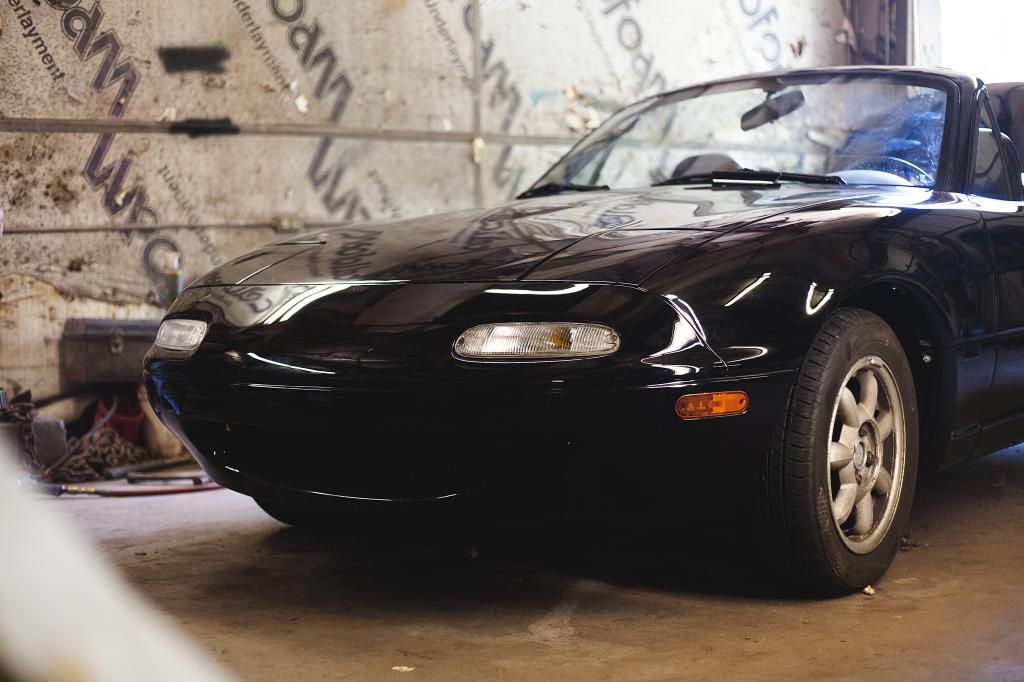 For the few weeks that I have been waiting on my wheels to arrive I was curious as to how they would look fitment wise on the car. I was worried being 14x6 -9 with an adapter that the rear wheels would stick out just a tad and not look right with 185/60/45 tires. The fronts on the other hand seemed like they would fit fine from all that I had looked at. I kept worrying about it because I didn't really want to run over fenders anymore for now. So what's a guy to do but hop onto Yahoo Auctions and search for a pair of wheels for decent prices. I stumbled upon a pair of my favorite wheels in 4x100 and had to have them for the rear! A pair of SSR MK2's in 14x6.5 +7 in black! I bid on it and as of Monday morning around 4 a.m. I am the new owner! Pretty excited as I love old school wheels! (Pretty excited is an understatement)
I also picked up a Nardi Classic D Cut steering wheel last week and it finally came in today along with my Advans. So I'm pretty stoked right now. Can't wait to get the car back and get all the parts I have for it on it! (Although I really don't have that many to put on)
Will update once I get the car back from paint!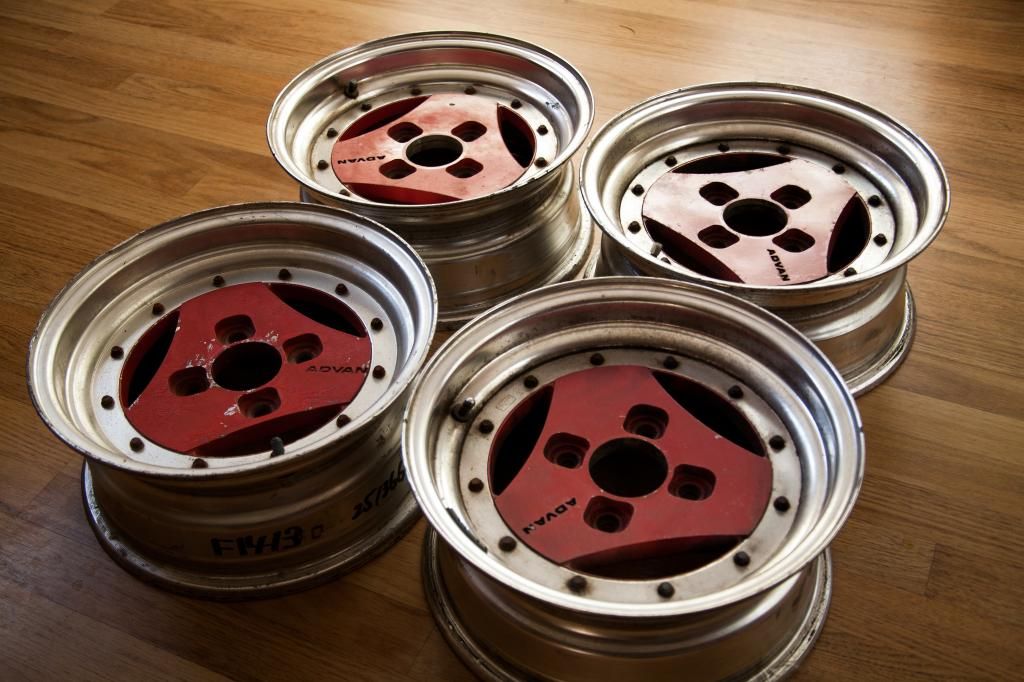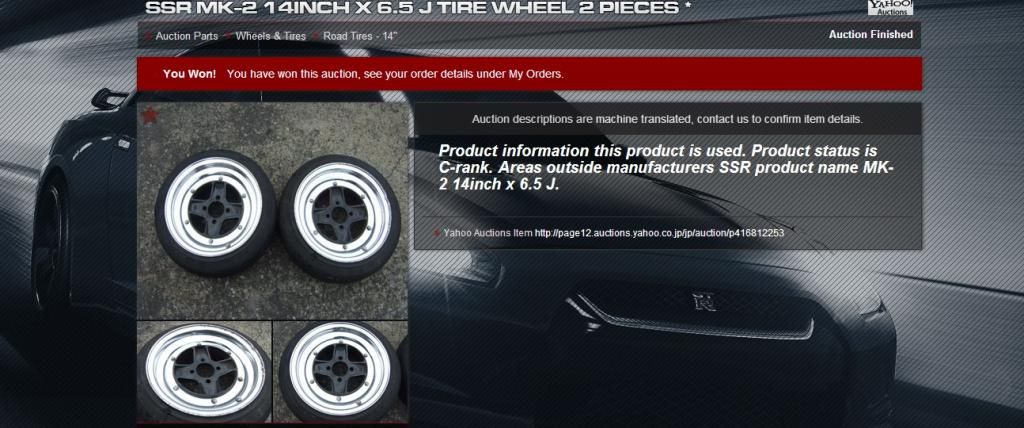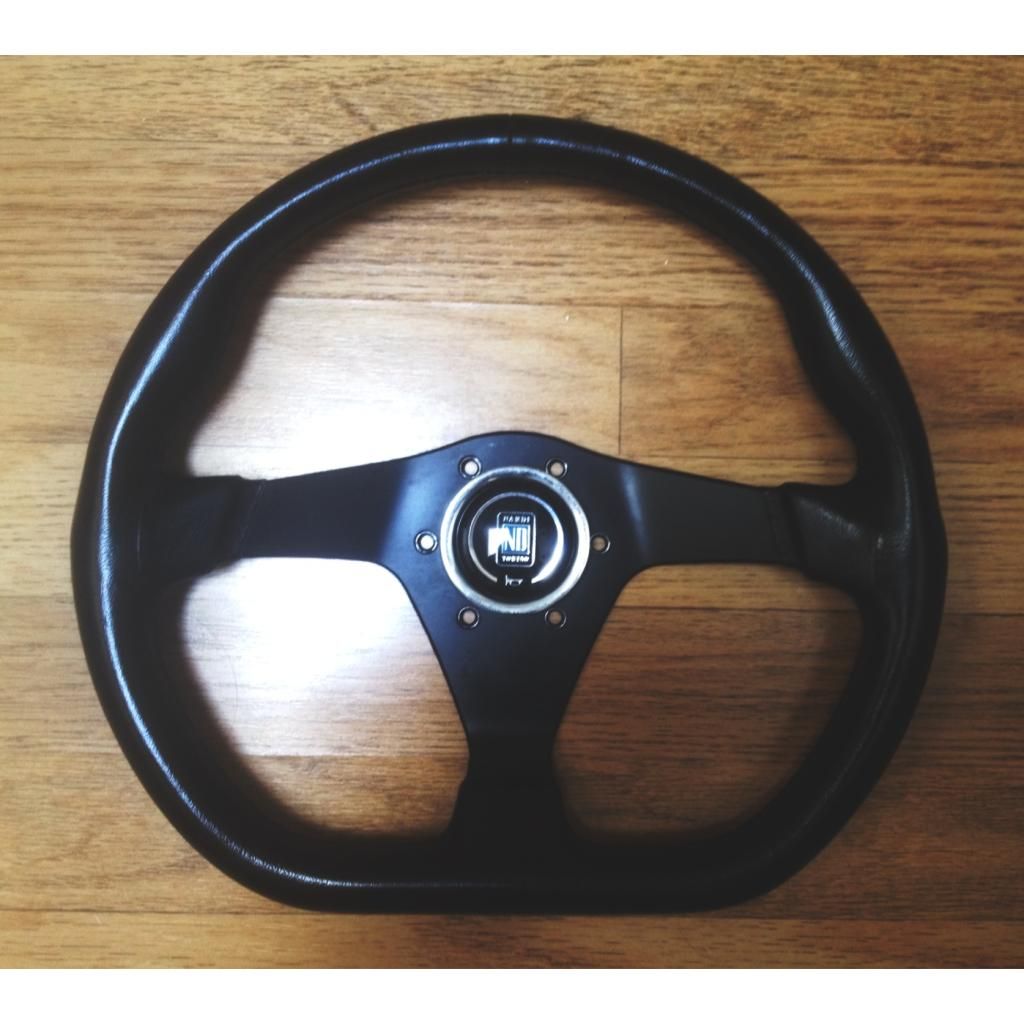 Thank you for reading!