Discussion Starter
•
#1
•
Do you have an electronic speedometer as used in NB's? If so, it will probably cut out at some point (usually in hot weather) but may spring back to life at higher speeds. The problem is with the speedometer generator located on the starboard side of the transmission near the tailshaft. The connections within the generator are made with lead-free solder which never got to a sufficiently high temperature to form a good bond and not enough solder was used anyway. On mine, every strand of the stranded wire was visible, which should not be the case if there was enough solder.
To do this job without spilling any transmission oil, you have to raise the rear end. My driveway slopes down and I augmented the slope with ramps. Say hello to Hades as you enter the underworld: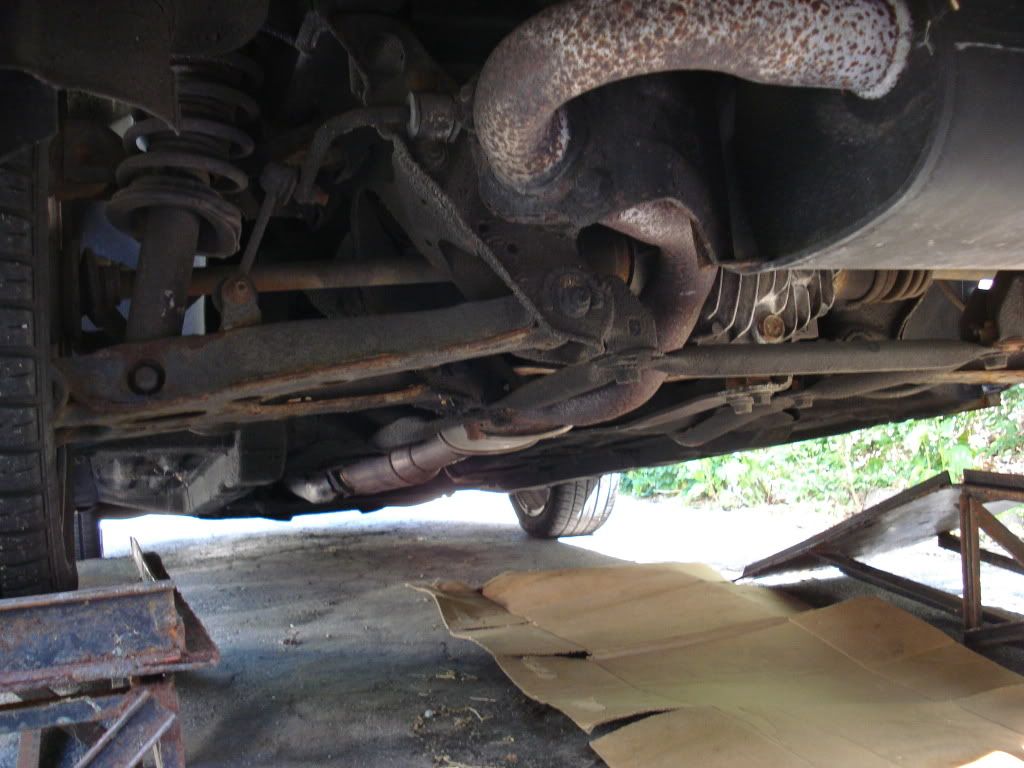 If you use ramps, you may be able to get in at the side, but you are usually lying on the ramps, which is bad. I found it better to go in from the rear using the differential crossmembers as monkey bars to help slide under. You will need a 10 mm wrench (preferably a box wrench) to undo the single bolt that holds the generator in. You will not be able to use a socket because the PPF (power plant frame) is in the way and there are no holes to pass a socket or extension through. There are no gaskets, only a thin O-ring as a seal, so there is nothing to buy. I managed to get the unit out with only one drop of oil being spilled. You can undo the connector with a flat jeweler's screwdriver to hold the tab in a disengaged state.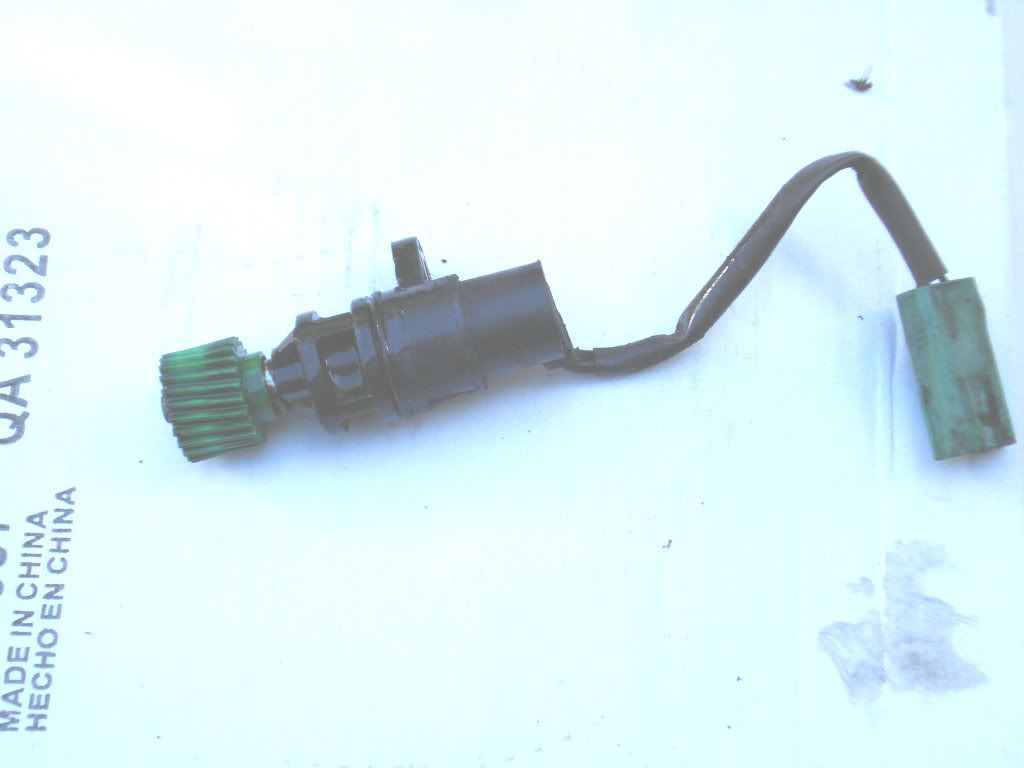 You can see the mounting tab for the 10 mm bolt and just to its left, the O-ring. The speedo gear is the green item on the left. Transmission oil has an unusual aroma, so try to avoid getting any of it on anything. It may be best to put it in a bag to get it to your workbench.
The end of the generator is covered in hard green potting compound. Using the jeweler's screwdriver (illustrated), dig around the diameter of the potting compound until it loosens and can be popped out as shown. This will take the two wires with it. There will be a clear (slightly yellowish) RTV under it which should be removed. The wires are partially stripped; the stripper moved the insulation down to provide an uninsulated area to solder to but left some insulation on to prevent fraying of the ends and having stranded wire going everywhere. This is soldered onto the bifurcated terminals (shaped like a two-pronged fork). The pictures do not show it, but there are fine wires coming up from the guts of the generator to these terminals. Where the external leads enter, there is a rubber grommet with a flat on one side. This makes it difficult to get the wires on backwards, but it should not matter – it's just an AC generator.
What we intend to do here is strip back some of the wire (since the exposed area will have some corrosion on it and cannot be soldered) and solder the wires back into the bifurcated terminals. To do this, cut the ends a small amount and strip the insulation back, then you may have to sand the wire slightly to bring the bare copper surface out from under any remaining corrosion. I used an emery board stick liberated from my wife's cosmetic supply (with her permission – or I might find the car on top of me). There is a plastic sleeve protecting the wires and you should be able to strip the wires and reinstall without needing to shorten this outer sleeve. You can pull the wire slightly through the rubber grommet. I used 63% tin / 37% lead solder (which is the eutectic or lowest melting point ratio of tin to lead). It melts at a lower temperature than lead-free solder, but it will combine with the remaining lead-free solder to give a decently low melting point. After this, we have to protect the new connection. You can use brush-on insulation and cover it with RTV as shown here: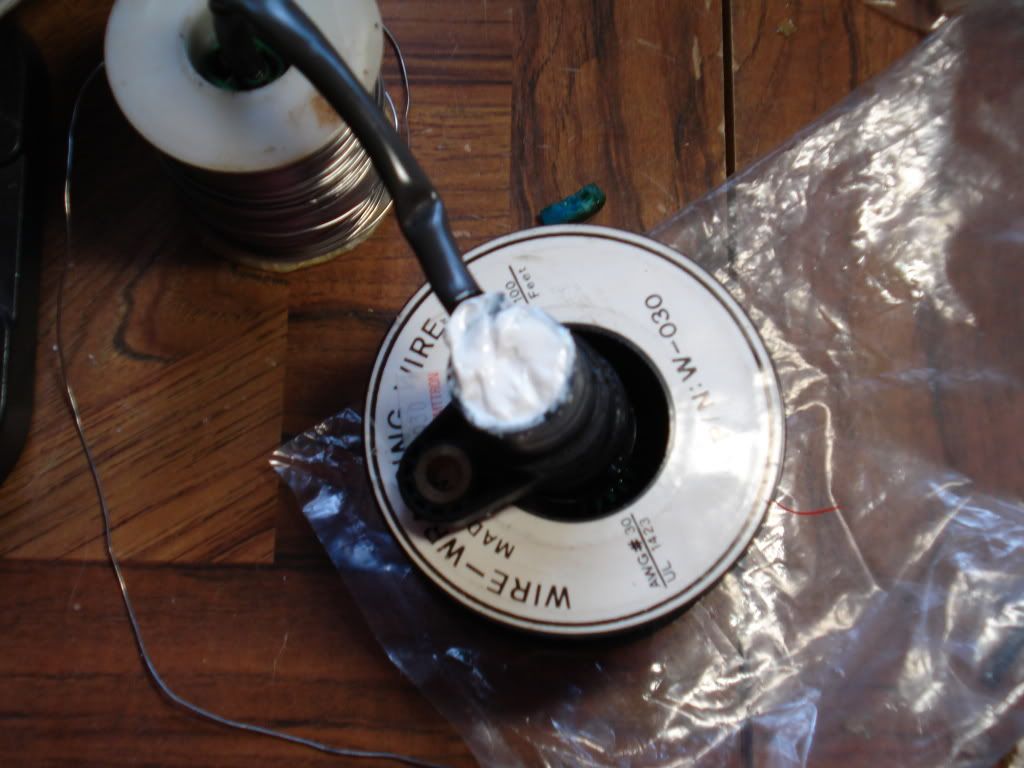 I didn't have any brush-on insulation, so I just used RTV – not a good idea since it releases acetic acid as it cures and this may corrode the wires. It is now ready to reinstall. It goes in easily enough, but the tab must seat against the tailshaft housing with no gap and you may have to twist it a bit to get the O-ring to pop into the bore. When you do, it will sit flat and can be bolted in. Use aluminum-based anti-seize since you have steel going into aluminum. Give both mating halves of the connector a generous blast of contact cleaner. In an electronically fueled and monitored car like a Miata, contact cleaner should have a place of honour right beside the WD-40 in your toolkit.
Give it a run and check that it operates. If you have a CEL for P0500 (failed speedo generator), you can clear it with some confidence that you will not see it again. It has been working for over a week now with no glitches and we have had 82°F weather here in the Toronto area for several days, so this has been a worst-case test.