Discussion Starter
·
#1
·
You've probably all heard of IL Motorsports - Ingo in Germany is a Miata racer who makes some truly smart and stunning pieces for our beloved little cars. Recently he's getting into making his own versions of OEM replacement parts and rubber, and we're happy to announce we've got a couple of his newest pieces:
Beltline Moldings AKA Door Top Seals for 90-05 NA and NB Miatas!
Besides aspiring to make his pieces better than OEM, the goal was to keep these under OEM prices. Currently priced, we've got each seal at $59.95 which is
$20 less
than the OEM seals we carry! That means if you're doing both doors you'll save $40 when you choose ILM's pieces.
Here's the Left or Driver Side piece for you to check out:
For further clarification, we're talking about the piece that's illustrated at spot #15 in this line drawing: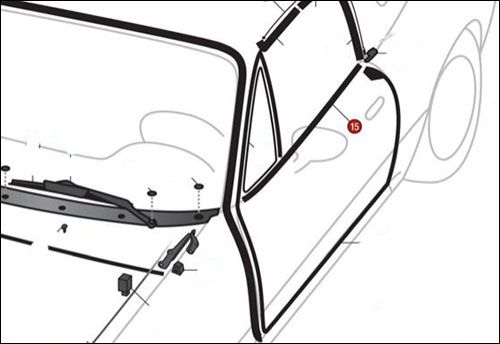 We've also written up an instructions sheet that's available for
download
, and we also did a
quick little video
to show where all the clips are (featuring my Miata! OK and our awesome tech Dave.)
Watch it on YouTube here.
If you have any questions please PM or email me and Thanks for Reading!
Chris