Discussion Starter
·
#1
·
For some of you, this may be old news since it took a little longer than expected due to a lot of changes going on here at Project-G.
Now it's finally here, The Bikini Bar by Project-G!
Ted7 is the first person to get it mounted up, and we are surprised since he did it in record time!
We don't even need to comment on how great this looks.
This is an add-on kit for use with the G-String by Project-G. It is intended for those who wish to install a G-String on their car, but do not have a roll bar installed, or are running a double-hoop type.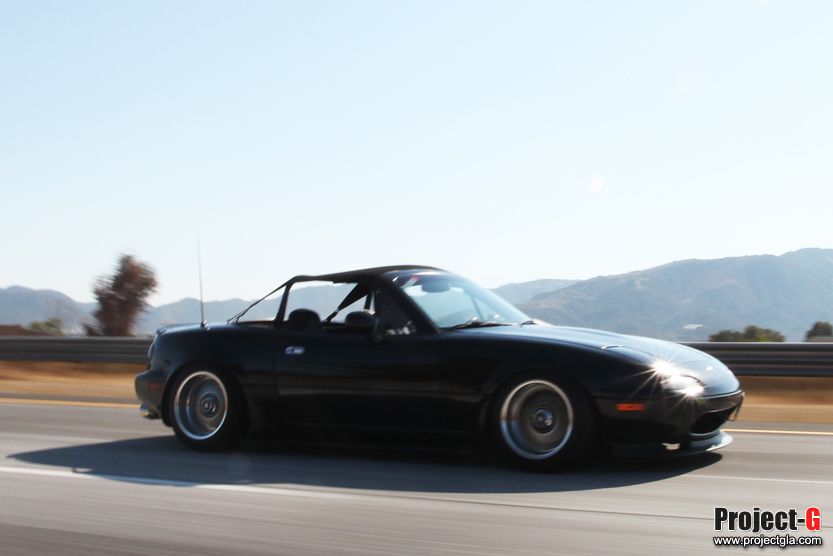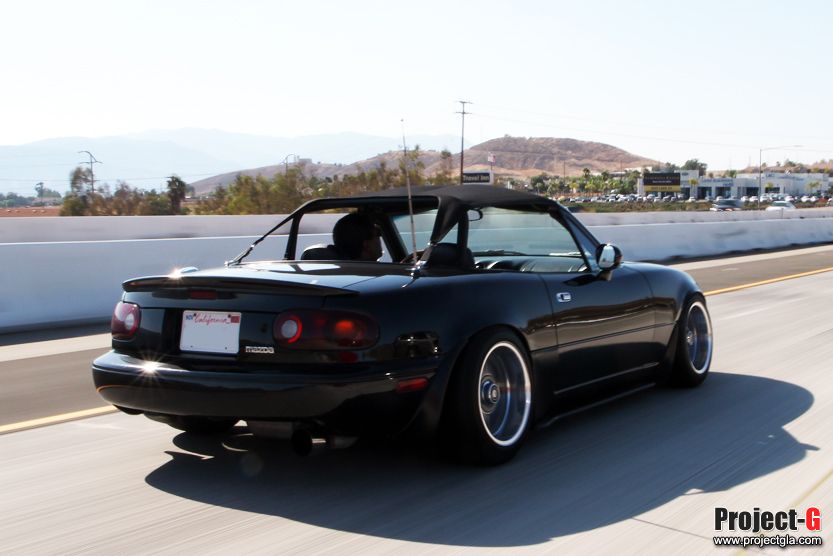 We didn't want to just make a simple free-standing hoop. We felt we could do better than that. After a lot experimentation and testing, we now ready to bring you our solution. The Bikini Bar!
The Bikini Bar consists of 2 receivers and a single hoop. We have designed our receivers to be adjustable and attach using existing mounting points found in both the NA and NB models using just one screw per side. As you can see from the final product images, the entire assembly comes finished in Gloss Black Powder Coat.
The receivers do not interfere with the operation of any factory soft tops. They can be left in place with minimal visual impact. The hoop can be stored behind the seats or in the trunk. We have fit it in the trunks of 4 Miatas, but one person testing it for us could not fit it in their's. Not quite sure why, but we feel it necessary to say it will fit in the trunk in most configurations, but possibly not in all.
The key feature of The Bikini Bar is the fact it is adjustable to fit just about any configuration. If you have a G-String already, chances are it can be adjusted to work with it on another Miata. We can't think of any G-Strings we have sold so far that will not work with The Bikini Bar.
Other benefits:
You can now purchase 1 G-String and use it in another car by simply attaching The Bikini Bar Kit. (It installs with 2 screws)
You can run a G-String without having a roll bar.
You can run a G-String with a double-hoop style roll bar.
(Removal of factory plastics or modification of receivers may be necessary for clearance)
You can choose how high or low you run the main hoop, which will increase or decrease your head room.
You can borrow your friend's G-String. (Sounds a little dirty)
You can lend out your G-String. (Sounds a little kinky)
We have 2 models to offer:
Standard - 1.25" O.D. Hoop
Boss Frog Double-Hoop - 1.00" O.D. Hoop

Pricing is the same for either model:
$150 when purchased in the same order as a G-String, or $160 if ordered separately.

The Project-G Bikini Bar is ready to ship and can be purchased here: Project-G