Hey guys, I've been lurking around the forums for long enough and its about time I had my own project thread.
I've had my black na for about 3 years now and in that time I've been trying to collect a few bits to put together my idea of a nice mk1. I've been saving for full re-spray and some restoration work with the plan of putting all the bits on once it comes back looking straight and fresh. This way it will be like a total make over and have a bit more impact to me.
So really this thread, for the time being, is going to be more a collection of bits and bobs rather than "this is what I did today" - so, erm, sorry for that!
Here's a few pics of the ol' girl:
Style wise I really like the look of the slammed cars but for the roads around here in Wales I think it would take the edge off the fun of owning an mx5. I don't mind a little compromise so I want to aim for something that is stylish & fitted but is still semi focused on performance, handing and feeling.
I'm quite a retro lover (like allot of people no here) so would like something that captures the feeling off all the old Japanese performance classics like the TA22's, 27's, AE86, sunnys, z's (all those cars which are way too expensive or don't exist over here).
I think something like this has the kind of look I like in an mx5:
just good little details, no mad camber & low!
Last year I did try with the minilght/watanabe style wheels and managed to get hold of a set of brand new minilights fitted with 888's:
They were 7x13 et0 with 205/60/13's and I just was not feeling it. Mainly because my car was not low enough and I didn't have the cash to put it right. With the 205 toyo having quite a square shoulder they poked quite a lot at that height. So I sold them to put the cash towards something else.
With the money from the mini lights I started to look for something a bit more classic Japanese. I really like ssr's but they are a bit rare and expensive to get hold of in the uk. Many nights of trailing auction sites eventually turned up trumps with a set of work equip 03's. Being listed as just 'mx5 wheels' meant I picked em up for a reasonable price.
I'm not one to rush things and the works have been sat in the shed for some time. I did play with the idea of making them wider but this was looking to be an expensive option as the factory inner & outer rims are welded together. This meant new inner and outer rims, which could only really be provided by one company in the uk and they were working out too expensive. So I think I'm sticking to 6.5 x 14 et 29 and I'm going to look for a square shoulder tyre - probably a 888. Maybe I'll run a 10 or 12 mm spacer too.
In the meantime I have collected a few bits and pieces ready for when everything gets straightened up. On the list so far is:
Clear number plate cover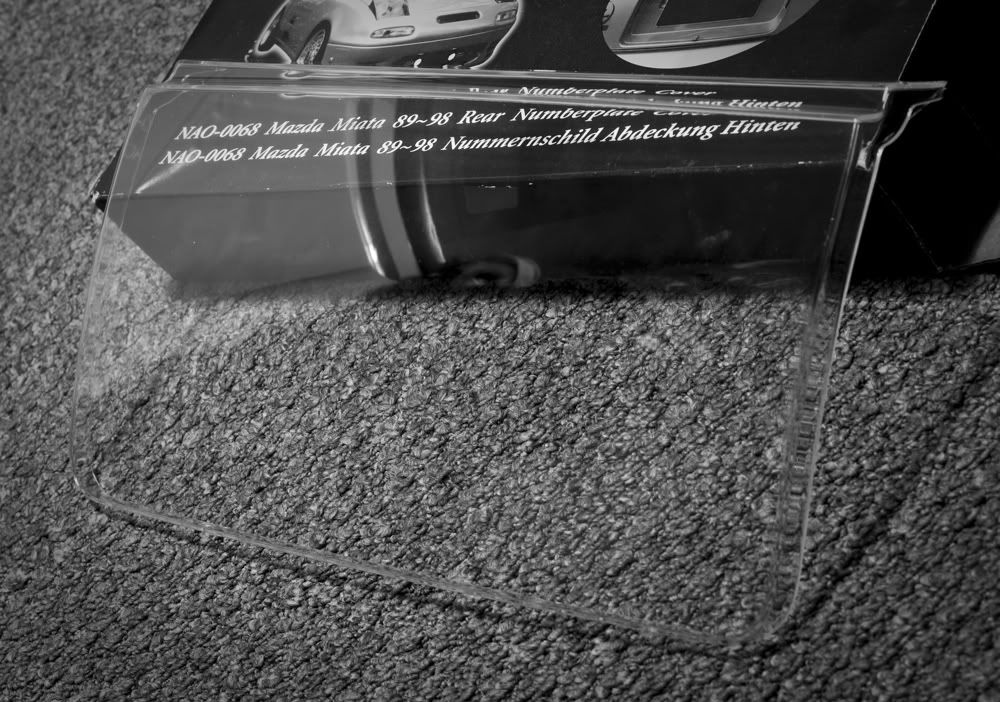 Fiat 500 side repeaters. Loads cheeper than zoom ones but look similar.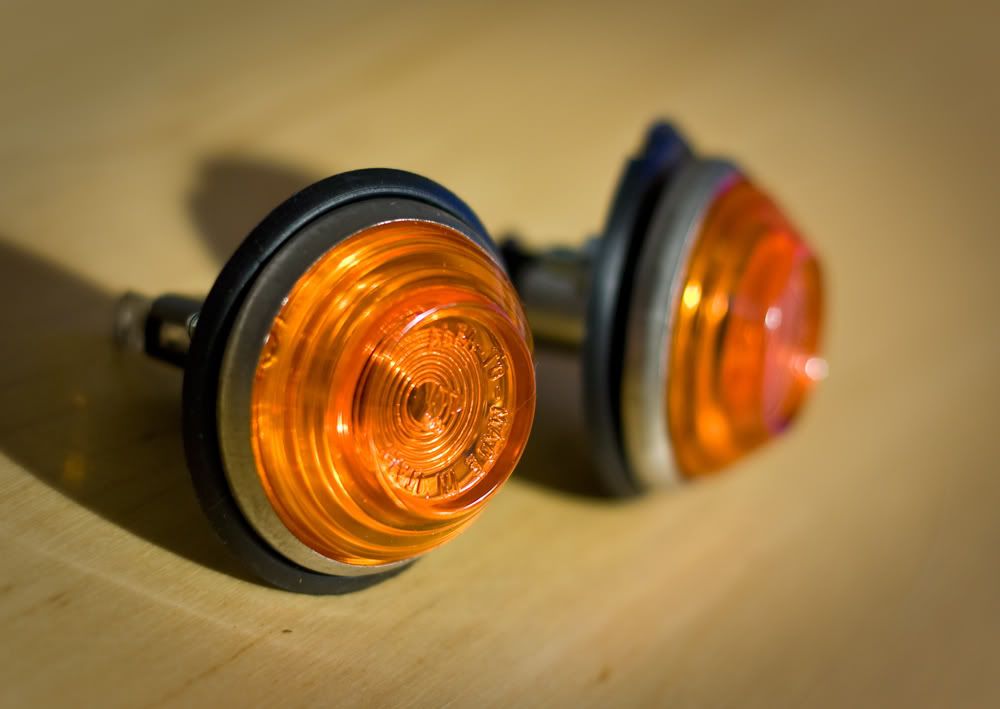 Some hard top fixed brackets made by a nutz member. Very good quality.
323 turbo cam cover which I had vapor blasted by a specialist. Came out really well
Jag oil cap which I cut the thread off and awaits being bonded to the remains of a plastic cap
Here's an interesting purchase- set of munuki 40's with manifold and linkage. This one is causing me allot of head scratching as to how I'm going to control the advance without spending a chunk of cash. I took a bit of risk buying these as they have not been on a car for some time and munuki spares are thin on the ground over here. May end up changing them for webbers but I will cross that bridge when I come to it.
I also got hold of a fubitsu (not sure how you spell it) 4 into 1 manifold from godders, a nutz member. I cleaned it up and sprayed it with some VHT paint. I only had blue in the shed though. I think it looks quite good though and once I'd wrapped it looked real good. It took ages and was messy job to wrap it properly (applying it wet).
Here's another interesting side project - I got some lexus style lights, ripped the covers off and started playing with tape and cardboard. I've also got a spare number plate panel and I'm going to have a go at bonding it all together soon. I want to hack the back out of an old shell so I have something to align it all up and sand on without ruining my car. I have also found a lamp unit that fits nice and presents loads of options for lens Colours and trims- but it's top secret for now.
Here's some pics of my oem front lip which I painted with rattle cans. The finish was perfect for all of about a week until I drove into the kerb. Doh! Now it's covered in stress marks.
I've also collected some bits and bobs which I have not taken any photos of yet. In the mix is:
r package rear lip (needs a lot of work)
Nos Toyota ta22 celica wing mounted mirrors - not sure if I want use em because its a real bold move.
Spare air flow meter & universal throttle linkages - can you guess what I'm thinking there?
Cusco coilovers (basic ones)
14" Mazda steels - might get em banded for winter wheels
Jdm chequer mats
Bomex rear spoiler
Uprated engine mounts
Nardi wood rim
spare number plate panel
Here's a pic I took when I went to help out my buddy with his track day. Unusual choice of vehicle for track side support but the Mazda managed to swallow up a trolley jack, axle stands, full compliment of tools and two 20 litre jerry cans!
My buddy was doing a track day in this:
A pugeot 106 gti - these things are made from recycled cans and bits of plastic. Flimsy French crap but with 130 bhp, hardly any weight and proper gti handling they are a hoot. Riding shotgun was a blast as we held our own against all the focus rs & cosworths and slid our way round much to the amusement of the marshals. It's inspired me to keep a focus on handling a little more than pure looks alone with my mx5.
So that's my collection of parts waiting to be fitted/made. I'd like some other stuff too. In my plans are a new vintage style interior. I quite fancy a brown one with some classic style seats, a touch of wood, black wrinkle finish and a pinch of chrome. You could say I'm after a vintage datsun look. I'd also like a new exhaust and have some firm ideas on what I want. Let's just say it will be different! And I'd also like to get a proper LSD, a kaaz maybe and give it a short ratio.
I managed to lend a 185/60 888 of a fiend who does some rallying. I had the tyre mounted up on one of my equip's to see what it looked like and how they fitted the car. I was really worried that they would look stupidly sunk at et 29 but with the chunky tyres they looked quite good. maybe they will need a 10mm spacer and the car definitely needs more low.
I slapped it on the back and took a photo and then stuck it on the front and took another few shots then blended them together:
As they say the devil is in the detail and I decided to photoshop in a couple of details that I have been thinking about. Like allot of other people, I like the rwb cars and I especially like the stencilled graphics on the tyres. I think a full on deep bold graphic looks allot better than just the tyre brand outlined in White. I'm not a member of any exclusive track day clubs so went for a bit of plain ol' motorsport influence: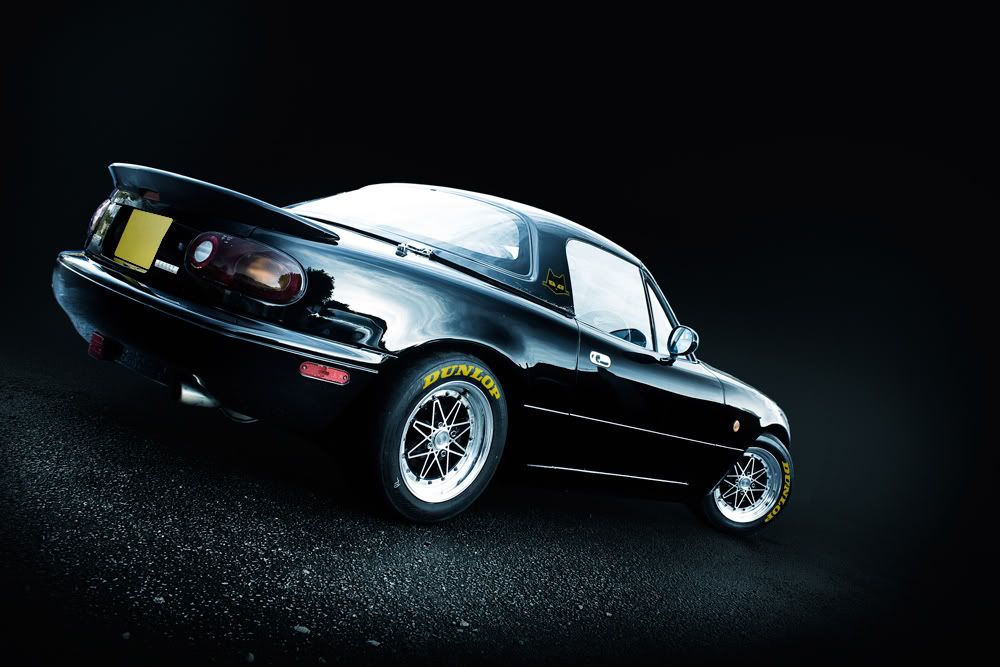 And that is where I'll theoretically be when it is all done. Bar a couple of other little projects.