Project-G goes Forced Induction.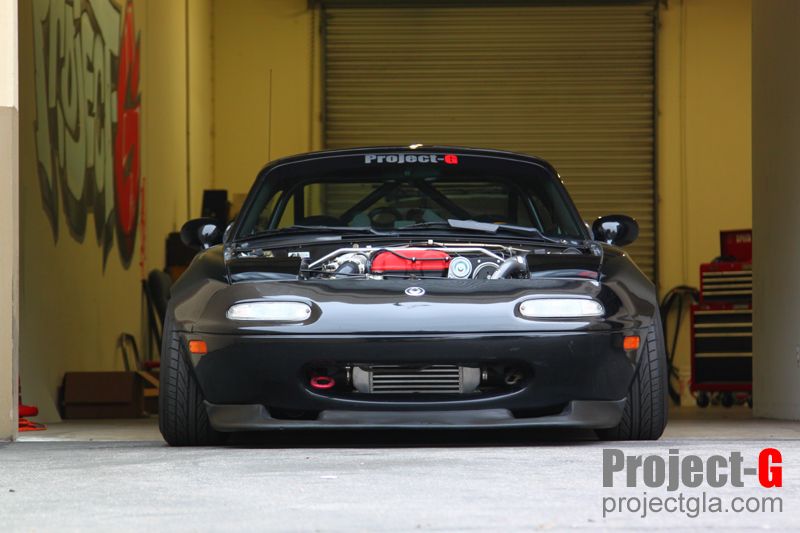 For the past couple of years now we have been kicking around the idea of going forced induction. Our immediate thoughts were to go with a turbo setup since that seems to be the default path. We explored the supercharger options available and stumbled upon a new system that was in development for the Miata, the KraftWerks Rotrex Kit. Since a good friend of ours was actively involved with this project, we decided to wait and see how it all came together before committing to a system for one of our shop cars.
Fast forward a year or so and we again started to think about which type of forced induction we wanted to go after. We considered piecing together our own turbo kit, picking up a pre-configured turbo kit, or trying to get our hands on a pre-production Rotrex kit. We saw KraftWerks had released a kit for the 89-93 Miata, so we knew the 94-97 and 99-05 were not far behind. At least that's what we were hoping. As it just so happened, KraftWerks contacted Project-G in search of some test vehicles to get some of the finishing details worked out on the 94-97 and 99-05 kits. We later found out one of our fellow G-Men, Evan Gilliss, had put the word out that we were looking to go forced induction and even more specifically looking at the Rotrex.
After speaking with KraftWerks at length about the details of the kit they were developing, it was definitely something we were looking for. Basically, an easy to install, self-contained, forced induction kit, with room to grow. There were a few things that had turned us off about the previous supercharger kits we had considered, but this kit was really what we were looking for. Not to mention, this seemingly new technology to the Miata community was very intriguing to us. When we weighed our other options, it seemed for the money, the potential gains were right on par with any other option out there.
This gave Project-G a unique opportunity to work with KraftWerks in the finalizing of both the NA8 and NB Rotrex kits. The kits will now be available for the NA6, NA8, and NB model Miatas, with or without power steering and air conditioning. Previously the only option offered was with power steering.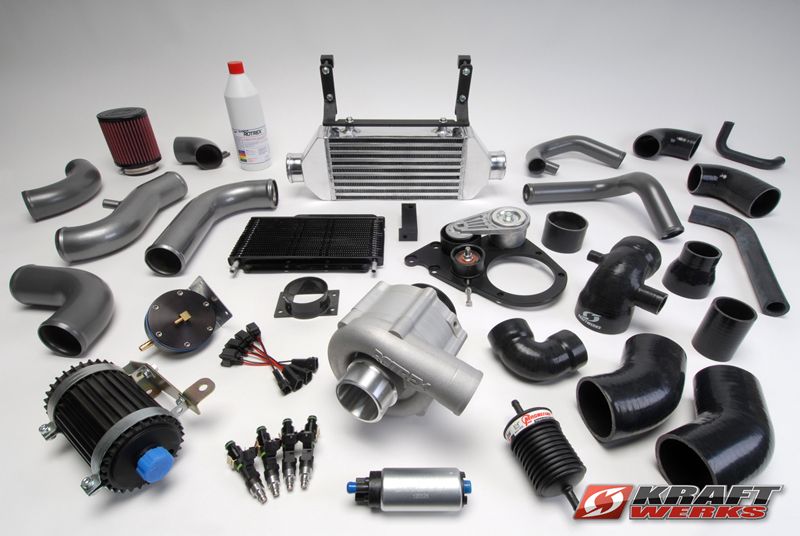 The KraftWerks Rotrex Kit for 94-97:
(We like to consider this a Bolt-On modification)
Let me first start by saying this is an extremely user-friendly kit. There are no special tools needed. If you can change your alternator yourself, you can definitely install this kit. A major benefit to installing the kit yourself is the fact if there are every any issues, you can quickly and easily fix it without the help of a technician.
The kit comes with everything you need right out of the box. The attention to detail is really top-notch. Every nut and bolt, clamp, hose, plug, ziptie, etc. needed is there, usually held in place by some sort of fastening method. This works really well to keep sorting and confusion to a minimum. Don't be intimidated by the number of parts in this kit. As you start piecing it together, everything just starts to fall into place.
Major components of the kit:
Rotrex C30-74 w/ Rotrex Traction Fluid
Supercharger Oil Cooler, Reservoir, and Filter
Aluminum Rotrex Mounting Plate
Auto-Tensioner
Adjustable Idler Pulley
DeatschWerks High Flow Fuel Pump
Grams 440cc Fuel Injectors
FMU (Fuel Management Unit)
Front Mount Intercooler
Cotton/Mesh (K&N Style) Air Filter
Bosch Bypass Valve
Silicone Couplers
Powder Coated Aluminum Plumbing
Project-G Black Miata:
The first car that was finished was our Black 94. Although this car is not the standard 94, this car has no "go fast" mods. It does however have an engine out of a 99 NB. These typically put down about 10 whp more than the NA 1.8 in stock form and according to our baseline runs, this is the case. Other than that, the car has a stock exhaust manifold and stock exhaust all the way back to an Apexi World Sport muffler from a different car. Also an important note, this car has all the options still installed, power steering, air conditioning, and even cruise control.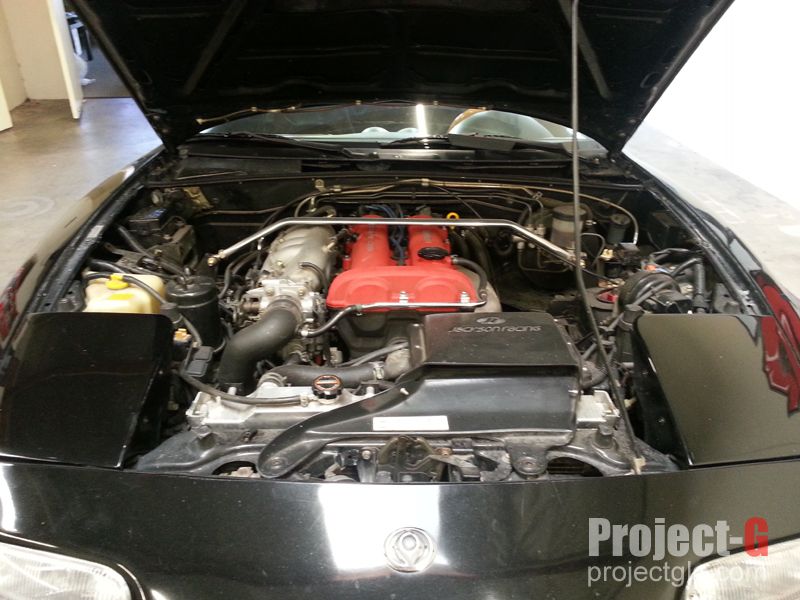 The Installation:
We approached the installation in 2 ways: First, we went into it blindly. We wanted to see what we came across just as the customers would. Second, we looked at what could be changed to make the install even easier. Using our vast knowledge of how the Miata goes together, we have come up with a few suggestions to make this a truly user-friendly install. This should all be implemented into the final product. I found the installation manual to be easy to follow and understand for the most part. There were a few areas where I needed to "think", but nothing that an amature DIY'er wouldn't be able to figure out. KraftWerks did inform me they would like to refine them even more and make it a mindless install.
Using common tools, a basic metric wrench set, metric socket set, flat-head and Phillips screwdrivers, this kit can be easily installed in a day, or leisurely over the weekend. A realistic time-frame for a first time install would be in the range of 5 – 10 hours, less than 4 hours for someone with experience with this kit. Of course these are just my rough estimates. At the same time, if you ever needed to remove this kit (for whatever reason), it should take no longer than a couple hours tops.
A very big plus for this kit, no tapping of the oil pan, no draining of the coolant, no swapping manifolds, none of the tasks that would make one feel this is more than just a bolt-on install. Everything is self-contained. Again, I found this kit to be very user-friendly.
Once the kit is finalized, I am told a dyno tuning session is not necessary. Just install the kit, do some testing by driving the car under load, and fine tuning to ensure there is no detonation. This should be relatively easy for someone who just installed the kit.
Fit and Finish:
I am extremely picky when it comes to fit and finish of a product. I have to say I am very pleased with KraftWerks' execution. This kit goes together easily and you can tell it is a really well thought out. I had some areas where things were rubbing, but after spending a little time to get things right, everything lined up as they should with no issues. (Note: It was all a matter of getting things fit correctly, no cutting or modifications of any kind were needed) All this while keeping the power steering, air conditioning, and cruise control intact and in stock form.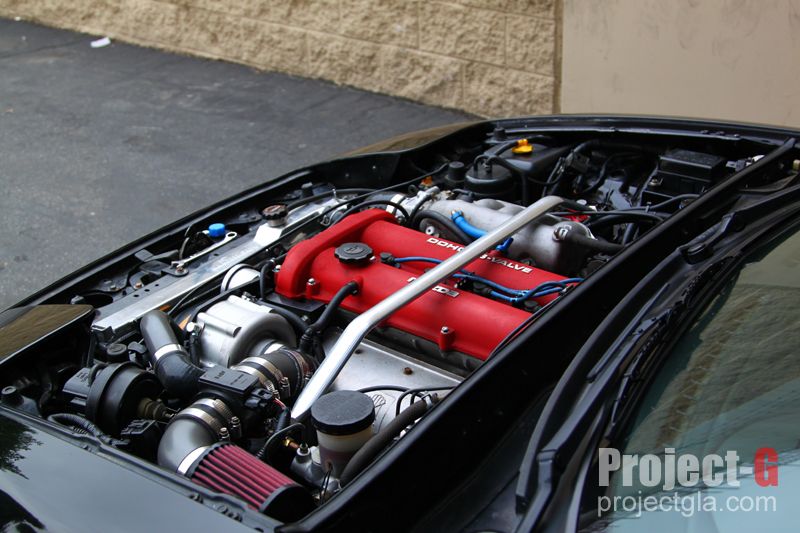 Performance:
When compared to other Forced Induction Kits in this price range, the KraftWerks Rotrex Kit for the Miata proves to hold its own when it comes to the numbers.
KraftWerks website specs:
185 hp and 145 lb-ft torque
We went to our local tuner who uses a Dynapack dyno and did a few pulls to get numbers to compare to other local guys, and our findings were pretty impressive:
Baseline for a stock 99 is usually about 110 hp / 103 lb-ft torque
Our results with the KraftWerks Rotrex kit were 207 hp and 157 lb-ft torque
Of course numbers will vary depending on the condition of the vehicle the kit is being installed in and the equipment used to do the test. These results were produced with only the components that were supplied with the kit. The entire engine and exhaust is stock all the way back to the muffler.
On a side note, the C30-74 supplied is capable of producing 300 hp. The optional C30-94 is capable of almost 400 hp.
Driving Impressions:
Driving this car with the KraftWerks Rotrex installed is surprising. The first thing you notice when you start the car is the lack of the "Supercharger sound". When the car is at idle, it seems just as if it were stock. As you start to accelerate, you immediately know something is different. There is definitely more engine under your foot and you can hear a slight "hiss" as the bypass valve bleeds off the excess boost (or as I think of it, boost on tap). It's a faint hissing that I found as a welcome sound. The bypass valve can be replaced with a Blow Off Valve to VTA (Vented To Atmosphere) and would produce more sound if desired. As soon as you lay your foot into it, you hear the hissing stop and you experience a strong, linear rush to redline with a hint of turbo whine. When you shift, there is a pleasant, low volume, blow off sound. Nothing obnoxious or intrusive, but it is definitely there. Again, if you choose to VTA, it will produce that "Blow off" sound if that's what you are after. I had expected the feel of the car to change with the added parasitic drag, but surprisingly this has been kept to a minimum. Nothing I would complain about, but it is there, so it's only fair to mention it. A huge plus to the KraftWerks Rotrex system is there was absolutely no detectable vibration introduced to the smooth feel of the car. This was a huge benefit in my opinion.
There are still a few details being worked out for the final production kit, but this is really about where it will end up. Notice how well everything fits together. Nothing looks out of place or crammed in. There was talk about CARB approval in the early stages of this project. I have been informed this is still on the table, but a similar kit failed on the very last point. So once they get that kit passed, they can look at the Miata kit. For now there is no promise of this. Anything CARB is probably a year away, and that is just an estimate.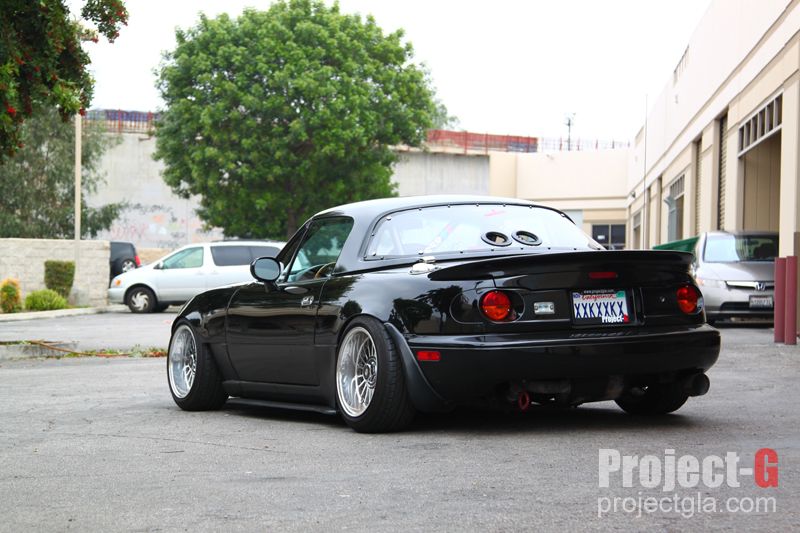 Final thoughts:
Driving this roadster is a whole new experience. The addition of the KraftWerks Rotrex Kit has transformed this once relaxed and laid back cruiser into a mean street machine that just begs to dish out punishment to the pavement.
Overall, I have to give this kit a big thumbs up. The power it's putting down and the drivability is simply awesome. The car feels like it just has a lot more power on tap. No lag, no waiting for spool up, just a lot of get-up-and-go! This and the fact it's a relatively easy bolt on kit makes it really hard to beat. At the time of this write-up, Project-G is finalizing the Rotrex install on our red NA8. Project-G also has an NB2 at KraftWerks getting that kit finalized as well. We are down to the final shakedown on that kit and should be available soon.
There is no doubt in my mind you will start seeing a lot of the KraftWerks Rotrex Kits for the Miata at the track and local meets. This past month has been a blast, and problem free. Before this kit I always had mixed feelings about taking the forced induction plunge. I really wanted the added kick, but dreaded the added headache of a complicated install and getting things to work. In my opinion, KraftWerks really nailed it for users such as myself. Respectable power gains, easy to install kit, clean execution, and at a competitive price.
Additional info:
MSRP: $3995 as shown
KraftWerks will be providing phone tech support for the kits.
Warranty is 2 years from date of purchase on the Rotrex unit through KraftWerks.
**Pre-Order $3795
Contact Project-G for availability and additional details.