·
Hardparker Extraordinaire
Hi all so haven't started a build thread for this car yet but, will get on that soon.
With MRLS coming up I promised Moti I'd have an unbiased review of his spoiler since the NC version doesn't seem to sell nearly as easily as the NA/NB version...my thought on this is that a/less NC's than NA's/NB's, b/most NC people seem to be more Mnet oriented for looks & bling rather than fun & functionality : 3gears: I however, am an anti Mnetter, gutting a perfectly good 10AE in the past and now adding some race parts to an NC3 Clubsport...first real modification being a race part, I think I may be headed down the same road I went with my NB which I said I wouldn't do a few months ago when I bought it but, eh, it's a miata & I have a modding addiction so it starts :blaugh: :bouncin: : 3gears: :icon_cheers:
I highly reccommend if you don't have any rear aero or don't have any aero at all, give Moti's demo pieces a whirl
other spoiler/wing options I was considering aside from this one:
APR 200
- PROS: Beautiful CF 3d design, as functional as it gets CONS: expensive, attracts cops & thieves like money attracts strippers at a stripclub, even if I painted it to match the car and tried to claim it was factory like the s2kCR had similarly I still couldn't imagine not getting harrassed by cops with something like that on my car.
DG motorsports fiberglass(sold by goodwin)
PROS: looks great, flows well with the body lines, love the angle of it CONS: not adjustable & after having their hardtop.... likely fitment issue nightmare, the hardtop DG makes is likely going to require more work to fit/seal nicely than the autokonexion fastback on my old NB...but that's another story....ONWARD
What's included:
lexan spoiler pre-assembled to hinges & BBFW decal preinstalled
2 brackets to raise the rear and start the incline
all stainless hex head bolts
all stainless nylock nuts
3very stout support rods & bracketry
first thought just looking at things when I got home...really $280?!? but, im a cheapass and think I can do anything myself... then looking at the parts, everything is top notch, reverse threaded support rods for easy adjustment...literally just break the jam nuts loose and increase or decrease angle...stainless everything, lexan is precision cut with smooth/finished edges (something I struggle with even with a fine jigsaw) & countersunk
PICS COMING SOON!
every thing needed for install:
How the aluminum brackets go(there was no clear pic online or in the instructions):
all installed: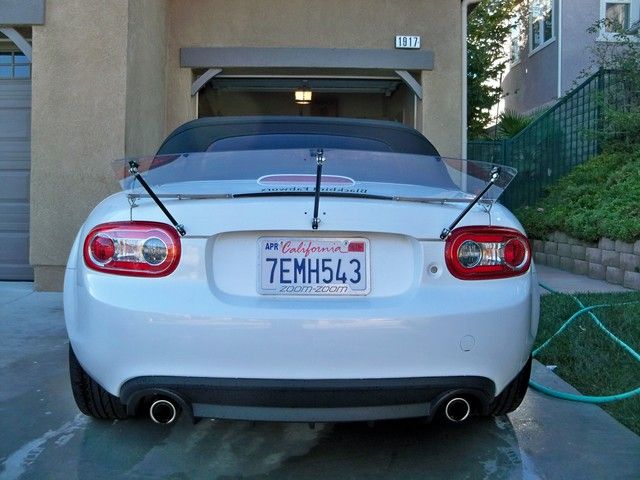 Low angle:
High angle:
Review:
Customer Service 10/10
Moti was amazing to deal with, in the good kind of way. Called when I had a question & he answered or returned the call/text & explained as best he could over the phone, still had an issue I couldn't figure out with spoiler bowing towards the center drove it down to the shop, he took a few minutes looking at it and figured things out rather quickly, he really knows his products...in my case I had tightened the hardware on the braces before attaching to the car & I needed to properly drill the 4 inner supporting holes & the hole saw spots underneath on the triangular pieces which Moti did for me
Install difficulty 4/10
plan on it taking a couple hours...read instructions first, blue tape(maybe double/triple layer it to protect the paint from the hinged areas), measure & mark, re-measure, re-measure again if it still looks good go for the drill otherwise re-measure again, absolutely have a buddy for help(this is what I believe caused my misalignment issue causing my inner 4 holes to be oblonged at the end result(completely my fault). if you're at all hesitant about install and local to the shop, check with Moti on availability/cost of that he really moves quickly
Looks: 7/10
I like it, it's not everyone's cup of tea especially for a daily driver with the 3 support rods. I'm contemplating painting the lexan to match the car. It's not as pretty as others but, for the price, really can't be beat, only way possible is if you were an engineer or very connected with the right people/tooling, When I looked into my own semi-similar design cost got to around $150 but I knew it wouldn't look as nice or be as effective plus figuring out where to drill for my own design would've ended up with my nicely painted trunk looking like swiss cheese
Functionality 10/10
it actually really works well....it doesn't significantly unbalance the car but the ass is very planted. I don't have quantifiable data but it's a very noticeable difference from nothing to lowest angle, then lowest angle to highest angle is another jump.
Went out for a test drive after installing it with the lowest angle(rods fully shortened) didn't notice any increase in drag though I'm sure there may be some at this level but going through a long sweeper style on ramp and then through a short windy road car didn't get unsettled like it had been due to crappy pavement, even at lower speeds of 30-40 it was noticeable
Then the same run after adjusting the rods to create the steepest angle, wow. I'm sure this setup utilizes drag to make the downforce but with it fully raised the rear really feels very planted, almost to the point of unbalance and needing front aero or suspension improvements but it doesn't make it tail happy just a very noticeable effect of hey rear is really down & front not so much
Pricepoint 8/10
: It's not cheap but, it works very well and is designed about as perfect as a single plane spoiler can be. Sure as mentioned above you could make your own cheaper, will it look as nice? doubtful, will it be as effective? again, doubtful is it as effective as a 1k APR GTC200, no, does it have more drag sure but, price vs. effectiveness if someone could get quantifiable numbers( $ vs. DF, $ vs. drag & downforce lbs vs drag caused) i'm pretty sure the BBFW would run reasonably competivily against the APR
Install hints:
Mentioned in the instructions but....ANTI-SEIZE ALL THE THINGS! I didn't heed this warning & had to take an angle grinder to a bolt on the little aluminum bracket :smile9: luckily it worked well, didn't screw up the bracket, a quick trip to the hardware store and all was well again
blue tape is your friend
straightedge will need to be at least 4 feet long & a buddy for that step of marking/drilling the inner 4 holes is a very good idea
leave all support rod hardware loose until final install
Ideas for improvement/options for consideration:
-label bracket sides, although only takes a few minutes to quickly figure out if switched between sides or update instructions to include their specific orientation....more squared part towards bottom, sides face outward
-templates for drilling in addition to the measurement instructions would be great
-gurney flap &/or some kind of endplates...just an idea, didn't see it previously discussed on the other threads
-option to run even lower angle (ie: shorter support rods) to focus on drag reduction vs. downforce increase (had talked with Moti briefly about it at the shop, it's available for NA/NB trunks by drilling 2 additional holes more inward on the trunk & a shorter center support but has yet to be done on an NC)
-carbon option with honeycomb core(would raise cost but likely simplfy installation since CF is much stiffer than lexan, would obviously lose the unimpaired visibility)
Overall, totally satisfied and look forward to having more of Moti's well engineered products on the car...you'll have to check my build thread in the coming months...talked with him about some cool aero bits, and yes, car will stay daily driven.
Side note: Sorry but, I don't think this will work well for other unintended purposes like a sunshade(it's clear), ironing board(plastic melts), a bed(it's only 12" wide & less than 4' long) but it is a damn good spoiler :haiguyths: