Discussion Starter
•
#1
•
I thought I'd post a new thread about this just in case the autoguide Millionth Miata subforum gets deleted after the event is over. I don't want this thread to get blown away.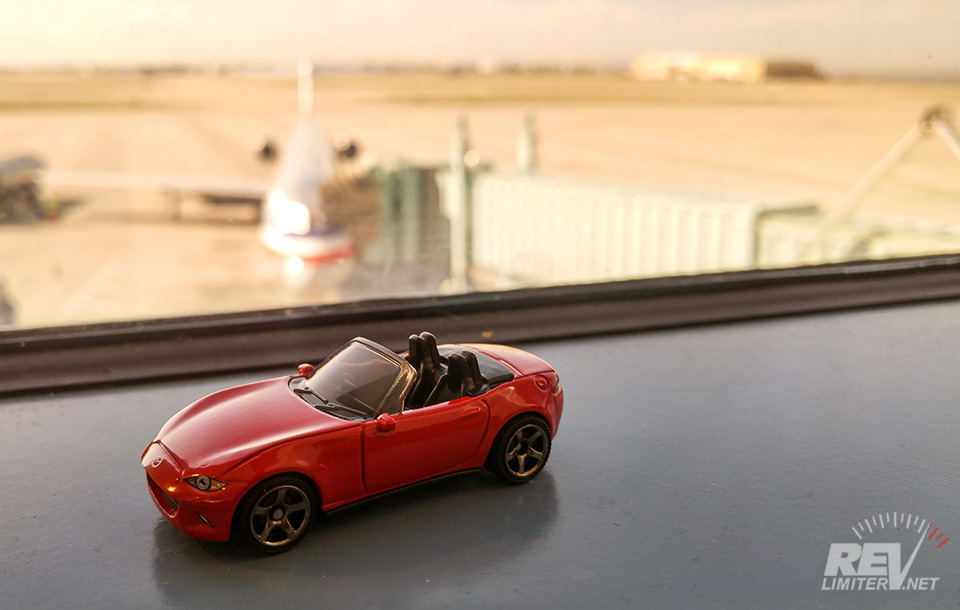 Where to start on this. I feel like I have to explain so much…
Many of you probably saw the post here on CR. They were looking for a long-time member to go on an adventure. The member would be flown to Houston for the joint MX-5 Experience and Millionth Miata Celebration Tour stop. Autoguide, the owners of the forum posted this. It was legit.
I posted in the thread. I emailed back and forth with some folks from Autoguide. They wanted to do a video with me about the new Miata. I agreed.
The next week, I was at the airport with my pocket-sized ND.
ND on the Beach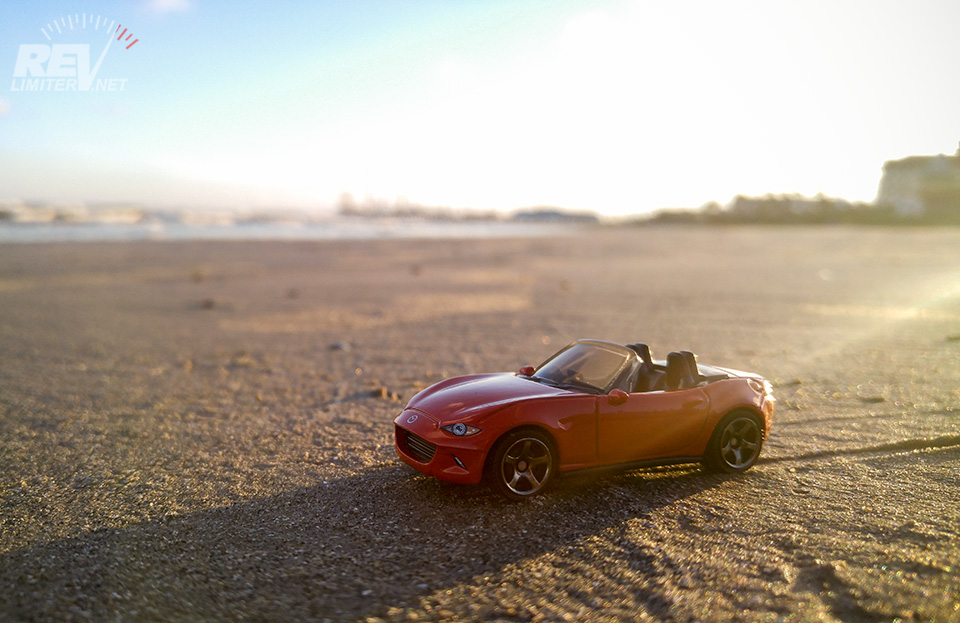 Galveston at Sunset
I was flown into Houston and was booked in a very nice hotel on the beach in Galveston. That did mean about a 2 hour fight through Houston traffic after landing, but it was worth it.
There wasn't a whole lot of time for seeing the sights. I had a free evening in Galveston to wander the beach and see what there was to see. After that, the Miata train started rolling.
How about that pavement?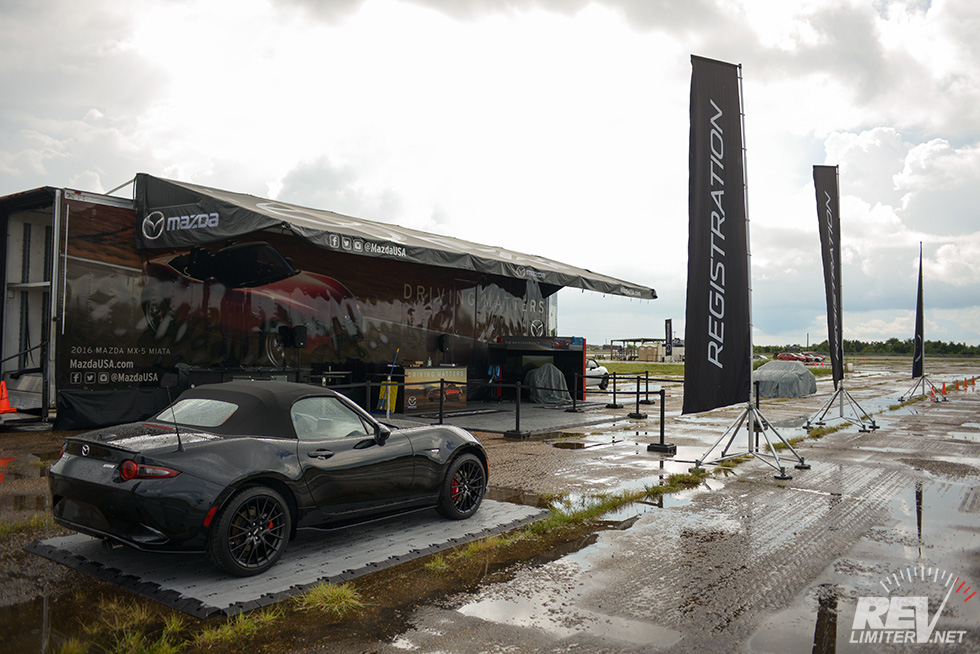 Thursday was lovely. I mean, look at that sunset pic above.
Friday? Not so much.
I got to the track juuuust about as it was submerged under water for the first time. Yes, the first time. Nothing like a totally soaked track day.
The sky opened up four times on Friday. Nothing was dry at the end of the day. But that didn't stop the fun.
Braking Test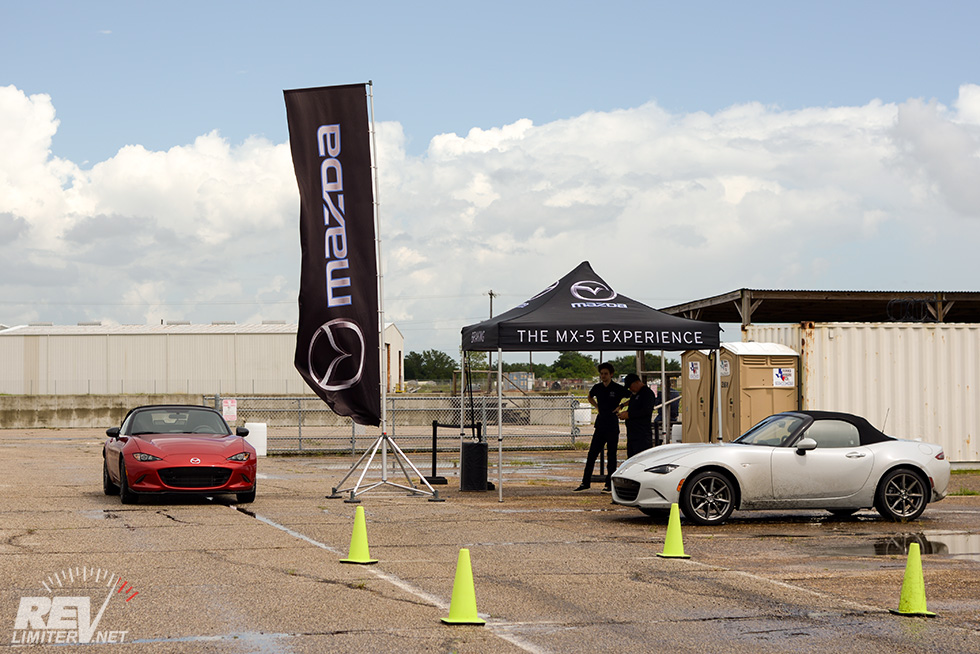 Slalom Test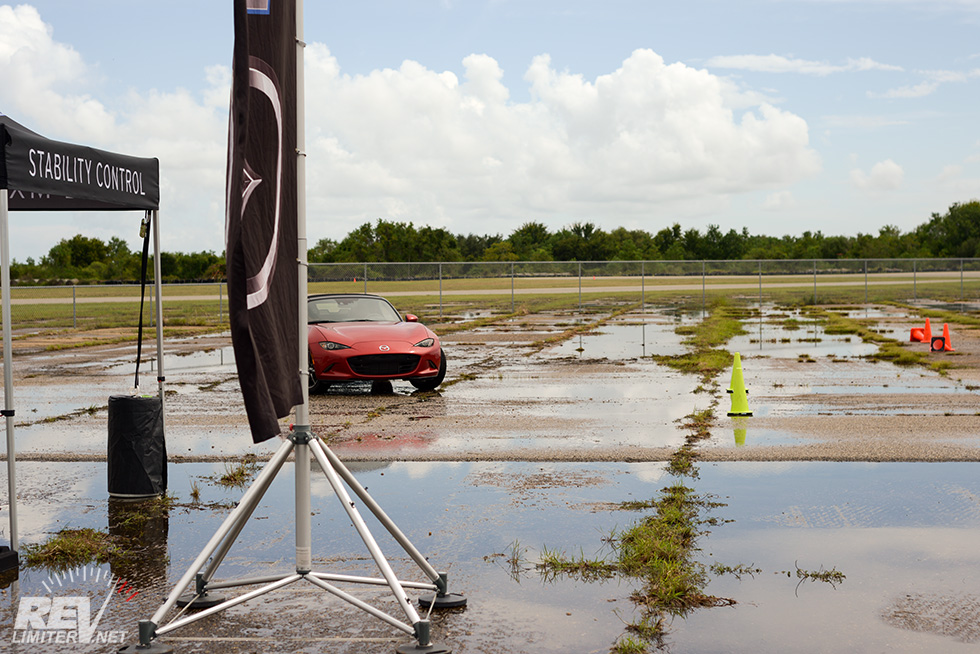 Track Test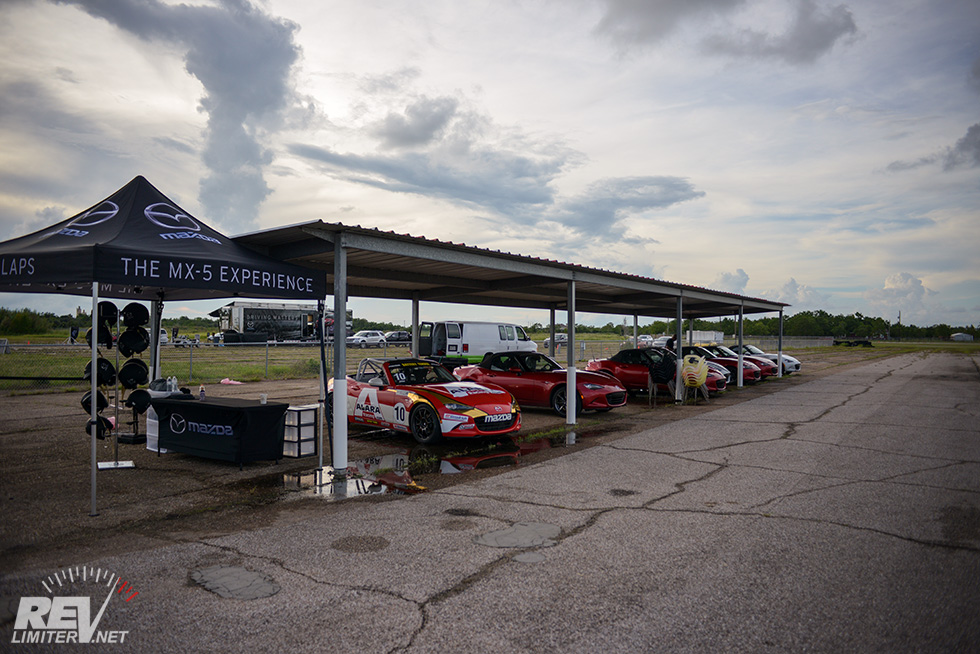 What is the MX-5 Experience? It's a three-station test drive of the new 2016 ND Miata on a real track. It costs nothing. All you have to do is show up and Mazda lets you put an ND through the various paces.
But you have to show up.
They have a dozen or so tour stops throughout the country. At each of these tour stops, you get to do a braking test, a slalom test, and a road course test. There's driving instructors in each car and you get your choice of automatic or manual.
This tour stop was around Texas City at a little track called Grandsport Speedway. It's apparently a pretty small track. Not one person I talked to had ever been to it before. It was very nice though.
I mean, aside from the water it was very nice.
Dual Purpose ND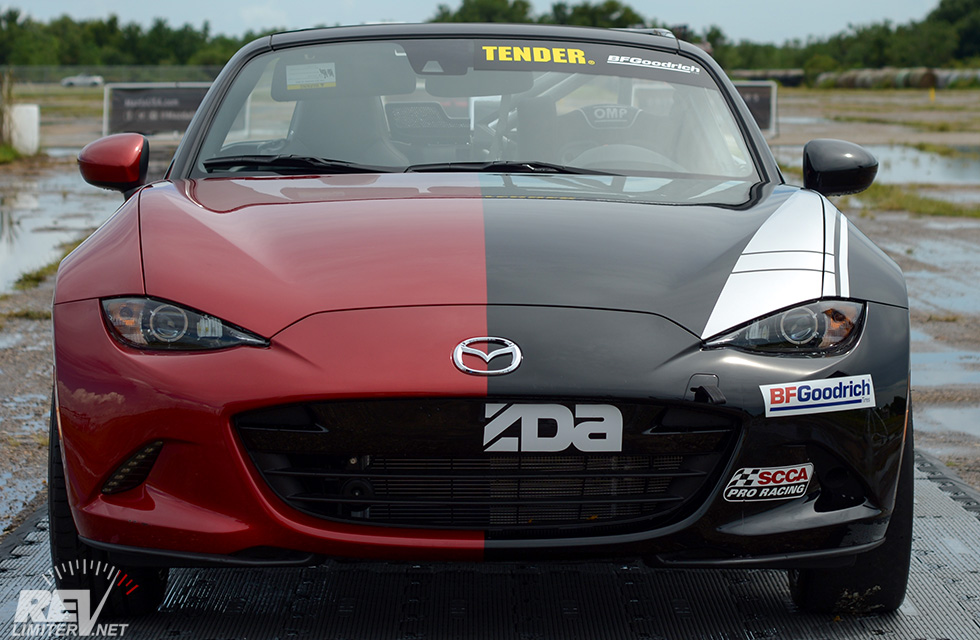 This is not a photoshop trick. The car is divided in half.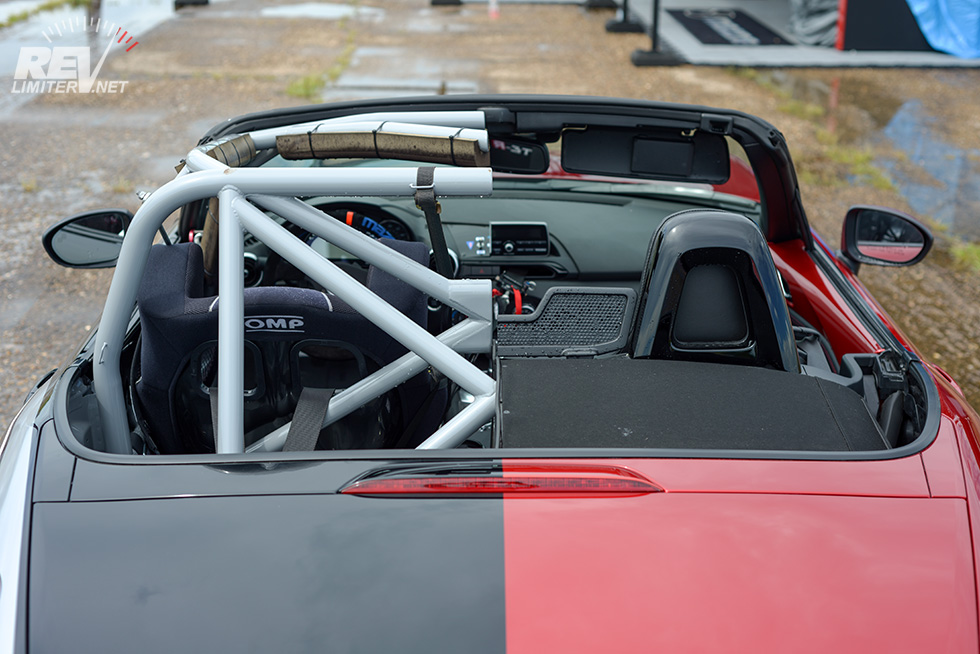 This whole MX-5 Experience Tour is really a great idea and an impressive thing for Mazda to do. The tour is NOT a small operation. There's a lot of gear and individuals required for it to happen. I mean, look above. They had a bisected ND that was half track car, half stock Miata. They had tons of cool stuff like this that they brought on their tour.
The Experience wasn't going to stop anywhere near my town, so I didn't have my hopes up at attending, but… that turned out to not be a problem.
MX5 Cup Car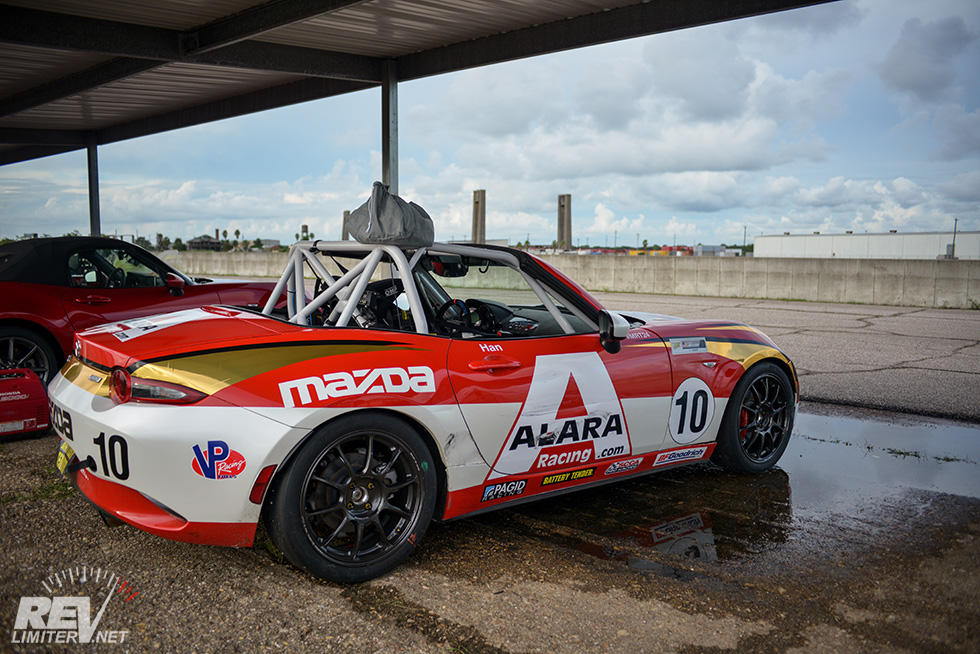 Staying Dry.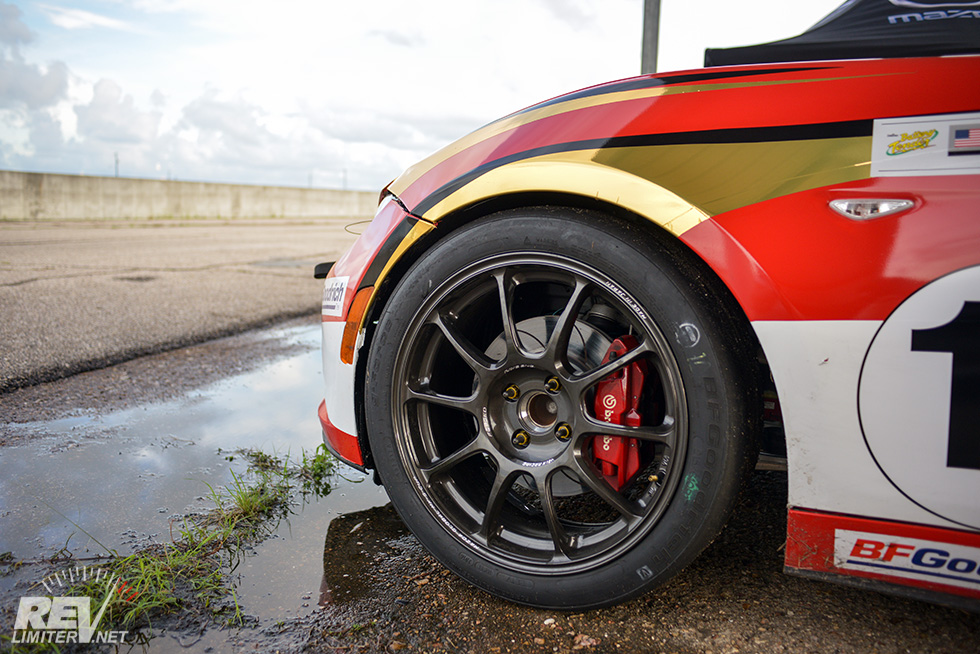 Yes, I need that wheel.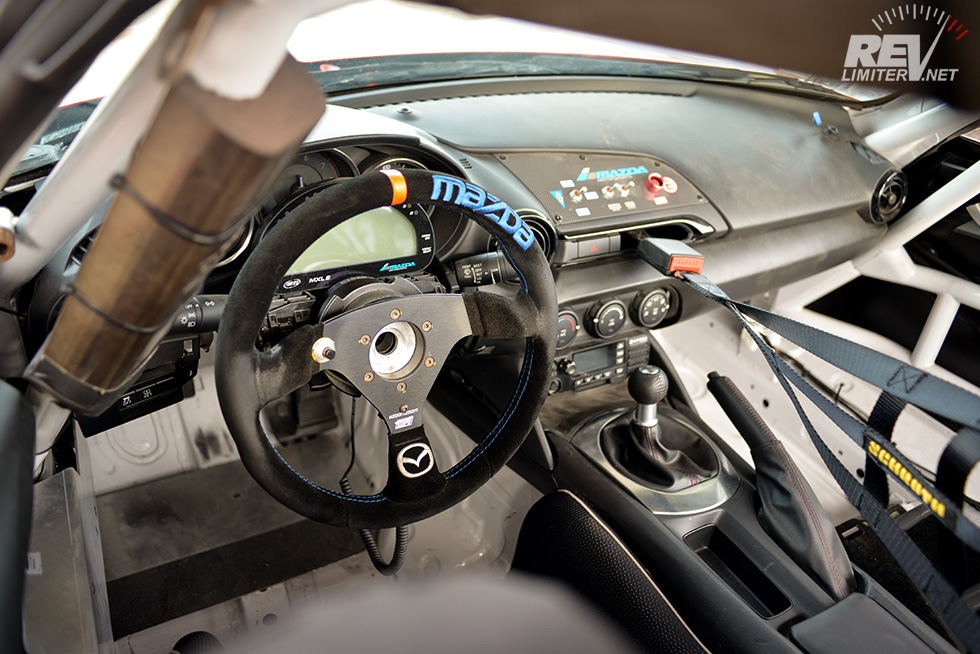 This ND cup car was too cool not to share pix of. It didn't actually get to go on the track as far as I know, but that's really okay. Words cannot express the buckets of rain that fell throughout the day. It was truly impressive.
"Under water" is a good description.
Ready for track time.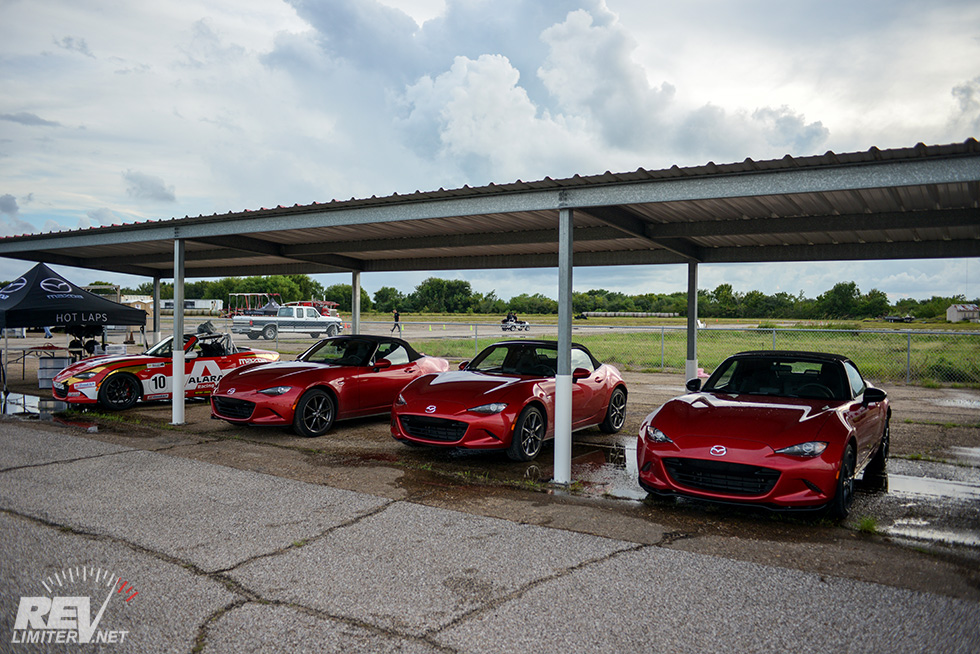 But back to the story. They wanted me to star in a video about the new MX5 and the joint tour stop of the MX5 Experience and the Millionth Miata Celebration Tour.
That meant driving Miatas. A lot.
The brake test consisted of launching an ND, going up to the middle of 2nd (about 45mph) and slamming on the brake to try out the ABS system. And it was impressive! Even in the super super soaked track parking lot (not the best surface), it hauled the car to a stop in short order.
I did this around a dozen times. Each time involved a Go-Pro being re-positioned slightly and Ben, the camera and media guru to stand in a slightly different spot.
Am I complaining? Nope. I got to sample the ND clutch on a launch many many times. And I loved it.
MMMMM. Brakes!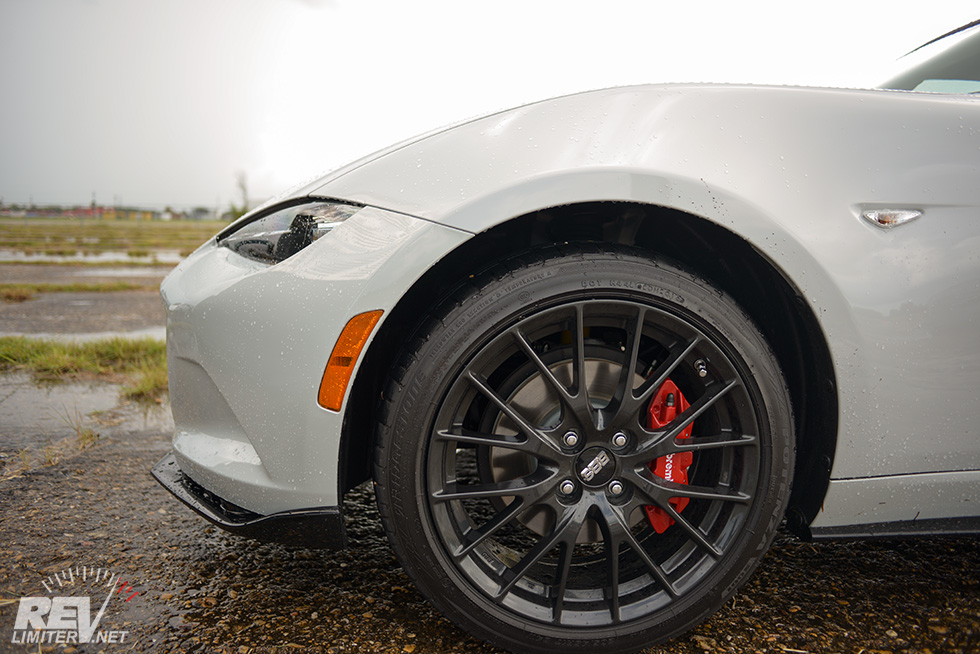 Next was the slalom test.
They… didn't have a ton of room for this. The parking area was large, but it was also horribly flooded. Finding areas with as little standing water as possible meant the slalom got cut down to a four cone chicane with a very short start box.
I did this around a dozen times.
There was many splashes. There was much Go-Pro suctioning. There were many takes. It was great. I only nudged a few cones.
My steed for open laps.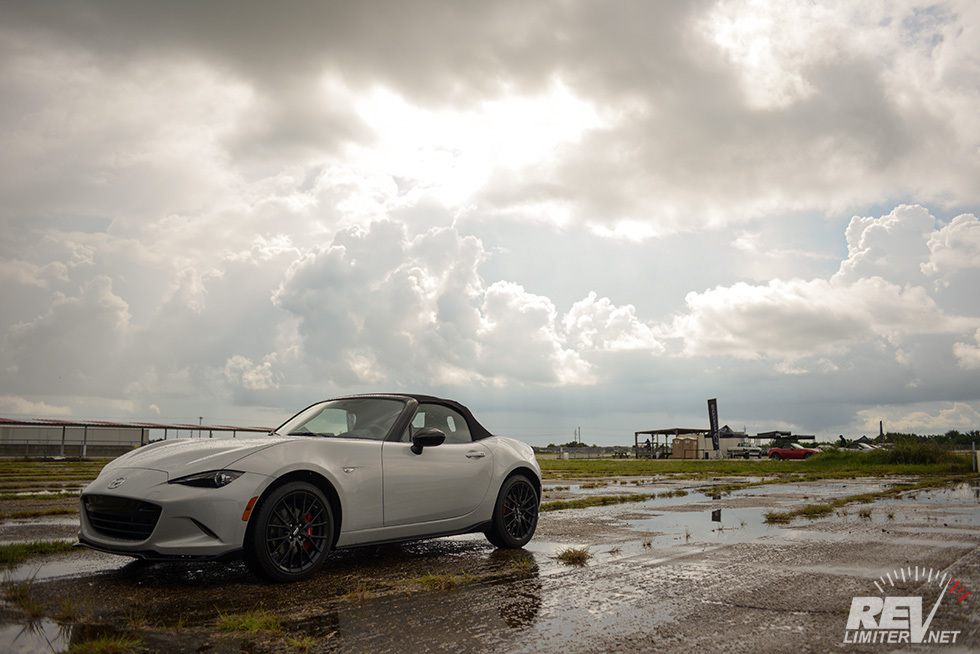 Finally, the track test.
Each participant got to do two laps with an instructor in one of the NDs. You could choose manual or flappy paddles. After that, you got two more laps with a pro driver behind the wheel in a different ND.
I, um… got my money's worth. I got about 8x the laps that I paid for.
Zoom Zoom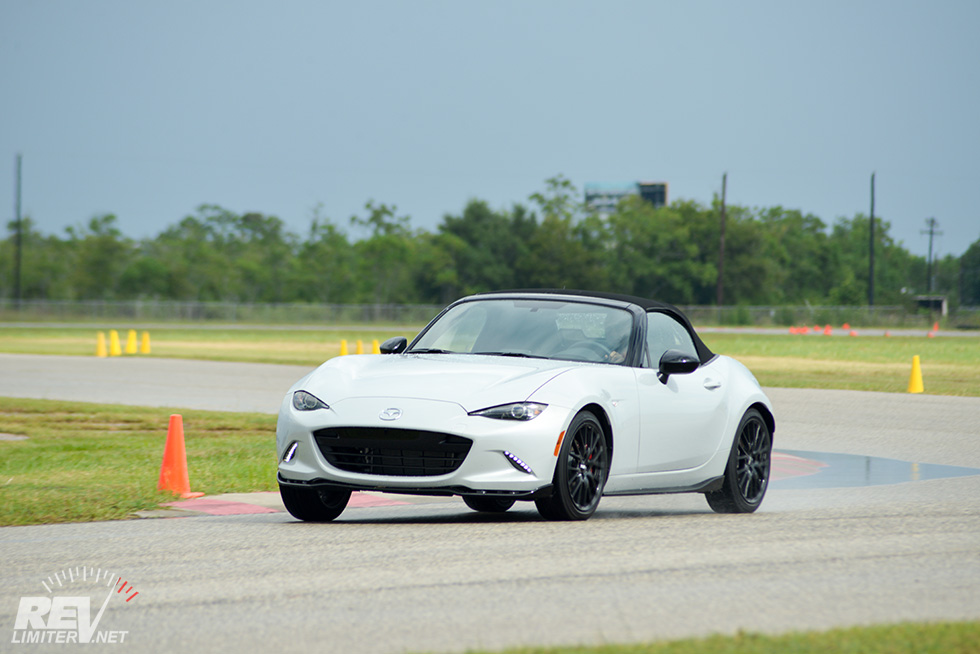 Splash!!!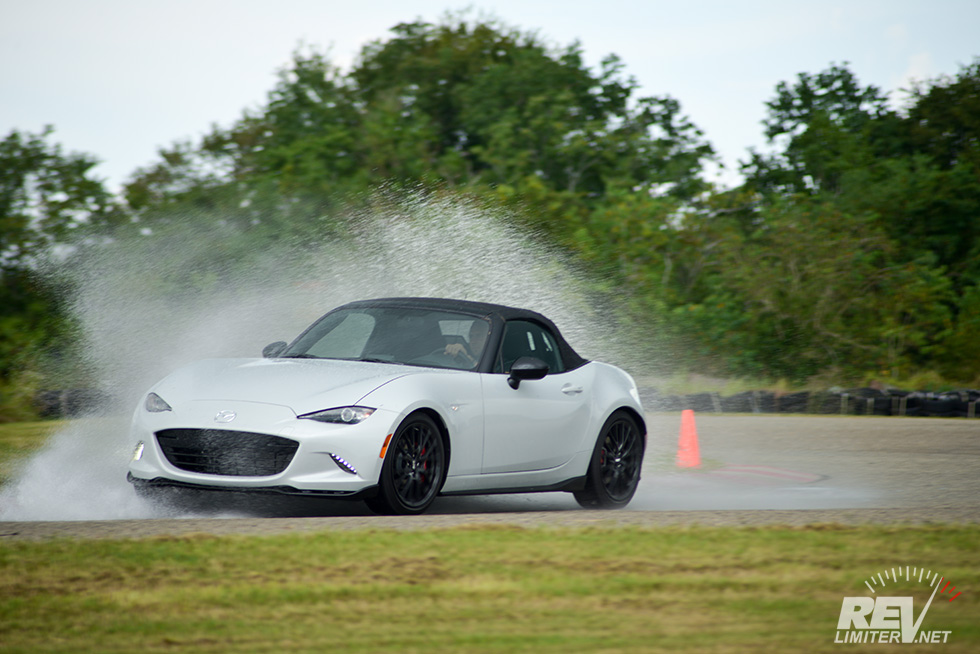 Filming the driving segments required chasing the Autoguide folks in their Hyundai SUV at a somewhat slow pace. It wasn't at all boring though.
Then there were shots with a camera on the side of the track. I drove some of those and an instructor drove others. Frankly? I wanted to take some pix of the whole thing myself. I was let out to click off a few while a few laps counted off, then I got back in and drove more.
The lapping happened several times throughout the day. It was impressive to me just how much effort was needed to film a short segment.
Cleaned up for the interview.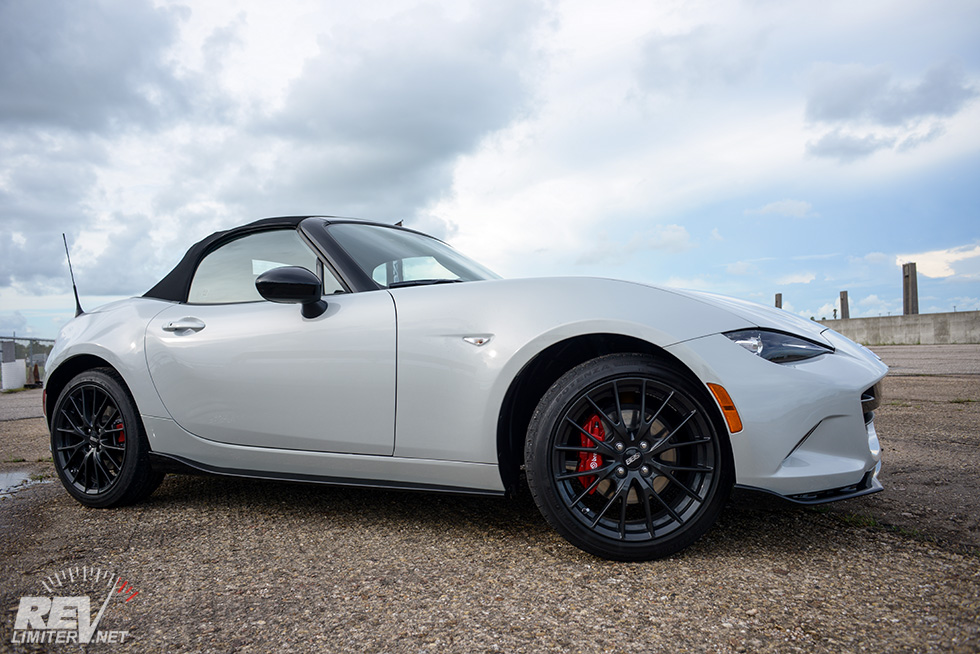 And then the car got parked and I stood in front of it for about a half hour of interview questions. There was no rehearsal and I didn't know the questions before hand. This was my choice. I wanted to react from the hip rather than have a planned answer for stuff. I thought it would be more authentic that way.
And this was the result.
They made me look far FAR cooler than I really am. I'm amazed by this video. I'm a huge nerd in real life, but they somehow made me look really great.
I mean, I'm squinty in the video, but that's because I'm talking directly into the sun. It was not as pleasant as you might guess. But… worth the headache.
HUGE thanks to Autoguide for sending me to this event!!!! Seriously. You made me one happy Miata nerd.