·
Official Armchair Racer
Goodmorning Clubroadster. It came to my attention this morning that we've gone on far too long allowing monstrosities like this: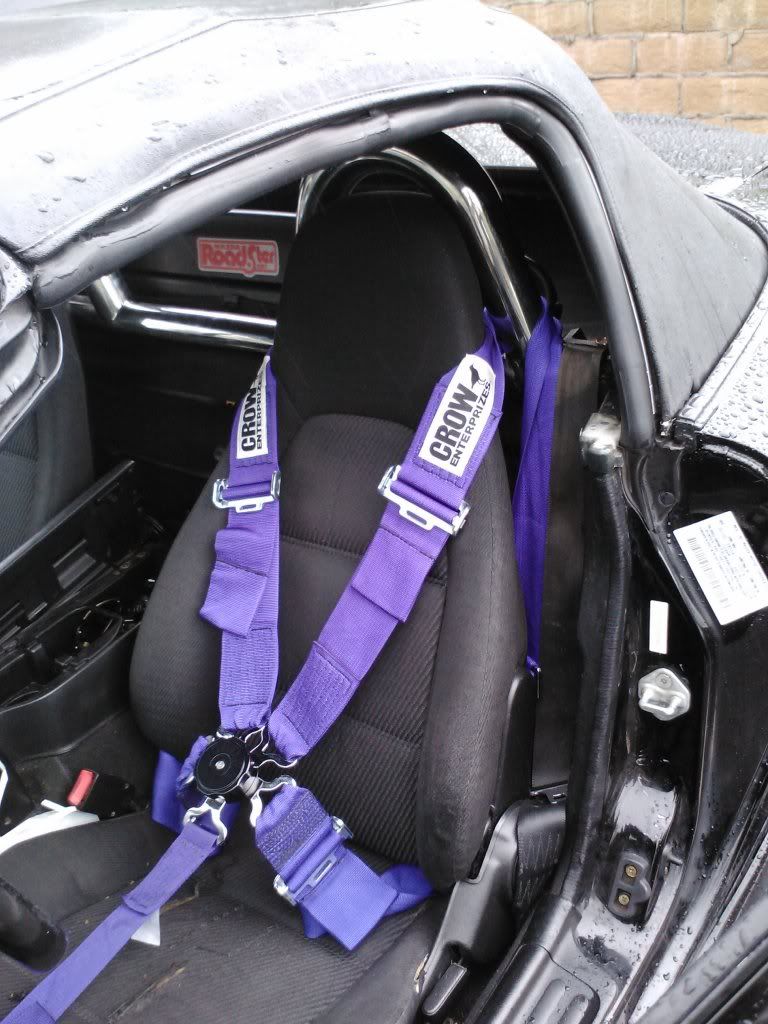 to continually pop up on our forum. It's understandable that not everyone has the money to invest in a setup all at once but please for the safety of yourself/passenger do it right and preserve your dignity to boot.
What To Buy
1. Start with a rollbar. There are many options to choose from. Hard Dog, Black Bird Fab Worx, Boss Frog, Autopower and many race prep shops either have off the shelf bolt in kits ready or can likely install a custom rollbar or full cage for you.
BBFW GT3


HardDog Hardcore DD + Harness Bar




2. Your rollbar may or may not come with a harness bar. So either purchase one with a pre-welded harness bar or buy a bolt in version. Hard Dog and Boss Frog offer very sturdy examples of bolt in bars.

3. You're probably tired of sliding around on those sloppy oem seats by now huh? Let's go shop for a fixed back race seat. I'd recommend taking a serious look at some of the FIA/SFI rated seats from companies such as Recaro, Sparco, Bride, Cobra, Corbeau (bleh), Status, OMP etc.. Prices will range from ~$350-many thousands. Used is often an option as well. Keep your eyes peeled on forums/Craigslist. Inquire about the seat's history. Has it been in a crash etc and use your best judgement.




4. Mounting seats in a Miata can be tricky but using zip ties to hold your seat in is not acceptable. (Yes this has been done before)

Excellent bracket solutions are now available. Forum Vendor, Pro Car Innovations/Kazespec, have created some nice looking mounting solutions. http://clubroadster.net/vb_forum/showthread.php?t=54021

It should also be easy to find someone local who can fab up what you need. This is the route I went for mounting my seats.



5. Time to strap yourself in eh? Are you on a budget or are you looking for name brand Takata or Schroth? Well the good news is which ever boat you fall in you can still setup a harness affordably and safely. Take a look at the many affordable 5 and 6 point camlock harnesses from Gforce, Simpson, Crow Enterprizes.



Diagram of how belts should sit against your body. You'll quickly realize how important the sub belt is to keeping that lap belt in place.



Take some time to explore your options. There is also excellent harness setup material available online from Schroth. Harness bar harness wrapping, mounting angles and other safety related documents are found below. Familiarize yourself.

http://www.schrothracing.com/main/Engineering
http://www.schrothracing.com/main/Media

Informational Harness Videos

6. I have to put belts across my balls?!? Yes use the 5/6 pt belt. These are there to keep you from submarining under the lap belt



and are useful for securing the lap belt in the proper position so it won't ride up when you cinch your shoulder belts down.

How and what do I mount it to/slide it in? Remember that fancy race seat you purchased? Flip it over and discover a neat little passage way that will allow the ASM belt to slide through.

With your seat in the car, mocked up in roughly your seating position identify the point directly below the seats ASM belt hole. Measure back 4-5". This is where you will drill through the floorboard and mount your graded hardware and backing plate for securing the 5 or 6 pt belt.



Backing plate? Yes a backing plate. I prefer these: ([url]http://www.schrothracing.com/store/Competition/hardware/reinforcement-plates
)as they have a threaded/welded on nut to hold your hardware. I put it all together in something like this order: Bolt>Lock washer>Belt>Washer>Floorboard>Backing plate.
Finished product like so. Get out and enjoy some motorsports.
Schroth Belt Installation Resource:
http://www.schrothracing.com/sdocs/2009_Competition_Instructions.pdf
Done with one side? Start from the top and protect your buddy, instructor etc.. :
Don't go shopping for a race seat. Shop for two. Get two of everything, you cheap bastard. Whether or not equal restraint is mandated by whoever you're tracking with, it's a **** move not to provide the same level of safety for your passenger that you provide for yourself.

-Dur, but I am lonely driver and I am 2 gud 2 need anyone in shotgun telling me wut 2 do

Well your car looks stupid all lopsided like that anyways. Two of everything.