At it again parting out another miata since the last one went very well
1991 white 1.6 5 spd
Located in Pomona, CA
(locals get priority but willing to ship smaller parts at buyer expense)
ALL PRICES OBO. FELL FREE TO SHOOT ANY REASONABLE OFFER
text me at
Also check out parts remaining from my last part out: (
http://clubroadster.net/vb_forum/showthread.php?t=59420
)
WTB/ Willing to trade for:
TSI (turn signal intakes)
Torsen swap
VLSD diff
side skirts
All parts will be coming off this weekend, at which point more detailed pics will be posted.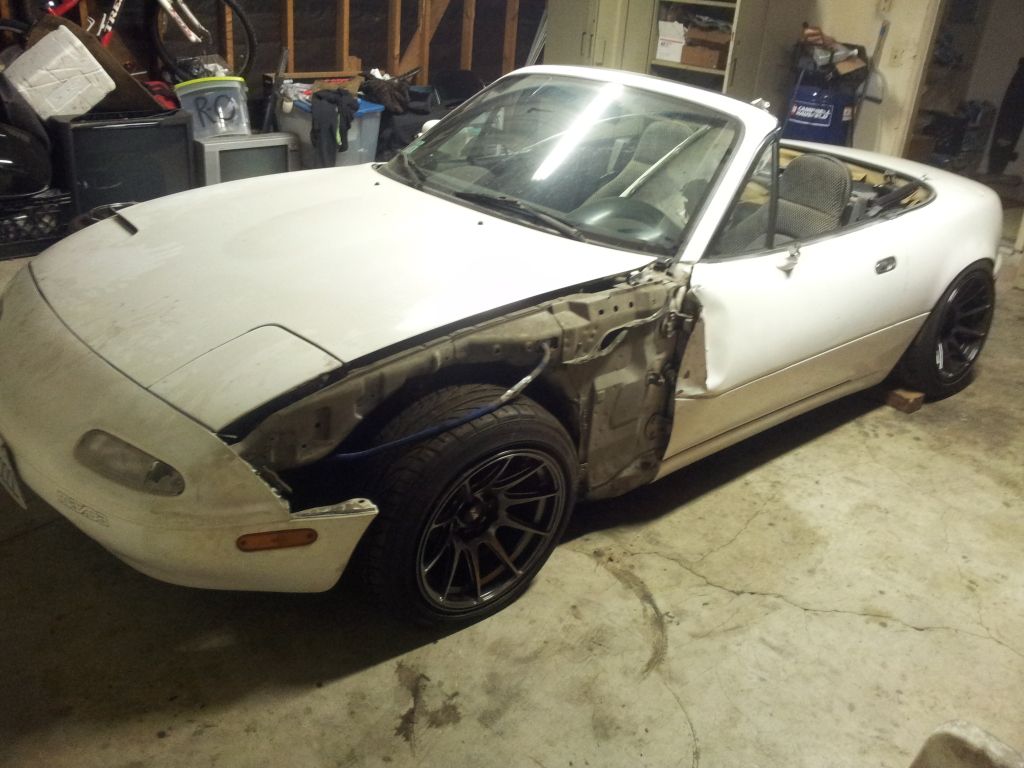 $290- Raceland coil overs assembled with top hats and helper springs (only 5 k miles)
$400- running 1.6 engine 130k miles (will have video of it running)
$180- 5spd transmission 130k miles- no problems with it
$50 each or $80 for pair- white headlight assembly
$80- front bumper, fair condition, could use paint
$120- oem hood in excellent condition
$80- white trunk lid (great shape
$80- passenger side fender (rolled to fit 15x8)
$80- Passanger side door with manual window and regulator
$30- damaged driver side door. working window and manual regulator
$30- passenger side view mirror
$50- front sub frame
$40- front driver side control arm pair (upper and lower)
$25- power rack and pinion (need new passenger side inner tie rod)
$30- power steering pump and hoses
$60- work AC compressor
$30- all AC lines
$10- each- AC box, heater box, blower motor box
$40- center console
$50- radio trim bezel
$80- dashboard
$40- cluster
$20- cluster hood (held down by glue, broken tabs)
$30 each- door cards with speaker cover and handle
$40 each- seats
$80- complete carpet set
$60- floor mats
$90- soft top with frame (ripped rear window)
$20 each- front caliper with brake pads
$20 each, front steering knuckle with wheel studs and rotor
$80- complete intake pipe and box with filter and AFM
$80- OEM header + down pipie + heat shield
$80- OEM cat back exhaust
$100- Catalytic converter (1.6L)
$50- 1.6 open diff
$30 each- 1.6 axels
$40- 1.6 drive shaft
$90- rear bumper (good condition)
$50- cracked but in tact rear finish panel
$50 each or $80 for pair- Rear tail lights (great condition)
$30- trunk carpet
$40 each or $70 for pair- Rear brake calipers
$50 each- seat with bracket
$120- oem daisy wheels with okay tires
$20- radiator fan
$20- AC fan
$40- ECU (1.6 5 spd)
Interested in other items not listed?
shoot me a reasonable offer and its yours.
text me at