·
Official Armchair Racer
Current Modification List
(11/23/15)
Brakes:
Cobalt Friction XR3/XR5 pads
949 Racing SS Lnes
Factory proportioning valve deleted
Drivetrain:
Toda 1.6 7lb chromoly flywheel
ACT HD clutch
SS clutch line
Tomei Trax 1.5 way lsd
4.778 gearing
AWR 70d engine mounts
Autokonexion aluminum differential mounts
Interior:
(2) Recaro SPG Profi seats
Griffith seat brackets
(2) Schroth Profi 6pt harnesses
Carbing High Grip shift knob
Rennen Metal radio delete panel
Garagestar hard top brackets
350mm Momo Mod 78
Daikei hub
NRG v2.5 QR
AEM uego
Engine:
'03 BP-VE VVT
Olde Skewl Toy Head (full pnp, shave, chamber volume matched)
Supertech single valve springs
Tomei 252/256 poncams
Mazda Motorsports Development SUBS
Cometic .027" gasket
Boundary Engineering Stg II Oil Pump
Supermiata Crank Damper
EUDM flat top manifold (port matched to throttle body)
Skunk2 throttle body
Racing Beat header
Racing Beat race pipe
Buddy Club Spec II exhaust
3D printed carbon fiber intake
Reverent MS3
'99 red top injectors (blue printed by RC engineering)
ARC Magic oil cap
Project Mu brake reservoir sleeve
Project Mu magnetic drain plug
Garagestar pulleys
Cooling:
Flyin Miata Setrab oil cooler
KoyoRad "Hyper V 36mm" VH060245 radiator
Coolant reroute
Suspension:
Motion Control Suspension 1wnr dampers
Swift 14/8kg springs
AMR Engineering spherical upper mounts
Racing Beat tubular sway bar
Racing Beat block & bolt kit
14mm OEM Mazdaspeed rear sway bar
949 Racing end links
Superpro rear sway bar bushings
Superpro Poly steering rack bushings
OEM Mazda R package tie rod ends
Energy Suspension Control Arm Bushings
East Street Blueprinted Front Hubs
Chassis:
Carbing 3pt shock tower brace
Beatrush PPF triangle brace
Boss Frog Frog Arms
Boss Frog Clearview rollbar
Boss Frog harness bar
Exterior:
Garage Vary front lip
Garage Vary Large Canards
Rennen Metal tow hooks
Volk Racing TE37SL 15x8 +25 x Bridgestone RE71R 205/50/15
Voltex Type 1, 275mm stands, 1500mm element

The Story Begins
I'm making this thread more as a place to stash my memories in order. The build is rather tame and there are some gaps with no pictures but its been quite a journey and has brought me some fantastic memories through high school and continues to do so, though I have less time to enjoy driving.
My time on the road began with a lowly 1987 VW Jetta Gl. Sold to me for $1 by my grandparents. The car was pristine and had racked up merely 105k miles in its pampered life.
I drained lots of money into this car trying to satisfy my newly acquired appetite for driving. At the time I thought I had created a nicely sorted out car that handled, in my opinion, very well. Armed with tokico shocks/springs along with Eibach sways I understeered my way through teenaged driving nirvana. Summer days were spent foolishly terrorizing the local Skyline Blvd in pursuit of my buddy's 325is. Which is where I realized my freshly built Jetta fell flat on its face to Lucas' 194k oem sport suspension.
The time came to purchase a new car. I knew the rwd e30 platform had ticked all my boxes. I slowly began wading through forums and craigslist for my own 325is. However, my dad suggested I test drive a Miata.
I reluctantly first experienced these little roadsters at a sleezy used dealership in the Seattle area. I passed by a sad looking '94 red number while visiting some relatives. On a whim I pulled in with my dad and soon the keys were in our possession and we were experiencing the car first hand. Thinking back on it, I probably should have bought the car. The combination of the hardtop, torsen, 1.8 and cloth seats would have been ideal for the direction I intended to take the car.
However, it was like love at first sight when I ran into the 1993 black on tan at Stan Bennet's BMW "turn around" dealership here in Portland. I bought the car the very next day. He was awful surprised when a 16 yr old kid paid 4800 in cash for the car. The car was incredibly clean and though I may have paid too much. I couldn't have been happier motoring the car up Burnside Drive popping the barn door lights up and down while rowing through the gears.
Freshly unearthed throw back pics!
A few weeks later I had already fitted a Boss Frog Clearview and some bronze Konig Heliums while some Clubroadster.net stickers riced my ride up for my first autox experience.
Repping the CR.net stickers at an SCCA autocross school where instructors were shocked to see such a youngin show up let alone set down times in the top 5 out of 40 some cars.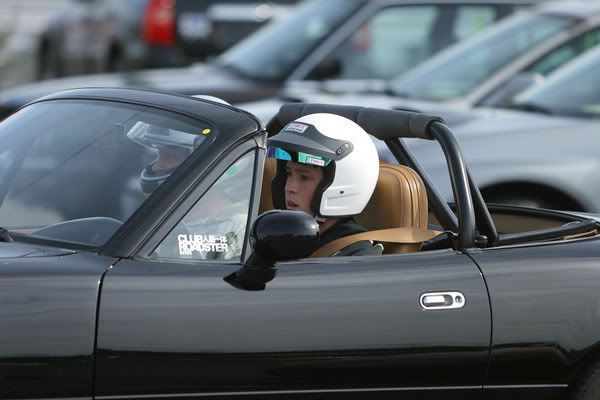 Body roll much?
A shot of forum member "Link" whose car I idolized that day.