Discussion Starter
·
#1
·
So reviving this in a new topic for fear of hijacking another..
I'll be going the Club Racer theme pretty soon for track days. I'm working on a set of lightweight Bridgstone SUPER R.A.Ps right now. Can't wait.

Club Racer is a great term - but I am curious how would you (or anyone here) actually describe a club racer look? In Japan - I have seen many club racer looks - some nostalgic and some neo-nostalgic.
Good question. To me:
Lightweight- stripped eveything in the name of adding lightness
Peformance- not always about HP, just work with what you got, have fun at the track
Roll bar- has to have one, for safety and looks
Paint- Who cares? Multi-color body panels will add to the "beaten" look.
And the most important factor: no trailer queen. It HAS to be driven to the track and back.
I got this inspiration from the JDM Honda Civic Club Racer, OEM, black steelies, hi-po engine, roll cage, stripped interior,ect. Its bad-ass. When I was stationed in Okinawa, I spent every day off going to the Club Races and all kinds of cars would be there, from Hondas to old Alfas.You could spot a true "club racer" from a mile away, it just looks more "grasssroots" then bling. I guess you could replace "grassroots" with "ghetto-fabulous",lol.
Anyways, a few years back, my
other
favorite website,
http://www.hybrids.jp/
started up a Honda Challenge H1 race team and I got a chance to help out on it. What a great time. And besides the sponsored gold paint job, our car was ghetto-fab to the T, yeah, we were sponsored by some high-profile shops like West End Alignment, Hasport, JHPUSA.com., Alaniz,ect, but we still drove to the track while others were trailered. We didn't make the most HP, but still won races. Here's a few pics: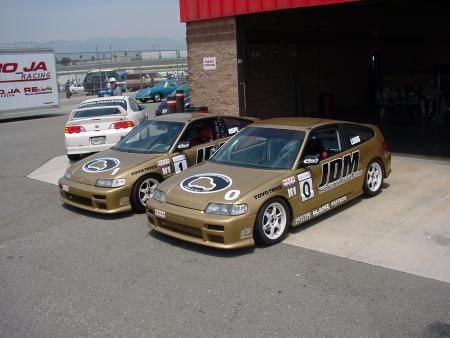 Me driving the Mugen ITR pace car...
Which begs the question.....we should have a CR sponsored Spec Miata! no?