Well i have had this car for about two years never really started a build thread but i might as well seeing that mostly everyone on clubroadster has one.
this was my first miata, 97, intake, wheels ,rollbar.
i sold it ,then i got my second miata
93 Red all stock was overheating when i bought it,
fixed it the same day it was the fan switch.
this is my second and current miata
this is how it started out
paint was chipping on the front bumper so i sanded it down and painted it black
also put on some jdm racelands.
.
added strut bar and silicone hoses, afm adapter and filter, ngk plug wires and plugs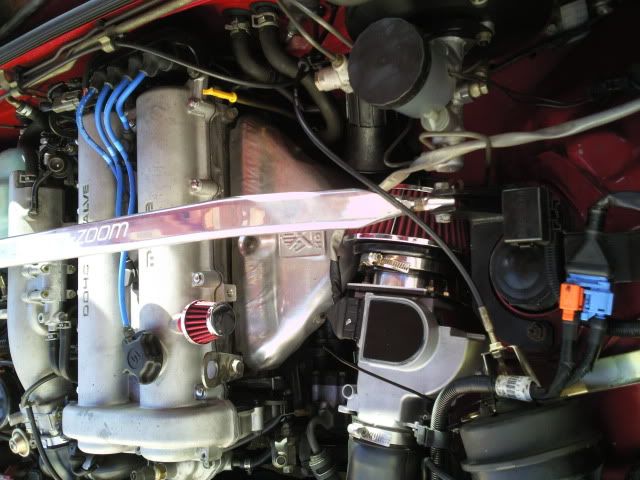 changed clutch and master cylinder and slave cylinder
painted my wheels and changed my brakes
not long after that i got hit by a woman... she claims my car was too low and she didn't see me
then i had to roll like this for a while jdm tyte yo
needed to change the interior first a smaller steering wheel
then i modified the center console my elbow kept hitting
painted valve cover and tried to fix old bumper, also got an oem style carbon fiber hood
then i sanded down the drivers side fender paint was chipping so i primered it black
also got a roll bar,deep dish steering wheel ,smaeda's awesome sticker, fog lights and new wheels.
and a pitbull security system
short ram,headers
painted a ww2 warplane style shark on the fender :fab:
so i got my windows broken and my car keyed i wanted
to primer my whole car black and go for like a jdm rat rod look
found some awesome artwork on clubroadster and i edited it to see what
i wanted my car to look like
i liked it so i ordered some jdm mirrors from mustangs unlimited
this is what it looks like at the moment.