Discussion Starter
·
#1
·
So after a few months of pleading, my g/f finally convinced me to do a tile backsplash in my kitchen. I did a some research on how to do it, and it didn't seem all that difficult, so I said what the hell. Yesterday we went shopping at a few tile warehouses & picked up a tile combo that would look kinda' cool with the kitchen. Bonus - it was on sale, we spent about $30 on 20 16"x6" main pieces & $40 on 2 sheets of 12"x12" stainless squares to trim the middle of it. The main tile pieces are made from glazed porcelain. I still need to pick up some mastic and grout. Pic of how it's intended to look: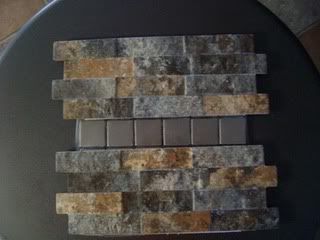 I really should have thought about how to cut the tiles before we made the purchase, because now I'm canvassing through tile saws. I initially inquired with the local Home Depot & they're charging $50/day for a tile saw. A quick search to see how much they cost revealed a few tile saws that are affordable, and some that are outrageous (intended for professional use). I'm thinking about picking up
this one from Home Depot
mainly because it's inexpensive ($50), and it seems like it'll be ok for what I'm working with.
I was wondering if anyone out here has any experience in doing tile work, has any tips, and/or can tell me if that tile saw would be ok? I've done some research, watched a few videos, but if there's a video or site that's out there that 'yall know that I gotta check out, please pass it along... I'm probably going to starting this over the next couple of weeks...